How to set up your exercise bike for an optimum workout
Revamp your ride!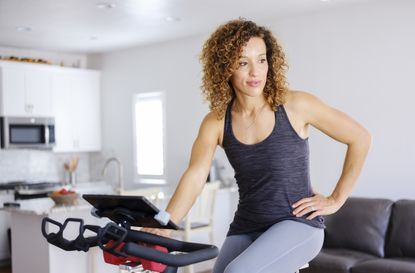 (Image credit: Getty Images)
Your exercise bike set up can help or hinder your work out - depending on how you set it up.
So before you get ready to ride – in the comfort of your living room - you might want to take a moment to adjust your bike's settings. Here, Apex* instructor and qualified physiotherapist Duncan Leighton, shares his tips for the perfect exercise bike set up.
Why a good set up matters
Indoor cycling is a safe and great low impact exercise for all levels, but there are some things to keep in mind when it comes to your exercise bike set up. This will help optimise the mechanics of those long levers that you walk around on every day.
Set up is especially important for new riders or those prone to injury, but it isn't an exact science.
'It may take a few goes to find your perfect fit, so be prepared to make some adjustments as you progress in your training. Just as you would tie your shoe laces a bit tighter or looser when you're wearing in a new pair of trainers,' says Duncan. 'This is all part of the process of getting to know your bike.'
How do I set up my exercise bike?
Exercise bike set up: the saddle
Ideally, when adjusting your saddle height, look at getting a 150-160° angle in your knee when you are sitting on the saddle, as your foot passes through the 6pm position when turning the pedals.
'But you don't need to get your protractor out. This usually equates to having the saddle around hip bone height when standing on the floor next to the bike,' says Duncan.
'Find a comfortable position but be aware that most new riders tend to set up far too low. This means they're not being efficient with their leg levers and can put unnecessary pressure on the front of the knee.'
If your knees are coming up above your hip bones then you are way too low. Experiment by pulling it up a chunk higher.
Also avoid extending the leg fully when cycling, says Duncan.
'It's not good to repeatedly lock your knee out at speed, or be too low in the saddle, otherwise your thighs will feel tight. It will make no difference to them bulking up, either.'
Exercise bike set up: the seat position
Those of you blessed with longer legs may find that the neutral '0' position of the saddle isn't the best position. If when you ride standing up, your knees are close to the handlebars in front and your bum taps the saddle behind you, you'll benefit from bringing the saddle back slightly.
'Anyone with a history of knee pain will also prefer to have the saddle back slightly. This will transfer some pressure from the front of your knee joint into other areas,' says Duncan.
'If you feel hunched forward to reach the handlebars then bringing the saddle forward slightly is a good idea. Remember to leave yourself room for movement when doing those step backs,' he adds.
Exercise bike set up: fine tuning the handlebars
Adjusting the handlebars comes down to personal preference.
'For new riders, I recommend having the handlebars higher than the saddle height. As you stand up you'll be able to transfer some weight through your hands to keep you upright,' says Duncan. Then as you progress, you can challenge yourself by lowering the handlebars.
'In a lower position you'll need to use your legs and abdominals a lot more to keep your chest up and not end up hunched forward when standing. Anyone with historic shoulder injuries will prefer a higher handlebar set up for support.'
What else should I know?
If you find you are having discomfort anywhere during or after the ride, or even if you've been working out a lot, get on the bike and re-assess your set up.
'What felt right 6 months ago, may not suit you now as our bodies are ever-changing,' says Duncan. 'As your skills progress, you may find that you can use an adjusted bike set up to challenge you and aid you further in your workouts.'
Your exercise bike is well-designed tool to help you get the best out of the energy you put into classes. Get to know your bike and you'll have a happy work-out partnership as you get into shape.
*Apex (opens in new tab) at-home spin bike with classes created by Boom Cycle. Available in four colours, £1200 + Subscription £30 per month (Interest-free finance options available through Klarna for up to 36 months).
Senior Health Writer Ali Horsfall has almost 15 years experience as a journalist and has written for national print titles and women's lifestyle brands including woman&home, Woman, Woman's Own, BBC magazines, Mothercare, Grazia and The Independent. She currently specialises in health and fitness content and loves sharing the best expert advice on staying well.