Help us celebrate amazing individuals in your community - share your uplifting stories with us!
We are stronger together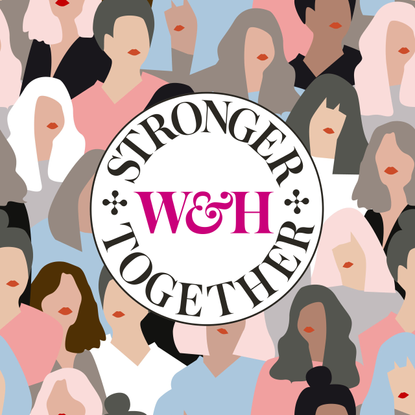 It's often the kindness of strangers that gets us through difficult times. We all know that we're Stronger Together, and while we are cut off in our own homes, it's more important than ever for communities to know we are here for each other.
So woman&home want you to help us celebrate the unsung heroes of your community, those people who have gone out of their way to make a difference to the lives of those around them. They may be doing the food shopping for a vulnerable person, making meals for those who otherwise would have gone without, or are simply the warm voice at the end of the phone helping alleviate someone's isolation. Or they could be key workers, putting themselves at risk every day to ensure our country continues to be cared for, fed and provided with heating and light.
None of these amazing individuals expect any special recognition in return –and that's where you and woman&home come in. All these people, and so many more, are heroes in their own special way. So help us to celebrate them today.
We want to shine a light on these amazing people and we need you to tell us all about what they've done that's really made a difference. Put simply, there are so many great Britons out there and we want everyone to know about their amazing efforts.
What you need to do
Whether it's a neighbour walking your dog because you're self isolating or local people singing happy birthday to a child in your street, now's your chance to ensure they get recognised
All you need to do is to post a comment on this Facebook post telling us their names and what they've done and we'll bring you a selection of the most uplifting stories of the w&h Stronger Together heroes every Friday.
We all need a little good news at the moment, and now you can be part of it!
And don't forget about w&h's Amazing Women Awards too
This year we're having a fabulous FIVE reader nominated awards from every region across the UK, where you get a chance to put the unsung heroines of your lives and communities in the spotlight. Find out more about our Amazing Women Awards 2020 here.
The nomination deadline for our AWAs is the 30th of April 2020.
Catherine has a career in women's lifestyle journalism that spans almost thirty years. Since 2020 she has been the Editor-in-Chief of women's lifestyle magazines at Future Publishing, where her remit includes the print editions of woman&home, Woman's Own, Woman, and Woman's Weekly. In this role, she is responsible for the strategic direction, content creation, and brand extensions for each publication.
Prior to this position, she held several senior roles within the organization, including Editorial Director and Group Editor. She was also Chair of the British Society of Magazine Editors in 2017, and editor of Wedding Magazine from 2006-2012.