Discover the specially selected oil that can give your meals a whole new spin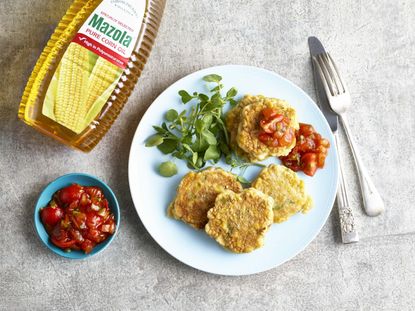 Promotional feature with Mazola (opens in new tab)
Nothing says summer like a crunchy, colourful salad, but have you ever thought about the oil you're drizzling over the top of it?
By switching to a different variety of oil you could be lowering your fat intake in one simple swap. Boasting the lowest saturated fat level of olive, sunflower or coconut oil, rapeseed is not only perfect for mixing into dressings but is also delicious brushed over grilled fish or as the basis for all kind of simple summer marinades.
Mazola 100% Rapeseed Oil (opens in new tab), from £2, is only ever made from 100% natural ingredients and is great source of Omega 3 and 6.
Mazola farmers gather the seeds from rapeseed flowers at their peak. They're collected, crushed and heated, and the oil is then extracted and fully refined for the best rapeseed oil. It acts as the perfect base to lots of summer supper, we're hailing it nature's perfect mulitasker!
From roasting to sautéing, stir-frying and deep- frying, it has neutral flavour that doesn't affect the taste of your food and a high smoke point, so is ideal for frying.
The benefits of rapeseed oil
Mazola 100% Pure Rapeseed Oil is packed here in the UK.
Compared with sunflower, olive and coconut oils, rapeseed has the lowest level of saturated fat.
It's high in monounsaturated fats (also found in olive oil, avocado and nuts).
It's a great natural source of Omega 3 and 6.
It's perfect for catering to vegans and flexitarian guests when entertaining, gives dishes an exciting new flavour.
Simple hacks for your favourite summer recipes
Try mixing 1tbsp of rapeseed oil with 1 clove of garlic, some grated ginger and a tbsp soy sauce then toss through stir-fried veggies or rice, for a quick and healthy umami-flavoured meal.
For a simple summer salad, mix 3tbsp of rapeseed oil with 1tbsp of red wine vinegar, 1 clove crushed garlic, 1tsp Dijon mustard, a handful of mixed chopped herbs and plenty of salt and pepper. Give your dressing a big shake up in a jam jar and pour over salad leaves, grilled veggies or roughly chopped tomatoes.
Swap your usual butter in baking for oil instead and you'll lower the fat content considerably.
When it comes to the true king of summer cooking, the barbecue, then a small switch from your usual oil to Mazola 100% Corn Oil (opens in new tab), from £2.25, could be what you're after. This hardly-flavoured alternative has a high smoke point, meaning it's less likely to catch at ferocious temperatures, giving you all the charcoal flavour without that burnt edge you can find if something catches (unless that is, you leave the burgers on too long!).
Mazola farmers always wait for the corn to fully ripen before picking each kernel from the cob and soaking them in warm water to soften. After the excess starch is removed, the kernels are pressed to release their oils and refined to create the best corn oil.
With just a couple of tweaks to your pantry ingredients you'll be whipping up plenty of new and exciting spins on your summer favourites.
So, what are you waiting for? Find Mazola oils at Tesco, Sainsbury's, Morrisons, Co-Op and Asda for healthy switches and make the most of summer meal times. You can also find mouthwatering recipes and more information at mazola.co.uk. (opens in new tab)
Happy cooking!
Rosie Conroy is a food and drinks journalist with over a decade of experience working for big-name titles in both print and online. Formerly the Digital Food Editor of woman&home, Rosie went on to head up the team at SquareMeal, reviewing the best London restaurants and hunting out emerging culinary trends. With previous experience in food styling and recipe development, Rosie knows what to look for in a good piece of kitchenware and has extensive experience testing consumer goods—from kitchen electricalz and cooking accouterments through to new foodie treats.