These are the fashion team's favourites pieces from M&S party wear drop
Marks and Spencer's gorgeous evening wear drop is here to help you get party season ready.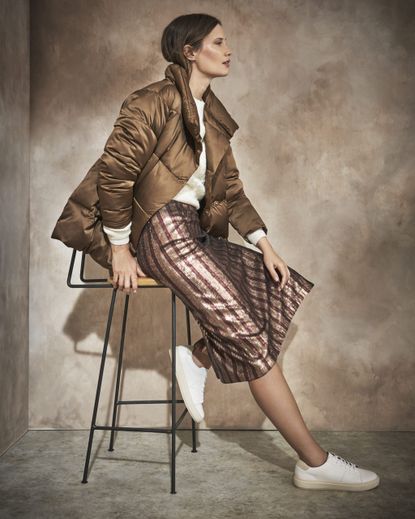 (Image credit: M&S)
Marks and Spencer know how to do party wear. Expect colourful sequins, animal prints and velvet; just what we need to dress up and feel our best, even when it's freezing outside.
October is almost gone which means Halloween is just around the corner, BST is over in a couple of days and… is time to get ready and start planning outfits for all those Christmas parties before it's too late – or before everything sells out.
This is why we've chosen our favourite pieces from Marks and Spencer before they fly off the shelves. Although a few pieces from our edit aren't yet available in Marks and Spencer stores (they will be shortly in the next few weeks) we thought it would be great to give you a sneak peak on what's yet to come.
Sequins + velvet is a combo that can't go wrong. This gorgeous burgundy top will definitely make a statement. It can be worn as a jacket over a velvet plain top or by itself. Dress it down with dark denim trousers or up with black midi skirt.
Sequin top, £59, Autograph at M&S
SHOP NOW: Velvet top, £49.50, Autograph at M&S (opens in new tab)
Still in the sequin mood we love the striped midi skirt in rose gold and red. It's quite an elegant piece that can look super cool with trainers and a knit jumper as styled below.
Sequin skirt, £55, Autograph at M&S
If that's just too casual for you pair it with matching sequin top and pumps to a chic evening wear look.
Sequin top, £49.50, Autograph at M&S
Another sequin piece we're obsessed with is this midi two-tone skirt in blue and pink. The perfect piece if you're tired of reds, greens and blacks. Wear it with a shimmery navy roll neck jumper to keep warm, complement it with fab earrings and you're ready to go.
SHOP NOW: Skirt, £45, M&S (opens in new tab)
SHOP NOW: Top, £25, M&S (opens in new tab)
SHOP NOW: Earrings, £12.50, M&S (opens in new tab)
This season's print couldn't be left out. Reptile prints are all over fashion from head to toe. Usually in neutral tones as black, grey and cream, M&S adds a twist with this lovely royal blue snakeprint dress. This flattering and comfy style easily takes you from day to night.
SHOP NOW: Dress, £69, M&S (opens in new tab)
Feel that a full animal print outfit is too much for you? Not to worry, you can opt for a blouse and jazz up your denim.
SHOP NOW: Blouse, £29.50, M&S (opens in new tab)
These are the fashion team's top picks. We've made our bets and chosen our favourite ones, don't wait too long before you bag yours or it might be too little too late, as they'll definitely sell out shortly.
Freelance Fashion and Lifestyle Writer
Manuela Rio Tinto is a freelance fashion and lifestyle writer with experience in both short and long-form articles, as well as copywriting. Brazilian, she moved to London six years ago and since then has worked for brands like Woman & Home, Woman's Own, Chat, Selfridges and Karen Millen, to name a few. Passionate about all things culture, travel and scuba diving-related, you'll find her either reading, travelling or diving in her spare time.