Try woman&home's exclusive subscription beauty box, worth £123!
Our exciting collaboration with TOYL gives you a curated selection of products worth £123 for just £39.99!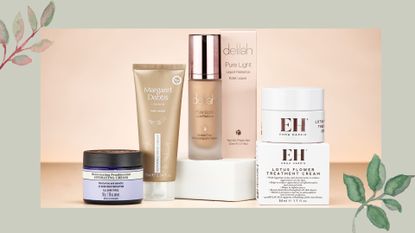 (Image credit: Future)
If you're looking for a way to treat yourself without the big spend, look no further than our exciting new collaboration with subscription beauty box brand TOYL.
TOYL is the bestselling beauty box for women over 40, and we've seen first-hand why. TOYL stands for Time Of Your Life, with the ethos being that after 40, women should be putting ourselves first, and enjoying this time after the hectic period of our 20s and 30s. The company specialises in curating beauty boxes catering for this age group, handpicking bestselling products that really work.
If you're wondering exactly what a beauty box is, don't fret! Essentially it's a subscription service where you sign up to receive a curated box of products every month. You can also buy individual boxes if a particular option takes your interest and you don't fancy the commitment. Often these boxes are created in collaboration with brands (like us at woman&home), or they're themed to certain seasons or trends.
Beauty boxes are a brilliant way of trying out new-to-you products or brands without taking the risk of buying something expensive and full price without knowing if it'll work for you. They're also a great way of expanding your beauty repertoire - it's so easy to get stuck in a rut with certain products, using what you know because the choice of other products out there feels too overwhelming. You may find your new game-changing favourite moisturiser or the perfect treatment for your hair type.
Every month, you'll receive a handful of new products, handpicked by the beauty team at woman&home. We hope you love using these products as much as we do - they really are some of our favourite, tried-and-tested buys.
For a sneak peek at what's coming up next month, read on. If you prefer a surprise, now's the time to stop scrolling!
Yours for just £39.99 when you subscribe. Visit www.toyl.co.uk/whbox
What's in the July Issue Box?
Treat yourself to this box of beautiful products from some of the UK's most luxurious and award-winning brands. Each of these products has been chosen for you to enjoy and experience the best of British Beauty at its finest!
The box includes skincare picks Neals Yard Remedies Frankincense Day Cream (RRP £33), to nourish your complexion and Emma Hardie Lotus Flower Treatment Cream (RRP £38) to soothe stressed skin. You can also cheat a radiant glow with deliah Pure Light Liquid Radiance Skin Illuminator (RRP £34), and get happy hands with the luxurious Margaret Dabbs Pure Repairing Hand Cream (RRP £18). There's something for everyone in this beautiful little box.
*new subscribers only. Offer valid 31 May to 29 June 2023
Our promise to you
The TOYL box is a subscription box. This means after your first payment, every month a further payment of £39.99 will be automatically made by you and the next box sent direct to your door. There is no contract so you can cancel or pause at any time. To do so you can simply email info@toyl.co.uk, call the hotline on 0333 009 3219 or manage your box within your own account at www.toyl.co.uk – we only want you to get the boxes you want.
Delivery & returns
Delivery is by EVRI 48-72 hour service with the despatch of each just released box starting on the 28th of the month. If you order after the 28th your first box will be despatched on the first working day after your order. Should you wish to return your box for any reason it must be returned within 14 days of receipt. If you wish to do so email info@toyl.co.uk and instructions will be sent by return.
Rhiannon Derbyshire is the Senior Beauty Editor for Woman & Home and other publications.
She started interning for glossy magazines while working alongside her Fashion Journalism degree. There, she was lured to the beauty desk, seduced by matte lipsticks, posh shampoos, and every skincare product imaginable. 10+ years into her career, she can confidently tell you why the best mascaras are always high street, and why SPF is a non-negotiable all year round. Ask her about her curly hair routine, skincare minimalism, and how to find the exact right red lipstick