Could This Sell-Out, 5 Star, Anti-Ageing PILLOW Really Help Reduce Wrinkles?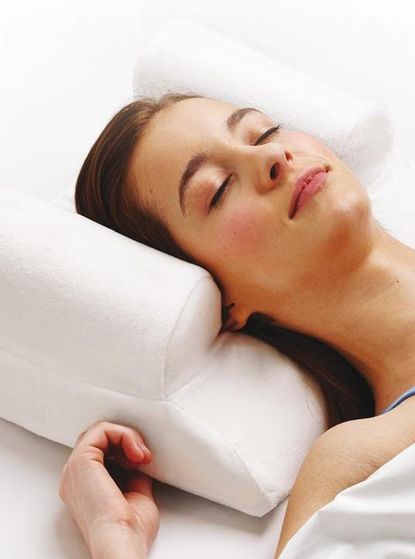 Struggling with the appearance of fine lines and wrinkles? Changing your pillow could be the answer.
The 'MyFacePillow' claims to prevent, reverse and/or reduce the appearance of wrinkles and acne, which the makers say can be caused or exacerbated by the pressure of sleeping with our faces pressed against our pillows.
Designed and created by a former acne sufferer, the anti wrinkle pillow is made from a high grade memory foam which moulds to the contours of the head and neck, whilst side supports prevent the user from rolling during the night. The pillow is hypoallergenic and sports a removable, washable cover. You can even take it on holiday with you!
So does it work? Well, the reviews speak for themselves. 85% of people who have bought the anti wrinkle pillow from Amazon.co.uk have given it five star reviews and showered the product with praise.
"I have definitely seen a difference and my face is looking line free at the minute," says one reviewer. An adult acne sufferer, meanwhile, describes the pillow as "a miracle". 50-something dermatologist's assistant S. Kurts uses the pillow nightly, enthusing, "MyFacePillow still allows me to sleep on my side without creating sleep creases. The pillow is super comfortable and I am recommending it to all my patients!"
Buy now at amazon.co.uk for £69.99 (opens in new tab)
The ergonomic support provided by the pillow is also appreciated by back and neck pain sufferers. "I have two bulging discs in my neck and have tried a number of pillows, and this is by far the most comfortable and beneficial to mitigate my neck problems - stiffness has finally gone," says one.
Not everyone is convinced though. "In all honesty it hasn't prevented me from sleeping on my face/side at all, so despite having high hopes, I'm disappointed by the product," says one reviewer. "I think it's vastly overpriced for what it is, and I don't think it lives up to its claims. I'll probably revert to my normal pillow, which is more comfortable."
Although the anti wrinkle pillow by 'MyFacePillow' might have recieved rave reviews, it's not the first anti-ageing product of it's kind...
Other anti wrinkle pillows include the slightly cheaper Save My Face Pillow, which claims to prevent "pillow face" wrinkles and puffiness and reduce sinus compression thanks to its patented double crescent design, and the JuveRest The Sleep Wrinkle Pillow.
(opens in new tab)
2. Save My Face Satin White Pillowette
Buy now from amazon.co.uk for £35 (opens in new tab)
3. JuveRest The Sleep Wrinkle Pillow
Buy now from amazon.co.uk for £154.89 (opens in new tab)
Developed by plastic surgeons, the JuveRest pillow is said to reduce facial distortion by 1700%. The JuveRest is significantly more expensive than the MyFacePillow, at £154.89 plus delivery, but has been given a 5-star rating by 6 of 7 Amazon reviewers. "I can see a marked difference in the vertical lines on my cheeks which were beginning to form due to side sleeping," says one. However, another describes it as a "hideous contraption," claiming that it makes side-sleeping much more uncomfortable.