Absolute Collagen: Meet the cult supplement that helps you feel and look better
We'll delve into how Absolute Collagen - and its science-backed formulation - can help you glow brighter inside and out…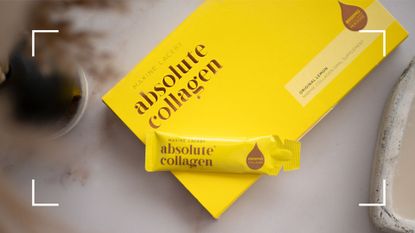 (Image credit: Absolute Collagen)
As you become more aware of changes with your skin that can come with age, it may seem like the smartest choice is to begin massaging a rich cream into your complexion. There is nothing, of course, wrong with treating yourself to great skincare - but the savviest option of all for a youthful boost may be to work from the inside out. Which is where Absolute Collagen comes in.
Now, bear with us, this isn't just any ordinary supplement on the market that promises to work glowy, anti-aging wonders. Absolute Collagen has harnessed the latest science to develop a liquid collagen-based formulation that is proven to do everything from reduce wrinkles to increase skin hydration as well as firmness, and improve hair texture and the appearance of nails. All fine-tuned into a little, powerful daily liquid sachet.
First things first, while you may know your vitamin D from your magnesium it's possible you haven't considered supplementing with collagen before. But from the age of 25 our body's natural levels of the important structural protein start to decline, which causes our skin to become less bouncy and elastic - and leads to what we consider to be the signs of aging on the face as well as other areas of the body. Indeed, it affects how you feel too, including your joints. Topping up your collagen levels can be a simple way to counteract these changes and boost your overall self-confidence.
If you want to take an approach to your beauty regime that is infused with the latest research, then turning to a product that is backed by dermatologists, trichologists and thousands of happy customers makes total sense. Absolute Collagen, who are the original collagen specialists, have created a product that seamlessly fits into your self-care routine - like applying your favorite SPF in the morning or sipping on your beloved mint tea come afternoon. Here's what else you need to know…
Formula that works
When putting something inside your body, you want to trust that not only is it safe but that it is doing what it promises - and Absolute Collagen's tried-and-tested sachets certainly deliver on both counts. They contain active ingredients - including 8000mg of sustainably sourced high-quality hydrolyzed marine collagen, along with a natural sweetener and vitamin C for optimum collagen absorption. Indeed, the latter helps the liquid formulation have an incredible absorption rate of between 90 to 95%, which is better than taking a pill or capsule.
In terms of how this can help you to look and feel more like yourself, Absolute Collagen's sachets have been proven to helps reduce wrinkles, increase skin hydration, as well as soften and firm, and improve hair texture. What's more, the presence of vitamin C helps contribute to normal collagen formation in order to bolster bones, cartilage, gums, blood vessels, skin and teeth. It can also boost other aspects of health, including reducing tiredness, aiding the immune system and maintaining muscle mass for strength.
Simple to enjoy
Absolute Collagen has been devised with convenience in mind - from how they arrive at your doorstep to the way in which you take them - so it never feels like a chore and doesn't seep into your precious extra time. Particularly if the kids have flown the nest or work has eased off a little. You have the option to subscribe, which also comes with some welcome savings, so you'll enjoy a regular supply without a second thought.
Then, once you've opened the box, each sachet contains the daily dose already measured out so it is easy to take, even if you're away traveling to a sunny destination. It's up to you how you take it; either on its own straight into your mouth or mixed into your tea, coffee, water or juice. You can also enjoy it first thing in the morning, before bed or after exercise. However makes you feel absolutely like yourself.
Lauren is a freelance writer and editor with more than six years of digital and magazine experience. In addition to Womanandhome.com she has penned news and features for titles including Women's Health, The Telegraph, Stylist, Dazed, Grazia, The Sun's Fabulous, Yahoo Style UK and Get The Gloss.
While Lauren specializes in covering wellness topics—ranging from nutrition and fitness, to health conditions and mental wellbeing—she has written across a diverse range of lifestyle topics, including beauty and travel. Career highlights so far include: luxury spa-hopping in Spain, interviewing Heidi Klum and joining an £18k-a-year London gym.