Normandy Pork Casserole
A creamy, mustardy pork casserole that makes a refreshing change from heavy, wintry stews. This is our most popular pork stew ever and we've even got a skinny version for when you're trying to be good!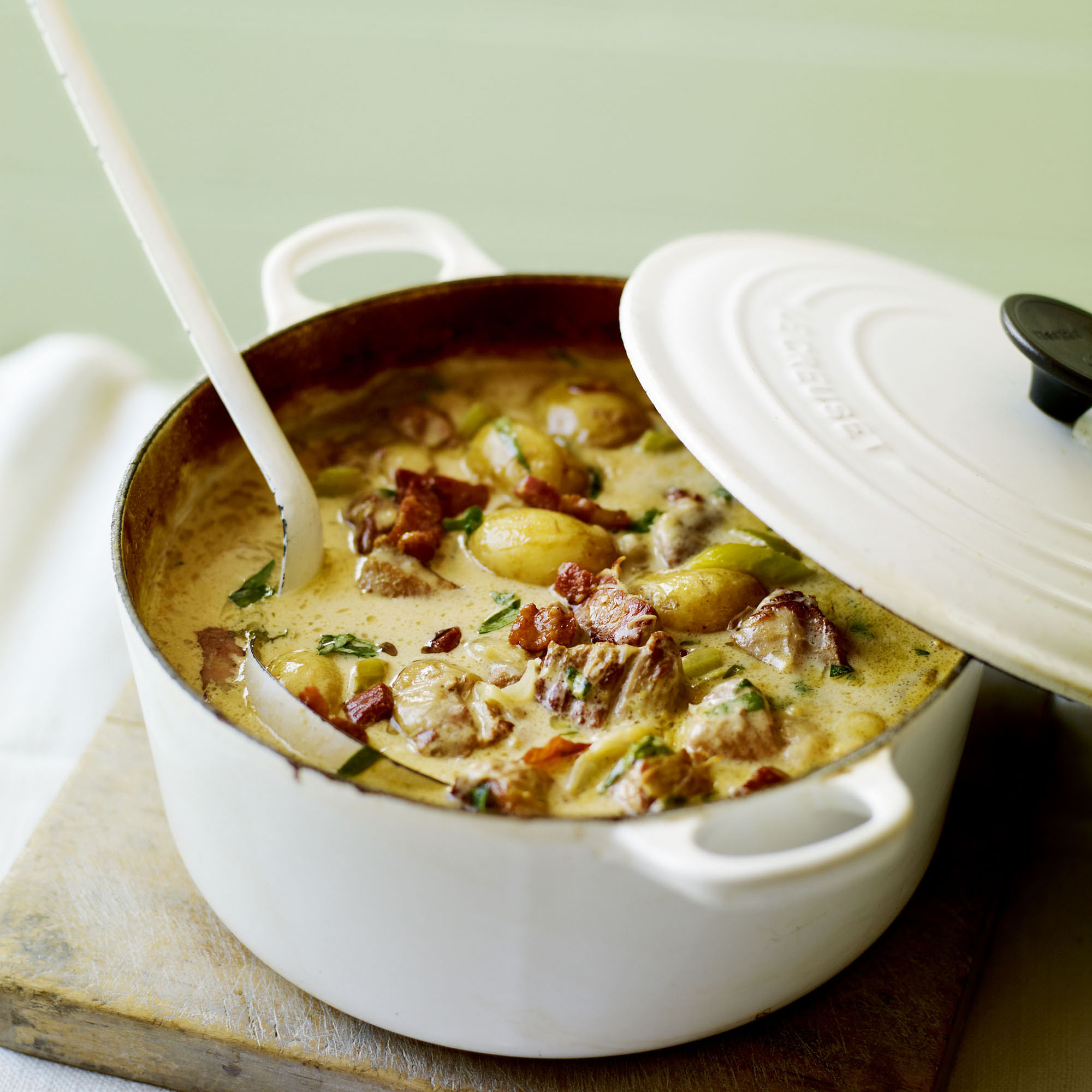 Ingredients
50g (2oz) butter
1kg (2lb 4oz) shoulder of free-range 
British pork, cubed
200g (7oz) lardons or chunky streaky bacon, chopped
16 shallots, peeled and left whole
1 small onion, chopped
2 celery sticks, chopped
300ml (½pt) dry cider
300ml (½pt) chicken stock
6tbsp half-fat crème fraîche
2tbsp cornflour mixed with 2tbsp water
2tbsp Dijon mustard
2tbsp fresh tarragon leaves, finely chopped

you will need:
large, flameproof casserole dish
Tip
Put the shallots into a bowl, pour over boiling water and leave for a few minutes. This will help to make peeling them much easier
Preparation
Heat the oven to 170 C, 150 C fan, 325 F, gas 3. Heat half the butter in the casserole dish, add half the pork, season and fry for about 10 minutes until thoroughly browned. Remove the meat from the casserole with a slotted spoon and reserve. Add the rest of the butter to the casserole and fry the rest of the pork for 10 minutes until evenly browned.

Meanwhile, in another pan, dry-fry the lardons until crispy. Remove, set aside, then fry the shallots, onion and celery for a few minutes, to soften slightly.

Combine all the pork, the lardons, shallots, onion and celery in the casserole. Pour over the cider and chicken stock to cover. Cover the dish and cook in the oven for 2 hours until the pork is tender.

Add the crème fraîche, cornflour mix, mustard and tarragon to the casserole. Heat on the hob and stir until the sauce has thickened slightly.
Find even more warming and satisfying, casserole recipes for the winter ahead, including this lamb and prune one-pot recipe.