What book is Mrs. Harris Goes to Paris based on and how many Mrs. Harris books are there?
The new movie Mrs. Harris Goes to Paris is actually based on a 1958 novel by Paul Gallico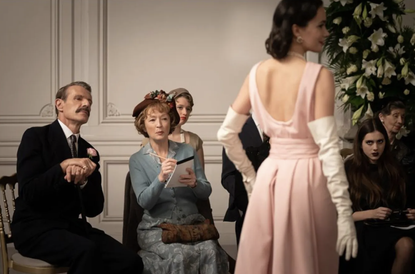 (Image credit: Focus Features)
Mrs. Harris Goes to Paris is a new comedy-drama directed and produced by Anthony Fabian, starring Lesley Manville in the title role. As bibliophiles know, the film is actually the third movie adaptation of the 1958 novel Mrs. 'Arris Goes to Paris. by Paul Gallico.
Paul was an American novelist and sports writer who wrote Mrs. 'Arris Goes to Paris in the late '50s as the first of four books about the adventures of one Ada Harris.
---
Interestingly enough, in the UK, the novel was published as Flowers for Mrs. Harris.
WHAT IS THE BOOK MRS. HARRIS GOES TO PARIS ABOUT?
The famous novel revolves around Ada, a widowed cleaning lady that becomes enamored with a couture Dior dress and decides to head to Paris to purchase an evening gown at the House of Dior.
Not to spoil the book, but Ada does eventually get her hands on a dress through the help of a French marquis (that would be a nobleman) that she meets at the fashion house. What happens after that? You'll have to read the books yourself to find out!
HOW MANY MRS HARRIS BOOKS ARE THERE?
After Mrs. 'Arris Goes to Paris was released in 1958, the author put out three subsequent titles: Mrs. 'Arris Goes to New York (1960), Mrs. 'Arris Goes to Parliament (1965) and Mrs. 'Arris Goes to Moscow (1974). The British titles differ in the subsequent books as well. They were Mrs. Harris Goes to New York, Mrs. Harris MP and Mrs. Harris Goes to Moscow.
Although they all focused on the same protagonist, the novels clearly took Ada to different parts of the world and told differing narratives.
Readers will be delighted to re-encounter the French nobleman in New York but might be surprised to know that, in Mrs. Harris Goes to Parliament, there isn't as much comedy as there is in other books.
Finally, when traveling to the Soviet Union, Ada is forced to deal with pretty odd situations that are sure to entertain all sorts of readers.
WHO STARS IN THE FILM MRS HARRIS GOES TO PARIS?
The new screen adaptation of Paul's novel stars Lesley as Ada, Isabelle Huppert as Claudine Colbert, Lambert Wilson as Marquis de Chassagne and Jason Isaacs as Archie, among others.
Overall, the reviews for the film have been positive, with many critics praising Lesley's performance and calling the movie a "good old-fashioned story of charm."
Anna Rahmanan is a New York-based writer and editor who covers culture, entertainment, food, fashion and travel news. Anna's words have appeared on Time Out New York, the Huffington Post, Fortune, Forbes, Us Weekly, Bon Appetit and Brooklyn Magazine, among other outlets.