Sali Hughes 'Christmas In My Grandmother's Footsteps'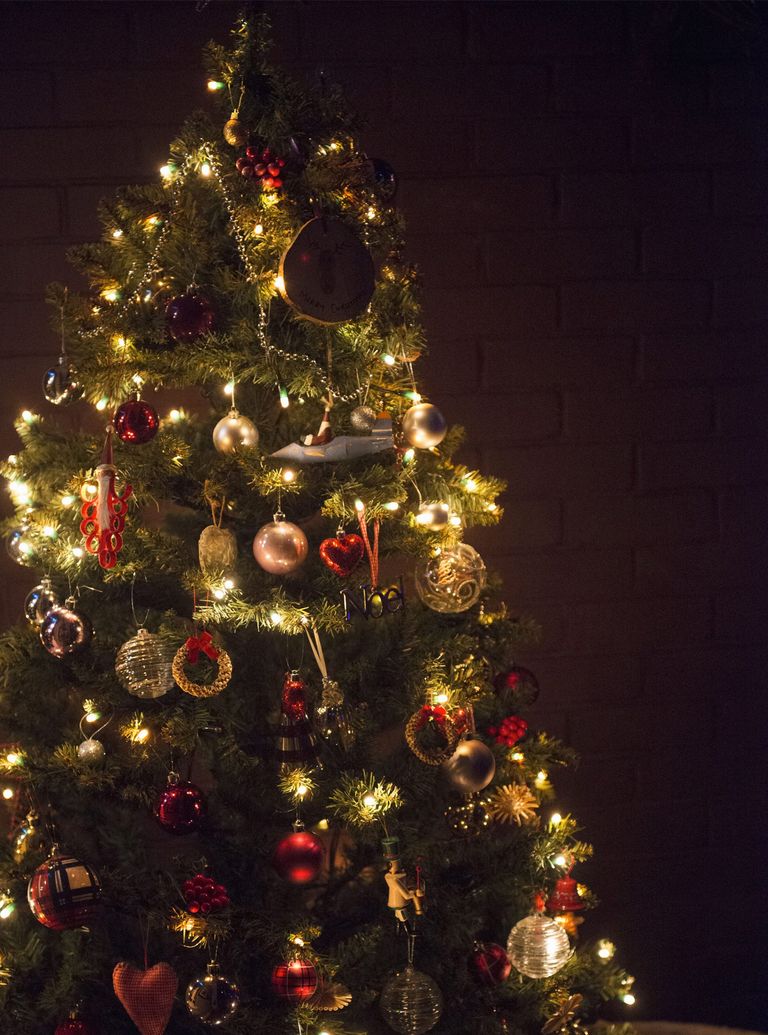 At 3pm on Christmas Day, just when I imagine more progressive families are keying in the validation codes on their iTunes gift cards, or hunting Pokémon under the mistletoe, my long-suffering children and I are always watching the Queen's speech. Because after a morning of fevered stocking opening, we stop, leaving the presents under the tree almost entirely unsqueezed until after we've eaten our (late) lunch and Elizabeth II and her corgis have signed off. My sons don't question it, I will not entertain any other way (much to my former husband and his family's frustration), because this is how my grandmother Nance always did Christmas. And so it is law.
Dressed For Best
As a child we always spent Christmas with my beloved nan at her home and so it's her Christmas traditions that can be seen everywhere in my house on 25 December, beginning with the clothes I stand up in. While I may languish in my pyjamas and dressing gown for the opening of stockings and perhaps even for the first glass of fizz or baste of the turkey, special standards of grooming must be met thereafter. My grandmother always wore her best frock, string of beads and full make-up, and I've inherited this same festive imperative. I'll blow-dry my hair, pop on a nice dress, slick on a Christmassy red lipstick then, like my grandmother, invariably team all this with sheepskin slippers and a pinny.
I feel bad admitting that I'm a better cook than my granny because she always worked so tirelessly to feed us - there wasn't so much as a microwave bread sauce or ready-blanketed pig to be seen, whereas I've been known to stoop to both (though I still get my bird from the butcher's, and stand with my eldest son shivering in the Christmas Eve queue, just as she and I used to). The preparation of her Christmas lunch was a borderline obsession, as though the act of cooking much the same roast she prepared every Sunday without fuss was suddenly a Herculean task that required the veg to be peeled by 4pm on Christmas Eve. Consequently, the act of placing my own de-skinned spuds in a huge pan and soaking them in a twilight bath in the garden has become a ritual I can't imagine skipping.
My menu, however, has changed. The only thing I don't miss about her dinners are the watery cauliflower florets, disintegrating further with every sweep of the serving spoon. Now we have pan-fried cabbage with chestnuts and pancetta and spuds roasted in goose fat, not lard. Espresso martinis and spicy cinnamon bellinis have replaced the custardy snowballs and small sweet sherry in glasses from the special cabinet that was firmly out of bounds at any other time of year. But I still bring out her bulky teak canteen of faux-ivory handled cutlery for the occasion, and have my own Christmas tablecloth and give not a chestnut if anyone thinks it's naff.
Personal Touch
Like my grandmother's, my Christmases are not tasteful. My children's dog-eared decorations hang wonkily from the tree, just as my own creations once did. I still strongly believe that the cheaper the tinsel, the better it looks, and even bought an old-school Quality Street tin on eBay to decant chocolates from the infinitely less charming modern plastic tubs. I still have a proper nutcracker, my cards go on a string, just like my nana's, and I do as she did in noting who sent them, so as not to forget anyone next year. I still adore Yardley scents and Bronnley fruit-shaped soaps, and keep a "present drawer" for last-minute guests who simply must "have something little to open".
There are a few traditions that have sadly fallen by the wayside, though. The Orchard Fruits jelly sweets laid out on the sideboard like edible Christmas decorations, the jars of cherries no one but my late grandfather could bear to eat, the toffee block and little metal hammer, the cheap, almost transparent wrapping paper bought in street markets that no longer exist, and the piles of washing up next to the sink, to be dealt with while listening to carols on the wireless. I'd cheerfully trade my dishwasher though to hear her hum just a bar of Hark The Heralds, while buffing a pudding sixpence dry, ready for next Christmas.
Sali Hughes' book Pretty Iconic (4th Estate) is out now