Why You Don't Want To Miss The New Series Of Springwatch...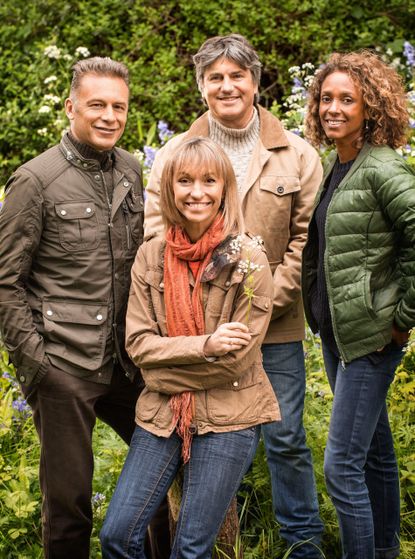 Singing nightingales, playful puffins and hatching sparrowhawks - you've guessed it, it's the familiar sound of our favourite BBC Two wildlife show, Springwatch - and it's making a triumphant return this month. Presented by Chris Packham, Michaela Strachan, Martin Hughes-Games and Gillian Burke, the annual three-week wildlife extravaganza promises fascinating encounters with some of the UK's best-loved animals - from water voles and yellowhammers to kingfishers and otters. And this year, the show's cameras are positioned on key nature hotspots across the National Trust's Sherborne Park Estate in rural Gloucestershire - so we're in for quite a treat. We caught up with Springwatch presenter Michaela Strachan, who lives in Cape Town with her partner, Nick, and their son, Ollie, 11, ahead of the show's return...
Our footage on Springwatch can be gruesome. Working on the series last year we saw a stoat going into a woodpecker's nest and dragging the chicks out - I had to warn viewers about the footage beforehand. This time round we're filming in a new location in Gloucestershire. The camera team is incredibly excited about the kind of access they can get into birds' nests.
I've known Chris [Packham] for more than 20 years - we first worked together on the kids TV series, The Really Wild Show - so we're very comfortable with one another. Unlike Chris, I'm not a wildlife expert. Instead, I trained as a dancer and an entertainer. Even on a wildlife programme you have to think about your clothes - if we both end up in green puffa jackets, it looks like we've been out shopping together!
I turned 50 last year, but because I'd had breast cancer, I really celebrated it. Friends of mine haven't been so lucky. I was diagnosed in 2014 and had a double mastectomy. We celebrated my birthday in South Africa with 40 friends and family - we went camping in the mountains for three nights. I'm so over partying - I'm not someone who wants to get drunk any more.
In South Africa, I'm a full-time mum. We've never had an au pair - somehow we've just managed. Ollie enjoys wildlife but his real passion is cricket. My way of getting him away from screens is to tell him he can only go on the iPad after he's gone into the garden with his binoculars and spotted five different types of bird.
I have no desire to get married to my partner, Nick. We've both been married before and have a child together, which is a far bigger commitment than marriage. With a second marriage, I think you have to get it done in the first couple of years when you're at your most romantic or not at all. If Nick suddenly got down on one knee, I'd find it hilarious.
5 REASONS YOU SHOULD WATCH THE NEW SERIES...
1. It has a new - rather special - home After three years at RSPB Minsmere, Suffolk, the nature extravaganza is moving locations to the National Trust's Sherborne Park Estate in the Cotswolds - and well, it's pretty spectacular. Think historic open parkland, with beautiful mature oaks, stunning waterways that criss-cross the estate and wildflower meadows full of colour and invertebrate life. Simon Nicholas, National Trust countryside manager at the Sherborne Park Estate says: "The idyllic estate is like the Cotswolds in miniature. Thousands of families come to our woods and parklands each year to see the nature on their doorstep."
2. And the wildlife? It's better than ever... With a new location comes new habitats and sparkling new wildlife - our favourite! The new series will include a look at an 18th-century water meadow, home to insects such as dragonflies and damselflies, as well as a disused airbase, active during the Second World War but now used for arable crops and a favourite hangout for the red-listed corn bunting. Plus, the Sherborne Brook waterways and miles of Cotswold stone walls play host to weasels, stoats, rodents, lizards and lesser horseshoe bats.
3. It's true escapism - anytime, anywhere Whether you're a lark or an owl, the Springwatch team will be streaming the wildlife action as it happens on the Springwatch Live website, on BBC Red Button and on mobile devices from 4am to midnight daily for three whole weeks. Listen, learn - or simply sit back and relax. And if you've got a burning question? Join the conversation on Facebook, Twitter, Flickr & Instagram where the Springwatch social media team will put it to the experts. 4. This is just the beginning... In a break with tradition, this year the 'Watches' are going to stay at the same site throughout the entire year - and it all starts here. It means the Springwatch team will be able to study a host of wildlife families and follow them as they negotiate the UK's ever-changing seasons over the next 12 months. We'll see you at the other end.
5. Still not convinced? Over to the presenters...
Springwatch starts on BBC Two at 8pm on Monday 29 May.
Sign up to our free daily email for the latest royal and entertainment news, interesting opinion, expert advice on styling and beauty trends, and no-nonsense guides to the health and wellness questions you want answered.
Natalie Whittle is a British journalist specialising in celebrity content in the women's lifestyle sector. She previously held the role of Celebrity Director at Woman & Home and has also worked at Prima, Red & Good Housekeeping.