These are the dog breeds most likely to end up on the naughty list
It could be coal instead of sausages in the stockings of these dog breeds this Christmas...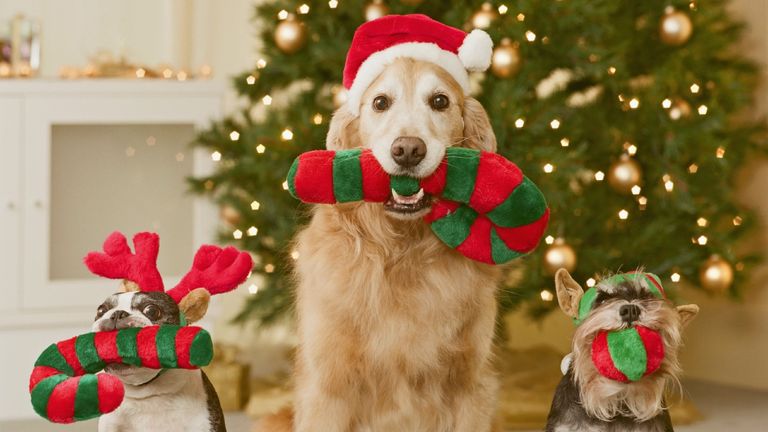 (Image credit: Getty)
Thought it was only humans that could end up on the naughty list? Think again! 2020 seems to have brought out a cheeky streak in our pooches.
According to a survey by Good Move, particular breeds of dog are more likely to wreak havoc in your home than others. So, if you've spotted your four-legged friend eyeing up your carefully decorated Christmas tree or looking tempted by the turkey, you might need to watch out. Especially if you share your home with one of the naughtiest dog breeds.
There's big dog breeds, medium and even small dog breeds on the list.
So, without further ado - here are the dog breeds that cause the most damage in homes:
Dog breeds most likely to be on the naughty list in 2020:
Labrador (8.0%)
Border Collie (3.0%)
Beagle (2.7%)
Cocker Spaniel (2.6%)
Staffordshire Bull Terrier (2.6%)
English Springer Spaniel (2.4%)
German Shepherd (2.3%)
Dachshund (2.0%)
Border Terrier (1.9%)
Bulldog (1.8%)
So what gained these breeds their spot on the naughty list? Owners have reported the most common gripe as damage to flower beds and grass, with ripped furnishings coming in at a close second.
Some of these pesky pooches relieved themselves on sofas and carpets, with others using doors and cabinets as their very own scratching posts. Bad news for fashion fans (and a lesson in why tidying up is important), 26% of the owners surveyed said their dog has chewed their favourite clothes and shoes.
One naughty dog even opened their family's Christmas gifts ahead of the big day.
Of course, some mishaps can't be helped, but keeping your dog occupied will help keep them on the right side of Santa's list. Regular walks and plenty of playtime will help tire them out, meaning they're likely to snooze when you're not watching them - instead of nibbling away at the furniture.
Jess Beech is an experienced fashion and beauty editor, with more than eight years experience in the publishing industry. She has written for woman&home, GoodtoKnow, Now, Woman, Woman's Weekly, Woman's Own and Chat, and is currently Deputy Fashion & Beauty Editor at Future PLC.
She caught the magazine bug during a stint as Fashion Editor of her university newspaper alongside her English degree, and hasn't looked back since. As for the fashion bug, that came as part and parcel of growing up in the 90s, but the less said about that the better!
Jess' average day in the office is spent researching the latest fashion trends, chatting to industry tastemakers and scouring the internet to bring you this season's must-buy pieces - as well as advice on how to wear them. Weekends are equally fashion-focused, and Jess has been known to visit no less than five Zara stores in a single day in search of the perfect occasion dress.
The only thing that comes close to a buzz of finally tracking down that much-coveted dress is the joy of discovering a new beauty wonder product or hero ingredient. A beauty obsessive, Jess has tried everything from cryotherapy to chemical peels (minus the Samantha in Sex and The City-worthy redness) and interviewed experts including Jo Malone and Trinny Woodall.