Sigourney Weaver: "I'm Not Tough Like My Character In 'A Monster Calls' - I Scream If I See A Spider!"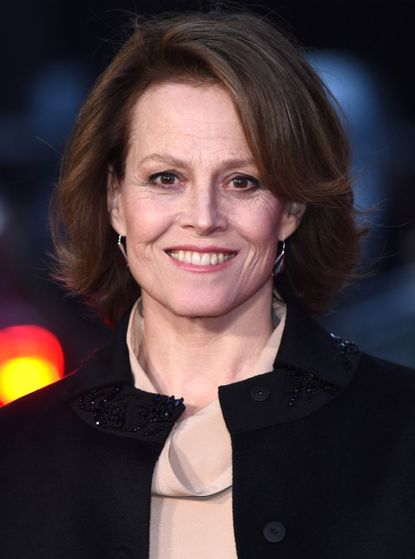 Based on the award-winning novel by Patrick Ness, A Monster Calls tells the story of 12-year-old Conor (Lewis MacDougall), who is dealing with his mother's (Felicity Jones) terminal cancer and summons an unlikely ally in the form of a 40-foot monster (voiced by Liam Neeson). Sigourney plays Conor's strict but loving grandmother. She lives with her husband, stage director Jim Simpson, in New York and they have a grown-up daughter.
My role in A Monster Calls marks my first as a grandmother and I think people will probably say, "Well it's about time - you've been around for so many years!" I'm rarely offered this kind of role though because I'm often thought of as a career woman (I get the vice president roles), but to me, these family stories are at the heart of everything we do. Even when I did Alien and I hadn't had children yet, I was always more interested in the motherly roles. My 26-year-old daughter won't let me even think about being a grandmother in my own life yet.
She's a rather scary grandmother, but I liked the challenge of playing someone who isn't so sympathetic, trying to find the humanity. It was important to me that we didn't just sentimentalise it; I didn't simply want to be the grandmother you hate, but really she's okay. I had to earn that in the story; I had to win everyone back. It's funny though because actually I'm such a pushover in real life - and I scream if I see a spider!
I have so much admiration for my on-screen grandson Lewis [MacDougall]. In fact, my main problem with him was that I didn't have too much fun - he's so lovely to be around, but I'm supposed to be this unlikeable character! We had great fun hanging out together off-screen though; we went out for dinner when we were filming in Barcelona and we went to see the film Guardians of the Galaxy when we were in Manchester - that does a lot for a relationship!
What the story shows is how it feels to be losing a member of the family - in my character's case, her only child - to an illness. It's every parent's greatest fear to lose a child, isn't it? And to have a child you're trying to save by telling them to eat broccoli and them refusing to listen to you - if only they'd do what you've asked them to do. I think every parent goes through that.
I drew on my own experiences of loss for the film - we all know what it's like to have loved and lost someone, don't we? I've lost both my parents [Sigourney's parents, Elizabeth and Sylvester, died aged 92 and 93], and I spent a number of years looking after them. It was some of the most precious time I've ever spent because you have to take care of them - and you have to learn how to do that.
Felicity [Jones] who plays my daughter and I both did a lot of research on cancer too and we visited a hospice together. I think she needed to figure out where she was care-wise as the story went on, and I had to figure out what my role was as her primary carer - whether it was wanted or not and what I would be experiencing. It was incredibly important to us to get those details right for all those people who are in that situation.
A Monster Calls is released in cinemas on 1 January 2017.
Natalie Whittle is a British journalist specialising in celebrity content in the women's lifestyle sector. She previously held the role of Celebrity Director at Woman & Home and has also worked at Prima, Red & Good Housekeeping.