Princess Diana is the most attractive royal woman of all time, according to this age old rule
Do you agree?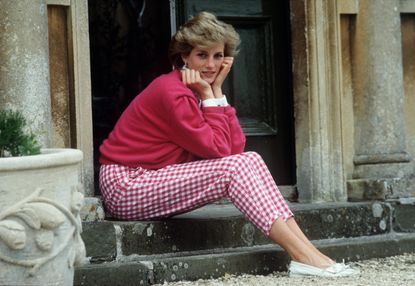 (Image credit: Getty)
Princess Diana has been touted as the most attractive royal of all time according to an ancient Greek ratio rule.
The 'Golden Ratio', was devised hundreds of years ago to measure levels of facial perfection, by looking at the symmetry and measurements of features.
And Harley Street surgeon Dr Julian De Silva put the Golden ratio rule to the test and analysed the faces of the world's most iconic royal women.
Applying the mathematical formula, that was used by Leonardo Da Vinci for the perfect human male body in his famous work, the Vitruvian Man, Dr De Silva determined that Princess Diana, who died after a car accident in Paris in 1997, was the best looking among the royal women tested.
Coming in at second and third place are Queen Rania of Jordan (above) and Grace Kelly of Monaco.
Meanwhile, the Duchess of Cambridge, Kate Middleton, and the Duchess of Sussex, Meghan Markle, nabbed fourth and fifth place on the list.
Dr De Silva, who runs the Centre For Advanced Facial Cosmetic & Plastic Surgery in London, explained, "Diana, Meghan and Kate are all very beautiful women.
"But when measured against the Greeks' Golden Ratio of physical perfection, Princess Diana comes out on top.
"She was several points ahead of Meghan and Kate and just pipped the stunningly attractive Queen Rania to the title of most beautiful royal of all time.
"'Princess Diana was a very narrow winner - there was less than 1% between her score and those of Queen Rania of Jordan in second and Princess Grace who was a very close third.
"Diana scored highly for her face shape, the width of her nose, her brow area, her forehead and her eyebrows - which all got the top scores."
Of course - everyone is individually beautiful in their own way. And although Princess Diana is technically the highest scorer in this contest - in reality, there's no need to pit women's looks against one another generally...