Important figure set to miss King Charles' coronation, but they insist it's not a 'snub'
A major world leader will reportedly not attend the coronation of the King this May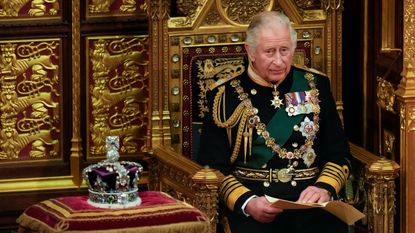 (Image credit: Alastair Grant - WPA Pool/Getty Images)
President Joe Biden will reportedly not attend King Charles' coronation this May. However, all parties involved are keen to avoid any perception that this is a snub or a souring of the relationship between the countries. Therefore, sources understand that one possibility under consideration would involve sending the First Lady, Jill Biden, instead.
King Charles' coronation is fast approaching, and world leaders will unite for the historic occasion
However, it's understood by sources close to the situation that President Joe Biden will not be in attendance
---
Among the many people thought to be going to King Charles III's coronation this May, one significant world leader is reportedly not going to be present - President Joe Biden.
The 46th President of the United States is "not expected" to come to the United Kingdom for the historic coronation of King Charles, according to sources who spoke to The Telegraph.
The sources, said to have been involved in the discussion with the President about the coronation, claimed that he will be sending a representative in his place.
Due to the longstanding close relationship between the United States and the United Kingdom, the President and his people are said to be keen to avoid his no-show being perceived as a snub to the new King.
Therefore, it's said that one workaround would be sending the First Lady, Jill Biden, in the President's stead.
The 80-year-old president is already set to visit Northern Ireland in April for an event to celebrate the 25th anniversary of the Good Friday Agreement, so it's suggested he might make a visit to the King during this trip instead.
Because he's already making an overseas trip so close to the coronation date, the Telegraph also quotes sources from his administration who point out the age of the president as a factor for potentially missing the big celebration.
They are reported as saying "foreign travel takes a fair amount out of him" adding, "They try to restrict it to the essentials, and they may just think twice about crossing the Atlantic twice in quick succession. They may think that he came to the funeral, and that's kind of enough."
In September 2022, both Joe and Jill Biden were in attendance for the funeral of Queen Elizabeth II.
While nothing has been confirmed as of yet, another unnamed source is being reported as saying that there "may still be some efforts under way to see if Biden can be persuaded to come to the Coronation", while another said that his plan to decline the invitation was "not locked and loaded".
The deadline for replying to Buckingham Palace's invitations to the big day is said to be looming, with news outlets suggesting aides from the Palace are asking people respond by the coming Monday (April 3).
It's still unclear whether Prince Harry and Meghan Markle will be in attendance, but, if reports are true, we could get a definitive answer by next week.
The pair confirmed they were invited, though a joint role expected to be performed by Charles' sons, Harry and William, has been scrapped as the Palace prepares for all scenarios.
Jack Slater is not the Last Action Hero, but that's what comes up first when you Google him. Preferring a much more sedentary life, Jack gets his thrills by covering news, entertainment, celebrity, film and culture for woman&home, and other digital publications.
Having written for various print and online publications—ranging from national syndicates to niche magazines—Jack has written about nearly everything there is to write about, covering LGBTQ+ news, celebrity features, TV and film scoops, reviewing the latest theatre shows lighting up London's West End and the most pressing of SEO based stories.