World on Fire season 2 ending explained: What happened to Harry, Kasia, Henriette and more as the intense historical drama drew to an emotional close
The World on Fire season 2 ending is seriously thought-provoking and saw the main characters pushed to the limit...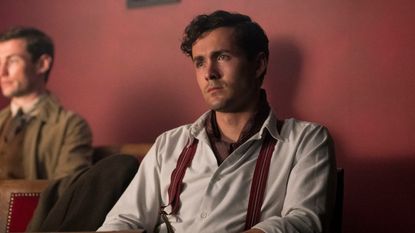 (Image credit: Steffan Hill/BBC/Mammoth Screen)
woman&home newsletter
Sign up to our free daily email for the latest royal and entertainment news, interesting opinion, expert advice on styling and beauty trends, and no-nonsense guides to the health and wellness questions you want answered.
Thank you for signing up to Woman & Home. You will receive a verification email shortly.
There was a problem. Please refresh the page and try again.
The World on Fire season 2 ending was every bit as intense and emotional as fans might've expected and some might be looking for a little more detail about all that happened.
After a four year wait following the World on Fire season 1 finale airing, the historical drama returned for an equally evocative second season. Although not every character we were introduced to in the first season returned, plenty did alongside new characters bringing their own unique perspectives throughout the period 1940-1941. With the Second World War raging, the stakes were intensely high and so many interwoven storylines might've left some fans wanting to know a little more about the World on Fire season 2 ending.
Here we explain the World on Fire season 2 ending and where we left the main clusters of characters as fans continue to hope for confirmation of a third season…
*Warning: Spoilers and sensitive subject matters ahead*
World on Fire season 2 ending explained
If you thought the Wolf ending had to resolve several plotlines then that was nothing compared to the World on Fire season 2 ending which brought all the main characters' storylines to an intriguing close and definitely left the door open for a World on Fire season 3. Set across different locations across the world with distinct characters in each, the second series of the BBC/PBS Masterpiece drama is incredibly multi-layered. It's therefore slightly easier to think of the World on Fire season 2 ending in terms of clusters of characters.
The Chase family
Some of the main characters to end the series in dramatic style were Harry Chase, his mother Robina Chase, wife Kasia and ex-girlfriend Lois, the mother of his daughter Vera. Having escaped Poland and brought Kasia back to Cheshire to live with Robina in safety, issues simmered between Harry and his wife. She was frustrated not to be fighting for her country any longer and was recruited by a member of British military intelligence Sir James Danemere, who was billeted at the Chase family home, to help MI5.
After being tasked with discovering whether a fellow Polish woman was a spy and turning her, ultimately Kasia is considered skilled enough to warrant sending her back to Poland to help. After returning from North Africa more than a little traumatised by what he's seen and done, Harry isn't pleased to hear Kasia wants to return to danger.
In the World on Fire ending she effectively ends their marriage by telling him that when she leaves this time he "has to let [me] go" and she needs to do the same with him. Later, she tried to give him her wedding ring back but he persuaded her to keep it in case it gave her an extra level of protection to still be seen as a married woman.
Although it's clear they still have feelings for each other, their paths are going in very different directions. Kasia leaves Cheshire, Harry and her brother Jan behind and the last scene of the World on Fire ending is her parachuting into Poland. Harry also departs for war again, but only after helping to convince Robina that Lois is capable of looking after Lois.
Robina had looked after baby Vera when Lois went to do her bit in the war. Lois had worked until everything she'd seen meant she was eager to return to Vera. But Robina was furious when Lois came back and said she'd got a job in munitions and a bedsit and wanted to raise her daughter again.
The Chase family matriarch, although often dismissive of emotions, insisted that she wanted to break the cycle of "damage" that she'd inflicted on Harry as a struggling single mother by raising Vera. Eventually Harry told her that Lois was the best thing for Vera. Harry and Robina also had a conversation about his late father in the World on Fire season 2 ending and Sir James proposed to Robina, but she turned him down. She disapproved of Kasia wanting to go to help the war rather than staying behind at home and he facilitated that.
Rajib
Rajib was conflicted throughout World on Fire season 2 as he was technically fighting on the side of the British but with India still part of the British Empire. He was part of the British Indian Army and in command of a sapper unit and fought alongside Harry in North Africa before Sergeant Stan Raddings was killed and Harry was later sent back to Cheshire. In the World on Fire season 2 ending Rajib woke up injured and was appalled to discover that only he and one other soldier he'd been commanding had survived.
In an emotional conversation he declared that he'd been fighting not to help the British but to prevent India becoming part of the German Empire instead. He then affirmed his belief that they had to keep fighting because once they'd defeated Germany they could finally go home and only then would the "real fight" begin "with the British" for India's independence.
Marga
Giving a German perspective in World on Fire season 2 was the character of Marga. She was a German teenager who became a member of the Band of German Maidens which was the girl's section of the Nazi Party's youth movement and her brother was in the Luftwaffe. In the series the blonde-haired, blue-eyed Marga was selected to be part of the Lebensborn programme and she later argued with her friend about being involved and reported on her. This horrific programme had the goal of selecting women with Aryan qualities to have children with SS officers in the name of producing children with these same characteristics.
By the World on Fire season 2 ending Marga had become pregnant and had gone back to her parents who were absolutely horrified by what had happened. They had a whispered conversation about what they could do, with Marga's mother convinced no-one would want to marry her after she had the baby and said they should ask a doctor to end Marga's pregnancy. Her father was in turn convinced no doctor would help them as the father was an SS officer.
Marga was distraught and when her brother Ralf returned she told him and in the family's disturbing final scene in the World on Fire season 2 ending he declared his pride in what his sister was doing for Germany. He toasted her and threateningly told his parents that if anyone said anything bad about Marga they should report them. The parents looked terrified of their own children as they reluctantly joined in the toast.
Henriette, David and Albert
French Jewish nurse Henriette had a very emotional and dramatic ending to her storyline in the World on Fire season 2 ending too. During the series she'd continued to help smuggle soldiers to safety and when her brother Luc was captured and imprisoned in an internment camp, her old colleague Dr Webster O'Connor's lover Albert who was also there helped him to escape.
Henriette later helped British Jewish pilot David to escape but was caught on the way back and interrogated. It was discovered that her passport was fake and that she'd changed her name and she was arrested. Later, when walking around the internment camp Albert approached her and told her that he knew she would be taken to Ravensbrück concentration camp in Germany.
He said she would be treated as a Jewish person first and foremost rather than a French citizen. He told her that if she went there she'd never come out and gave her soap to bribe people and a weapon she could conceal in a cast she had on her hand.
The plan was for Henriette to escape before she got to Ravensbrück. The last we saw of her she was keeping her hands in her pockets and looking briefly back as she was taken away. David managed to escape but he was last seen praying before strapping himself back into his plane ready to fly back into battle.
All episodes of World on Fire seasons 1 and 2 are available to watch via BBC iPlayer.
Sign up to our free daily email for the latest royal and entertainment news, interesting opinion, expert advice on styling and beauty trends, and no-nonsense guides to the health and wellness questions you want answered.
Emma is a Royal Editor with seven years of experience working in digital publishing. Her specialist areas including literature, the British Royal Family and knowing all there is to know about the latest TV shows on the BBC, ITV, Channel 4 and every streaming service out there. When she's not writing about the next unmissable show to add to your to-watch list or delving into royal protocol, you can find Emma cooking and watching yet more crime dramas.