Jane Fonda discusses why 'women get better at sex' as they age, in candid new interview
Jane Fonda has shared her view that 'women get better at sex' as they age...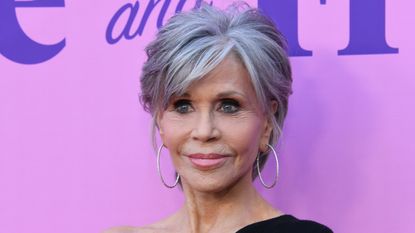 (Image credit: Jon Kopaloff/Getty Images)
Jane Fonda has spoken candidly about sex and why she believes it gets better for women as they age.
Traditionally, society has put an expiration date on a woman's sexuality with outdated views undervaluing women as they get older. Luckily, stars like Jane Fonda are here to put an end to that.
A celebrated screen siren and sex symbol thanks to roles in cult classics like 1968's Barbarella, the Academy Award-winning icon is no stranger to sex positivity and challenging traditional viewpoints – and it's something she's even less afraid of doing so as she gets older.
With her Netflix series Grace and Frankie – one of the best shows starring people over 50 - Jane, who is now 84, has previously waded into the topic of sex positivity for older women as the titular characters launched a vibrator business specifically for women who might be struggling with arthritis.
In fact, Jane was sent kinky gifts by fans as a result of the show bravely breaking through the archaic taboo.
But it turns out she's not done confronting this final frontier.
Appearing on Andy Cohen's SiriusXM radio show this week, host Andy asked the two-time Oscar winner if she thinks people "become better at sex" or if they "lean into bad habits" as they get older.
Jane didn't hold anything back with her answer.
She said, "Women, I think, tend to get better because they lose their fear of saying what they need."
She elaborated on why she thinks sex gets better for women, inferring that it's connected to women feeling more confident as they age to ask for what they want and being unafraid of speaking out.
She said, "We waste way too much time not wanting to say: 'Wait a minute, hold it, hold it, no, no, no. Slow down, and a little to the left.' We don't want to do that. But when we get older, it's like: 'No, I know what I want. Give me what I want.'"
When probed by Andy about her own sex life, Jane was quick with a witty answer.
Andy asked Jane to "characterize" her sex life. Not missing a beat, Jane answered, "Private."
Jack Slater is not the Last Action Hero, but that's what comes up first when you Google him. Preferring a much more sedentary life, Jack gets his thrills by covering news, entertainment, celebrity, film and culture for woman&home, and other digital publications.
Having written for various print and online publications—ranging from national syndicates to niche magazines—Jack has written about nearly everything there is to write about, covering LGBTQ+ news, celebrity features, TV and film scoops, reviewing the latest theatre shows lighting up London's West End and the most pressing of SEO based stories.