Who won The Great British Bake Off last night?
Who won The Great British Bake Off last night? The winner of Bake Off 2021 revealed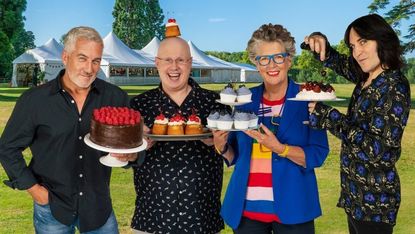 (Image credit: Great British Bake Off/Channel 4)
Who won The Great British Bake Off 2021? The result of the 2021 final was finally revealed last night as the series ended.
The final of The Great British Bake Off series saw Noel Fielding don a fabulously flamboyant shirt and Hollywood handshakes given out for the final time in 2021, as 2021 Bake Off finalists Giuseppe, Crystelle and Chigs battled it out to win the coveted Bake Off winner's cake stand.
Despite Bake Off fans complaining over a spoiler slip-up that gives away who's knocked out each week, millions tuned in to watch the final of the series and see the winner crowned.
But with the final episode in the tent drawing to a close for a year, who won The Great British Bake off 2021?
Who won The Great British Bake Off 2021?
Giuseppe won The Great British Bake Off 2021, becoming the first ever Italian contestant to reign victorious in the Bake Off tent.
Giuseppe, Chigs and Crystelle gathered among the Bake Off crew and judges Paul and Prue to hear the news from Matt and Noel, it was finally time to find out who won The Great British Bake Off, with Giuseppe coming out on top.
Upon hearing the news that he had won The Great British Bake Off 2021, Giuseppe admitted he was speechless.
No problem, Giuseppe - we have plenty of words for you! Amazing, brilliant, hardworking, skilled, persistent, resourceful, great for making memes out of it etc etc. Well done, sir! ❤️❤️ #GBBOFinal pic.twitter.com/inVRjCrEjPNovember 23, 2021
See more
Bake Off 2021 winner Giuseppe paid tribute to his father and credited him for passing down his baking skills and classic recipes to him.
"All I can think of is the reaction I'm going to get from my mum and dad," he said.
"The fact that everything I've done to deserve this comes from his heritage, I think it's going to be the best 'thank you' note I can possibly send to him.
"He's going through a very hard time, health wise, so this is going to be a boost."
Take a bow, Giuseppe. Such wonderful words. We wish you and your family the very, very best. ❤️❤️ #GBBOFinal pic.twitter.com/aSUEm2uUueNovember 23, 2021
See more
Meanwhile, Crystelle and Chigs who gave it their all in the Bake Off final had nothing but wonderful things to say about Giuseppe as well as their Bake Off journeys.
"He's an incredible guy," Crystelle said of the newest Bake Off winner.
"So genuine, an insane baker and he really deserved that win."
The moment Giuseppe was crowned winner of The Great British Bake Off 2021. #GBBOFinal pic.twitter.com/mbozzJrj8oNovember 23, 2021
See more
Having waited for weeks to find out who won The Great British Bake Off 2021, viewers were thrilled that Giuseppe was the one who took the crown this year.
"Such an amazing baker, so bloody chuffed for him," one fan penned on Twitter after the final.
"Oh I'm so emotional over this I can't believe it I'm so so happy for Giuseppe," another thrilled Giuseppe supporter chipped in.
How to apply for Bake Off 2022
You can apply to be on The Great British Bake Off 2022 now by heading to the Bake Off website's 'Take Part' page.
To enter Bake Off 2022 you must be aged 16 or over on January 1st 2022 and be a resident of the UK.
You must also be able to commit to all the filming days required for the production of Bake Off 2022, which are currently expected to be up to 30 days over a 10 week period between April and August 2022.
In order to take part in Bake Off 2022, you also cannot hold any qualifications in baking or any sort of food preparation that were aquired in the past ten years, while any bakers that already work professionally in the baking industry will also not be allowed on the show.
Who won The Great British Bake Off in 2020?
Peter Sawkins took the 2020 Bake Off crown, becoming the youngest ever winner of The Great British Bake Off at the age of 20.
The University of Edinburgh student went up against fellow bakers Laura Adlington and Dave Friday in the final but pipped them to the post with his impressive custard slice signature, walnut whip technical challenge and epic dessert tower for his final showstopper.
What is Peter Sawkins from Bake Off doing now?
Since the 2020 Bake Off, Peter is thought to have continued his studies and is set to complete his finance degree this year.
He is also preparing to release his first ever cook book in October, entitled Peter Bakes.
The recipe book is full of tasty recipes including gluten-free options and promises to feature "100 irresistible recipes for teatime treats, showstopper cakes, yummy puddings and more".
Sharing the lovely career news on Instagram, Peter told fans, "I feel as excited as I look on the cover that I can finally share this.
"The book is full of my favourite sweet recipes to bake and eat. Every recipe is written as standard but also has gluten-free amendments, so you won't miss out on any recipes if you're gf."