Libby Purves Reveals "What The Queen Means To Me"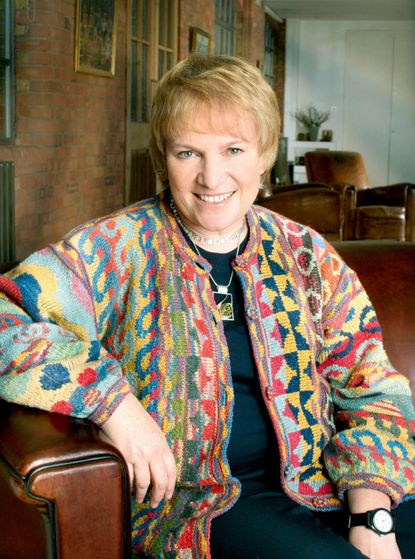 Years ago, as a young Today programme reporter, I took a wrong turn at Peterborough station on the day of a royal visit and found myself standing, baffled, at the end of a red carpet. Ten feet away from me, alighting from the Royal Train and looking faintly surprised at the scruffy hack in the anorak, was Her Majesty The Queen. I remember thinking "That is the Queen of England, and there is only one of her!"
The monarch has this effect on people, a sense of uniqueness and history. Elizabeth II has understood this, and plays the part - as she herself once said - of an object which "must be seen to be believed". Her hats are always tipped well off the face, her suits bright coloured so people in crowds can confidently say "I saw the Queen". She has taken the job of constitutional monarch seriously ever since the Abdication made her destiny clear.
So salute her on her official birthday, for giving us the sheer dumb luck to be represented, for over 60 years, by a figurehead who is a calm, dutiful, dignified, kindly country-loving family woman. Look around at the heads of state of many other countries and you shudder at what the monarchy has enabled us to avoid: libertines, show offs, political chancers, financial predators.
Just sometimes we get glimpses of the human being: an elderly woman, going through life like the rest of us, eating and sleeping and noticing new wrinkles and watching her family members grow, stumble, mess up and recover, and produce a new generation.
And if you want to know something about any long-married woman, check out the husband. The Queen must have a good sense of humour - you wouldn't get through six decades alongside the Duke without. Perhaps that also betrays a romantic taste for the alpha male: the tough, practical, enthusiastic, larky naval officer who is never far below the surface of her Philip.
You can also deduce a fair bit about a woman from her children, especially daughters: observe the hardworking no-nonsense Princess Royal, who has learned from her mother how to be as dutiful and public as the job requires, while efficiently cordoning off her private life.
My own encounters and reports with the Queen reveal odd edges. My husband Paul Heiney learned carriage-driving for a BBC TV programme, In at the Deep End, in the 80s. So we spent time at the Royal Windsor Horse Show and I wandered off to watch as competitors headed for the dressage ring. One extraordinarily highly-varnished carriage rolled towards us with smart grooms and I said matily to a headscarfed woman next to me, "That's a smart one! Wonder who it is?" "It's my husband," said the woman casually. Something in her voice made me turn and yes, it was. Gulp. How splendid, though, that she can roam happily around thee in the holiday crowds. Lately, we learn of the American tourist who lately met her at Balmoral and asked "Have you met the Queen?" to which she pointed to her policeman and said "No, but he has".
Another glimpse of the realities in that life: my friend Chinwe Chukwuogo-Roy, a gifted painter who died recently, was commissioned to do a portrait for the Commonwealth Institute. At the 2002 sitting the Queen asked how many children she had. When Chinwe hesitated an eyebrow was raised, with a dry: "Don't you know?" She explained that beside her two grown-up sons she had just adopted the infant daughter of her sister, who died suddenly in Africa. The Queen began to speak about losing her sister Margaret early that year. For a while, during the sitting, they were just two women mourning sisters. Chinwe's striking image of the Queen shows a neighbour, sympathetic and interested, sharing a memory.
All we may have is glimpses. But in this 91st year of her life, for me they add up to something graceful. She can't always have been happy - who is? Probably, from her point of view, royal duty hasn't felt all that glorious. But she's reigned long over us, and most of us are grateful. Happy birthday, Ma'am.