Top 12 Craziest Eurovision Contestants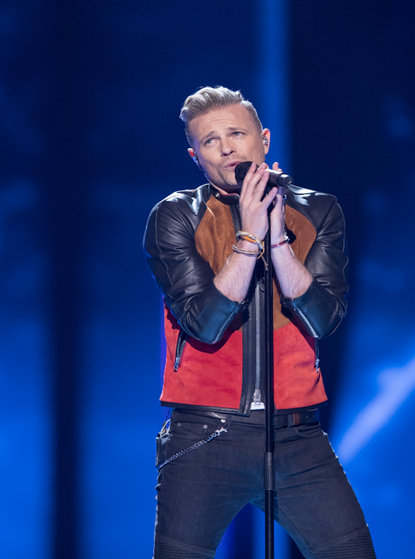 woman&home newsletter
Sign up to our free daily email for the latest royal and entertainment news, interesting opinion, expert advice on styling and beauty trends, and no-nonsense guides to the health and wellness questions you want answered.
Thank you for signing up to . You will receive a verification email shortly.
There was a problem. Please refresh the page and try again.
We count down the top twelve craziest contestants Eurovision has ever seen.
Irish Eurovision hopeful and former Westlife star, Nicky Byrne was knocked out of the contest during the semi-finals of the 2016 competition. The Dubliner treated the audience to a rendition of 'Sunlight' a song penned by himself but failed to make the cut. Despite Nicky's bad luck Ireland are the Eurovision's most successful country having won seven times since the show began in 1956.
The contest, still watched by millions worldwide brings in plenty of wacky and wonderful acts but nothing beats these memorable contestants that are etched on our minds...
Buranovo Grannies
Russia, 2012 This dance troupe took the 57th Eurovision Song Contest by storm. At first, there wasn't much hope for the Russian grandmothers. They dressed in traditional peasant garb and sang in a language comprehensible to only 300,000 people. But their sprightly dance moves and bellowing high notes took everyone by surprise. They landed a second place finish well beyond fellow septuagenarian Engelbert Humperdinck.
Ireland 2011 & 2012 Hard as we may try, there was no ignoring the force of nature that was Jedward. Their supercharged performances made them the perfect duo to represent Ireland in 2011. Bedecked in glittering red jackets, and those sky-high quiffs of course, Jedward set the audience alight with their infectious energy. One performance wasn't enough for the boys, and they returned the following year.
Gipsy
Czech Republic 2009 In 2009, the Czech Republic decided to enter a gypsy superhero who wears a red jumpsuit and gold boots. Unfortunately, after scoring a less-than-super nul points in the semi-finals, Gipsy was sent packing.
Pirates of the Sea
Latvia 2008 Less plundering and pillaging, more dancing and singing. This swash-buckling spectacle from Latvia proved a popular choice with the Eurovision audience. Clad in traditional pirate costumes, and with plenty of smoke and a billowing black sail taking centre stage, Pirates of the Sea gave us a performance to treasure forever.
Dustin the turkey
Ireland, 2008 The Eurovision Song Contest has seen its fair share of turkeys over the years, but none better than Dustin. Chosen to represent Ireland in 2008, Dustin was no stranger to the limelight having already recorded six albums and performed with the likes of Bob Geldof and Chris de Burgh. In the end, it proved all too much for one hand puppet to take. He plummeted out of the competition in the semi-finals. But he still remains a popular musical figure in his homeland apparently!
Verka Seduchkra
Ukraine, 2007 No, that's not a Christmas tree decoration. It's Verka Seduchkra, Ukraine's 2007 entrant who managed to scoop second place in the grand finals. Complete with silver head star and a glittering tin man costume, Verka was a vision of drag queen fabulousness.
United Kingdom 2007 BA's answer to Steps. Scooch were the high altitude pop ensemble representing the UK in the 2007 contest with "Flying the flag". They were flying high on the back of their Eurovision selection but when it came to the actual performance Scooch's matching blue flight attendant suits and pitchy vocals didn't break any new ground. Success evaded the group, who finished in an embarrassing 22nd place.
Finland, 2006 The horror rock band Lordi posed something of a challenge to Eurovision's traditional bubblegum values. In place of catchy pop melodies and dancers on roller skates, Lordi bought monster masks, armour and jet-flame artillery. Nevertheless, their demonic demeanour captured the hearts of Europe as they went on to win the 2006 contest.
Guildo Horn
Germany 1998 With his mad scientist hairstyle and 70s clodhoppers, Guildo resembled a disco era Einstein. He wasn't exactly the most elegant contestant during his zany performance of 'Guildo loves you!' But what he lacked in talent, he made up for with irrepressible spirit.
Bucks Fizz
United Kingdom 1981 Long gone are the days when ripping off a long swishy skirt to reveal a marginally shorter one underneath was considered daring. But this is the exact move that helped pop group Bucks Fizz win the 1981 Eurovision song contest. The frivolous foursome were specifically created for the contest, and their boppy pop number 'Making your mind up' was an instant success in a time where people actually voted for us!
Valentina Monetta
San Marino 2012The 2012 entry from Valentina Monetta was originally called Facebook Uh Oh Uh Oh before it had its name changed to The Social Network Song because of strict rules preventing the affiliation with any particular brand. To get around the new rule the singer changed all the lines that had the word Facebook in to something that rhymed with Facebook and she ensured herself and her dance troupe were all dressed in Facebook colours. Amazingly she didn't get just one point but instead a rather respectable 31. Maybe we missed something!
Lazy Bums
Israel 1987Israel have famously done quite well at the Eurovision song contest however their 1987 entry was clouded in controversy. The countries culture secretary was so peeved that the comedy duo were picked to represent their country that he threatened to quit if they went ahead and performed. He soon backtracked on his resignation promise when proceeded to perform. The resulting performance was full of bizarre dancing and some seriously shifty eyes. They somehow still managed to come in 8th place.