Expert Tips: How To Reach Your Potential at Work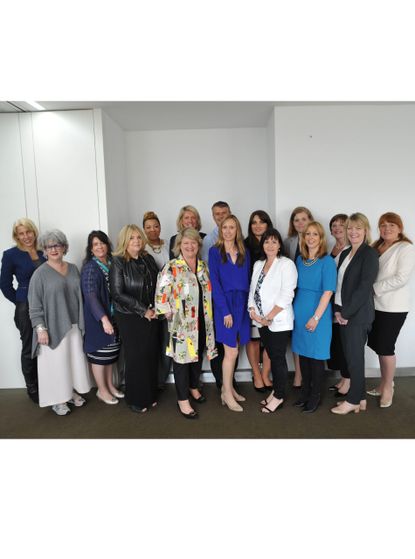 w&h is supporting the Worldpay everywoman in Retail Ambassadors Programme. Here, the judges give their advice on getting ahead in your career
"For the fourth year running, we're supporting the Worldpay everywoman Retail Ambassador Programme and celebrating brilliant women in all areas of retail," said w&h Editorial Director Sue James, who joins a distinguished panel of judges who will select the ambassadors. Maxine Benson who, together with Karen Gill, founded everywoman, the network for women in business, said: "The Worldpay everywoman in Retail Ambassador Programme is all about showcasing the diverse array of career opportunities in the industry and the women who are achieving success in those roles. All our Ambassadors are accomplished role models whose passion and commitment will inspire and encourage a new generation of retail leaders."
Nichole Viviani
"Think outside the box and challenge yourself, even if it feels uncomfortable. Remember that the only limits to success are the ones we set ourselves! Learn from your mistakes - we're all human so don't take yourself too seriously." Nichole is the HR Director for Worldpay, a global payment processing company. She also heads up the Diversity and Corporate Responsibility agenda for the Worldpay Group.
Craig Bonnar
"Once you know where you want to go, and have let others know, you have taken the first step in realising your ambitions. Set high expectations of what you can achieve and build strong relationships to help you get there." Craig is Vice President of Store Proposition and Format Development at Asda. He has a keen interest in coaching and developing new talent. Jo Delbridge
"However much you think you know, there is always so much more to learn. Being genuinely interested in what other people do, and asking questions not only builds connections, but also helps to increase your knowledge." Jo is Director of Public Relations for Specsavers UK and Ireland. She is responsible for the reputation of nearly 800 UK and Ireland Specsavers stores and audiology centres. Jo was one of the first women in the world to be awarded Chartered PR Practitioner status.
Debbie Edwards
"Always look for opportunities to learn and grow. Show initiative by finding ways you can create value and just do it. And play to your strengths - utilise what you're great at."Debbie is the Vice President and General Manager of Gap Europe, managing the brand across the UK, Ireland, France and Italy. Under her leadership, Gap has expanded in Europe with the launch of Gap and Banana Republic in Italy.
India Martin
"At its core, business is about negotiation. To get the outcomes you want, I believe three things. The first is that you must be authentic. The second is to never settle for less than you deserve and the third is that no is never the right answer." India Martin is Founder and Managing Director of Only Fingers and Toes, an award winning nail brand that is sold at luxury outlets throughout the UK.
Lisa Crawley
"Love what you do and you'll perform at your best. But be curious and don't be afraid to take yourself out of your comfort zone - amazing things can happen!" Lisa is the Director of Business Support at Worldpay. She is a certified accountant with a background in shared services and process engineering. Roisin Currie - Group People Director, Greggs
"Be brave and take risks - tell yourself you can and you will. Just don't be afraid to ask for help, and learn from others - we all need a helping hand sometimes." Roisin is Group People Director at Greggs. She is also a trustee on the Greggs Foundation Charity Committee, which aims to help the lives of disadvantaged people in local communities. Helen Dickinson OBE
"Utilise the people around you - build a network of supporters that will grow with you. Equally, find a mentor who will push you
beyond your boundaries but support you when you need it." Helen is Chief Executive of the British Retail Consortium. This year, she received an OBE for services to the retail industry. She's also Chair for Working Chance, a charity which helps women offenders find rewarding employment. Jacqui Gale
"Be clear on your goals, have confidence in yourself and never give up!" Jacqui Gale is CEO of Arran Aromatics,and has more than 30 yearsof experience working in retail, with brands including Crabtree & Evelyn and Estee Lauder.
Meg Lustman
"Never be afraid to speak out and question the norm. Recognise and celebrate success as well as appraising and implementing learnings along the way. Also, reliable wardrobe staples can boost confidence for whatever the day throws at you!" Meg Lustman is CEO at Hobbs. Previously, she was Buying Director of Fashion at John Lewis, and spent more than a decade with Aurora Fashions, where she was integral in the international development of Oasis, Coast, Karen Millen and Whistles.
Sara-Jane Asquith
"Look after yourself, be healthy, get enough sleep - your career is a marathon, not a sprint. But remember to aim high. You're probably better than you think you are and others will see your capability if you put yourself forward for opportunities." Sara-Jane is Metering & Smart Transformation Director at SSE. She joined SSE in 2013 from Ernst & Young and has over 15 years' hands-on experience of business leadership and major programme delivery.
Jane Storm
"You must have a career and life plan. Be clear on what you want and the support you need.Don't be tempted by alluring offers that don't deliver your plan. Be authentic, always treat people we
ll and give more than you take." Jane is Corporate People Director, Capability at Tesco. She works closely with the people teams across Tesco's retail businesses.
Alex Duncan
"Invest in yourself. Take public speaking assignments wherever possible, take up all offers of coaching and support, and make time to exercise and look after your health" Alex is Vice President of Applications Development, Customer and Business Services at QVC. She joined the company in 2011 as the Head of Development. Now, she is responsible for all systems supporting customer fulfilment for QVC globally. Alex also sits on the UK's Senior Management Team.
Carrie Rubin
"Don't let the question, "What if?" hold you back. If you go with your heart and work hard, you can achieve whatever you want." Carrie Rubinis a Director of Pentland Group plc, which owns and operates sports, outdoor and fashion brands. She is also President of Pentland USA.