Child Of The 70s? Here's 10 Things You'll Probably Remember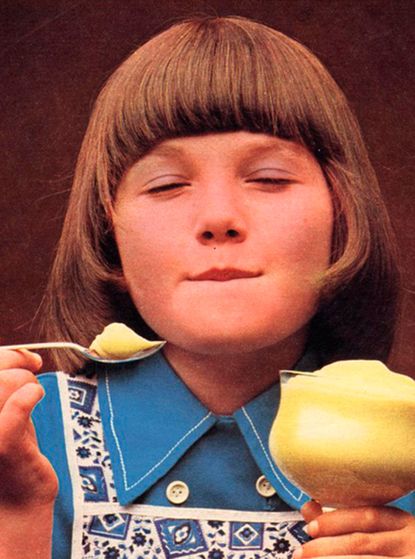 woman&home newsletter
Sign up to our free daily email for the latest royal and entertainment news, interesting opinion, expert advice on styling and beauty trends, and no-nonsense guides to the health and wellness questions you want answered.
Thank you for signing up to Woman & Home. You will receive a verification email shortly.
There was a problem. Please refresh the page and try again.
The 1970s. A decade of free love, stifling hot summers and glam rock. Trouser legs were flared, flowers were powerful and Birds Eye's Arctic Roll was considered a delicacy for the elite.
Coloured televisions were in their prime and children of the 70s were among the first to watch TV in full colour, giving rise to some of the most iconic children's television. Forget mp3 players, video games and remote control toys, your chunky black cassette tape player, inanimate doll and ball-and-string toy, provided you with hours upon hours of entertainment.
If the thought of butterscotch flavoured Angel Delight evokes a pang of nostalgia, this is for you - ten things you'll only remember if you were a British child in the seventies...
1. Sindy dolls
Britain's best-selling toy, the Sindy Doll, was the must-have doll of the decade. She was the envy of any girl living through the 1970s with her shiny, flowing locks and ever-expanding wardrobe that was unfailingly fashionable.
2. Artic roll
Those who lived through the 70s, lived through a food revolution. Smash packet potato, chicken kievs, prawn cocktails and the crème de la crème - Birds Eye's Arctic Roll. This retro frozen dessert consisting of a thin jam roll filled with Walls ice cream, was considered a sophisticated option for a special occasion.
3. Bye, Bye, Baby by the Bay City Rollers
The 'tartan teen sensations'. Scottish pop band Bay City Rollers were at their height of popularity during this decade after getting together in 1966. Their cover of Four Seasons' 'Bye, Bye, Baby' stayed at number one for six weeks during spring 1975, becoming the soundtrack of the seventies.
http://www.youtube.com/watch?v=yUwW108ITzw
4. Bagpuss
First appearing on the BBC in 1974, this beloved stripey cat became the star of one of the most popular children's TV shows. Even though every episode started the same, the intense anticipation as you waited for Emily to leave, never ceased.
5. Spangles
Was there anything more satisfying that tearing open the crinkly paper of a tube of Spangles and feeling the tangy sensation of the fruit flavoured boiled sweet hit your taste buds? Manufactured by Mars, before these sweet shop favourites were discontinued in the early 80s, they were available in lemonade, orangeade and cola flavour.
6. Flares
Despite the major impracticalities that living in flared trousers caused - the increased risk of falling down the stairs, the weight of them when it rained and the effort it took to walk when they got caught in the wind - flares were wildly popular during the 70s. If you didn't have a readily made pair, it was totally acceptable to tear the trouser leg at its seams and use a triangle of floral fabric, to make them flared.
7. Clackers
When the ultimate playground achievement was getting your clackers to swing and knock together above the hand as well as below. This toy, essentially two plastic balls suspended on either end of a piece of string, was played by swinging the centre of the string to make the balls bang together. But there's always some children that take it too far - clackers were discontinued after numerous reports of children who 'clacked' them too hard, causing the balls to shatter.
8. The Brady bunch
The Brady bunch, as the very twee name suggests, are one big happy family - mum, dad and six children. This American sit-com arrived in 1969 and followed the idyllic existence of the Brady family who typified the style and values of the 1970s.
9. ABBA
With some of the most extravagant colour coordinating outfits to grace a music stage (ever) this Swedish pop group formed in 1972. By 1976 their iconic hit 'Dancing Queen' was number one in the UK and US. Their music career continued to be incredibly successful and the band created chart-topping hits until they split in 1982.
10. Angel delight
A 59g sachet of pure heaven. Bird's Angel Delight is the whipped dessert that kick started the huge market for instant puddings. Boasting 'a taste to tempt any palate', it was established as a firm family favourite during the 1970s, available in butterscotch, orange, strawberry, chocolate, raspberry and banana.
Sign up to our free daily email for the latest royal and entertainment news, interesting opinion, expert advice on styling and beauty trends, and no-nonsense guides to the health and wellness questions you want answered.