Ruth Langsford forced to deny claims she has broken lockdown rules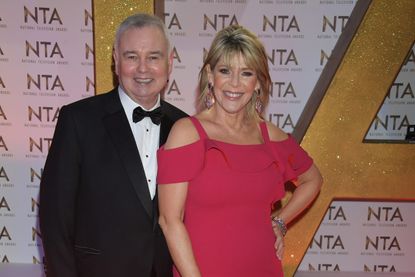 (Image credit: Getty)
Ruth Langsford has been forced to shut down rumours that she has broken lockdown rules.
The This Morning presenter explained that she hasn't strayed from the guidelines of the coronavirus lockdown, after many of her fans became suspicious that she had been meeting up with a hairdresser in secret.
On yesterday's instalment of the ITV morning chat show, Ruth's husband and co-host Eamonn Holmes addressed the situation, saying, "People get in touch to say, 'Ruth's broken lockdown, Ruth's got her own personal hairdresser'."
Hitting back at the claims she's sneakily broken the government enforced rules to stay away from people living in another household, Ruth added, "It's really annoying me actually, because I really haven't."
Eamonn went on to explain that he has been helping his wife get her locks looking perfect before going on air, "There is a reason for that – I don't like to boast, I don't like to talk, I don't like to blow my own horn about a number of things. But there's hours of preparation that go into Ruth."
READ MORE:Eamonn Holmes says wife Ruth Langsford is 'traditional' in the bedroom as he opens up about their sex life (opens in new tab)
Insisting that she's had no contact with a hair professional, Ruth joked, "They will hopefully stop saying, 'Ooh Ruth's obviously gone to a hairdresser', because I really haven't.
"If I had, I'd be asking for my money back with those roots!"
This comes after Ruth took to social media to reveal the super affordable shampoo she's been using to keep her roots from looking seriously overgrown throughout lockdown.
Sharing a snap of the PRO:VOKE Touch of Silver Brightening Shampoo, the Loose Women star explained, "NO I haven't had my roots/highlights done! I do use a brightening shampoo for blonde hair a couple of times a week though."
The violet pigment in the elixir banishes nasty yellow tones and leaves blonde barnets looking bright, ashy and toned to perfection.