15 surprising facts about Princess Margaret that will make you look at the royal in a new light
Thought Prince Harry was the naughtiest royal? Think again...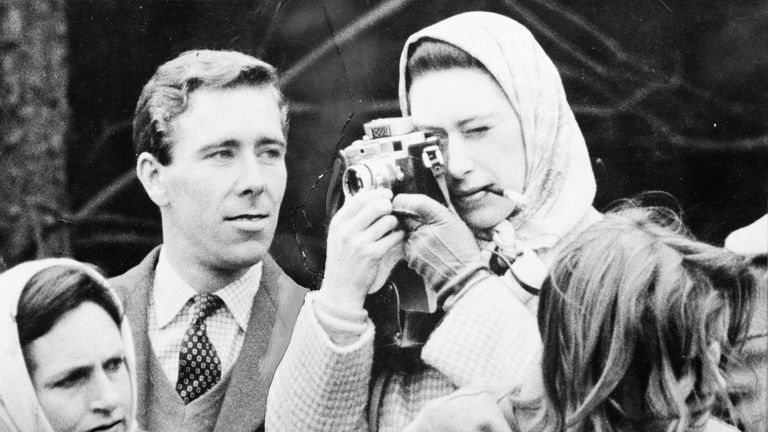 (Image credit: Getty Images)
We've all been glued to the antics of royal rebel Princess Margaret on The Crown, but if you've been wondering how true The Crown is and whether Margaret Windsor's life was as sensational in reality as it appears on screen, we've got news for you: the private life of the queen's sister only got more scandalous. 
Read on to discover 15 things you didn't know about the so-called 'party princess'. Prince Harry has nothing on the original wayward royal sibling...
1. Margaret and Elizabeth's father, King George VI, described Elizabeth as his "pride" and Margaret, known as "Margot" within the royal family, as his "joy".
2. She really did have an affair with her father's married equerry, Captain Peter Townsend, who was 16 years her senior. According to palace insiders, the affair began when the young princess was just 17 years old. It ended when she was told that, in order to marry a divorcee, she would have to renounce her royal privileges and leave England for at least five years.
3. Margaret and Peter's romance was brought to the public's attention when she was caught on camera plucking a piece of fluff from his lapel at her sister's coronation at Westminster Abbey.
4. Townsend revealed that Princess Margaret eventually refused his marriage proposal because he "simply hadn't the weight to counterbalance all she would have lost - her position, her prestige, her privy purse". In fact, as was revealed decades later, she could have kept her title and money, but was deliberately misinformed by Churchill's government.
5. She went on to marry photographer Anthony Armstrong-Jones in 1960, at the age of 29, reportedly accepting his proposal just one day after learning that Townsend intended to marry a 19-year-old Belgian woman, allegedly breaking a pact the pair had made that neither would marry anyone else. Townsend's wife, Marie-Luce Jamagne, bore an uncanny resemblance to the princess.
6. The wedding of Princess Margaret and Anthony Armstrong-Jones (later Earl of Snowdon) was the first royal wedding to be broadcast on television. Only one foreign royal (Queen Ingrid of Denmark) attended the ceremony, amidst widespread disapproval of Margaret's choice of husband.
7. British aristocrat Colin Tennant gave the princess a 10 acre plot on the island of Mustique as a wedding present. He had purchased the island the previous year, paying £45,000. A nude photograph of Tennant, Roddy Llewellyn (a landscape gardener 17 years Margaret's junior widely reported to be the princess' toyboy) and actor Nicholas Courtney, allegedly taken by Margaret on a Mustique beach, later found its way into a Sunday newspaper.
8. A £500,000 bank raid (£5 million in today's terms) carried out on a safety deposit box owned by Michael X in 1971 is alleged to have been masterminded by MI5 in order to remove compromising images of the princess.
9. Princess Margaret is said to have had affairs with Mick Jagger, Peter Sellers, David Niven, Warren Beatty, Anita Pallenberg and Dusty Springfield. Actor and alleged gangster John Bindon claimed to have had a fling with the princess, boasting that he had impressed her with his favourite party trick: balancing five half-pint beer glasses on his manhood.
10. Princess Margaret's husband was by no means an angel himself. Anthony Armstrong-Jones had a daughter by another woman just three weeks into their marriage. He was also thought to be bisexual and to have had affairs with at least two male interior designers, Nicholas Haslam and Tom Parr. "If it moves, he'll have it," a friend joked. Charmingly, he is said to have left lists of "things I hate about you" between the pages of his wife's books, one of which supposedly read, "you look like a Jewish manicurist and I hate you."
11. Margaret is said to have snorted cocaine from a silver spoon at a Rolling Stones concert in 1967, apparently remarking, "Ah, cocaine. Such an amusing drug, don't you think?"
12. Her 1978 divorce marked the first for a senior royal since Princess Victoria (granddaughter of Queen Victoria) was granted a divorce from Ernest Louis, Grand Duke of Hesse, on the grounds of "invincible mutual antipathy" by a special verdict of the Supreme Court of Hesse in 1901.
13. Before Margaret died on 9th February 2002, as the result of a stroke, she had survived two previous strokes, pneumonia, an operation to remove a portion of her left lung and an incident in her own bathtub which left her so badly scalded that she was unable to walk without assistance.
14. Princess Margaret's daughter, Lady Sarah Chatto, is a professional painter. At 17, she was chief bridesmaid at Charles and Diana's wedding.
15. Margaret's son, David Armstrong-Jones, Viscount Linley, dated Susannah Constantine, of 'Trinny and Susannah' fame. Now married to the Hon. Serena Stanhope, he makes bespoke furnishings which are sold in the likes of Harrods.