Eamonn Holmes' reaction to Phillip Schofield's coming out news was hilarious
Eamonn never fails to show his cheeky humour...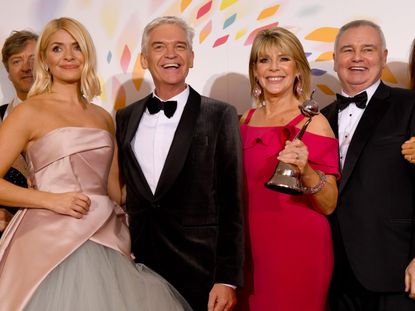 (Image credit: Getty)
Phillip Schofield appeared on This Morning today for a poignant interview after coming out as gay.
The host of the ITV breakfast show released a statement earlier this morning to let the world know about his sexuality and confirm that he has told his wife Steph Lowe, who he has been married to for 27 years, and daughters Molly and Ruby.
As he sat on the iconic This Morning sofa to chat to co-presenter Holly Willoughby about the big announcement, the 57-year-old silver fox praised his wife and family for their support.
"I can't write in any statement what I feel about that woman she is amazing," he said in the emotional chat.
"She is incredible there is no one in my life who would have supported me the way she has supported me, she's astonishing."
Describing the moment he told his daughters, Ruby, 24, and Molly, 27, the news, Phillip went on, "It wasn't easy but they are so amazing in their love and support.
"I sat them down and I told them and they jumped up and gave me a hug and said it's okay this is fine we'll always be a family."
READ MORE:Phillip Schofield and wife Stephanie Lowe split after presenter comes out as gay (opens in new tab)
Later in the show, Friday hosts Ruth Langsford and Eamonn Holmes appeared on screen to show their support to Phillip.
Eamonn sweetly announced, "Nobody should be embarrassed about their sexuality, and it's fantastic that you have spoken out.
"So many people will be strengthened by what you've said, we're by your side, we'll be the first to stand beside you."
Going on to show a glimpse of his classic cheeky side, he playfully added, "I'm disappointed in a couple of ways, first of all, I heard there was a big announcement, and I thought you were going to say you'd resigned and I was going to get your job…
"The second is, [I've always wondered] how come you can sit in a hot tub with Holly and Steph doesn't have a problem, and Dan [Holly's husband] doesn't have a problem."
Swooning over his loyal telly partner, Phillip sweetly remarked, "Holly is the sister I've never had."