Loose Women's Penny Lancaster praised for brave moment on Famous and Fighting Crime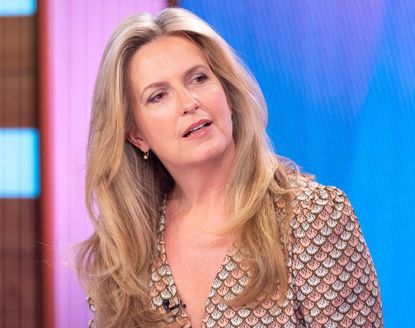 (Image credit: Ken McKay/ITV/REX/Shutterstock)
Penny Lancaster won the hearts of viewers of Channel 4's new reality series, Famous and Fighting Crime, after she chased down a suspected shoplifter who threatened to "stab her with a dirty needle."
The Loose Women star took viewers by surprise as she continued a solo mission to follow the suspect down the street, even after her life was put in danger.
Taking to Twitter, many viewers praised Penny for her bravery.
One wrote, "Kudos to Penny Lancaster who got left alone chasing down a suspect.. Despite threats of assault she followed her but maintained her personal safety!"
Another said, "I'm pretty sure Penny Lancaster doesn't have Twitter but hopefully @rodstewart will see how much love she is getting following the airing of #famousandfightingcrime. What a woman!"
A third added, "Just catching up on #FamousAndFightingCrime and Penny chasing that girl was brave! What our police men and women do and go through to keep our streets safe is unreal!"
While a fourth commented, "Fair do's to penny there , threatened with a needle and still kept going after her #FamousAndFightingCrime".
Loose Women Star Penny Lancaster Reveals She Was Sexually Assaulted As A Young Model (opens in new tab)
The episode was very emotional for Penny as she also broke down during a training exercise that brought back terrifying memories of her being attacked as a child.
Speaking of her experience, Penny said, "Growing up I was mollycoddled and protected by my family until the day I was attacked walking to school.
"There was a man on the corner which I didn't think too much of, but when I was on the underpass I heard footsteps behind me and those footsteps became quicker until I was running and he was running and he grabbed me on the other side and pulled my skirt up and wouldn't let go of me and I punched and kicked and punched and kicked and screamed until he did run off. I was only 11."
The four-part series sees Penny, presenter and model Katie Piper, Made in Chelsea's Jamie Laing, Gogglebox's Sandi Bogle and comedian Marcus Brigstocke volunteer as special constables with the Cambridgeshire police force.
Jenni McKnight is a beauty, lifestyle and entertainment journalist and a regular contributor to woman&home, having previously worked as Acting Senior Content Editor of our former sister site, CelebsNow. She has also written for HELLO! Magazine, GoodToKnow, the Daily Mirror and Yahoo!