Nadia Sawalha And Loose Women Reveal Their 'Horrendous' Breastfeeding Experiences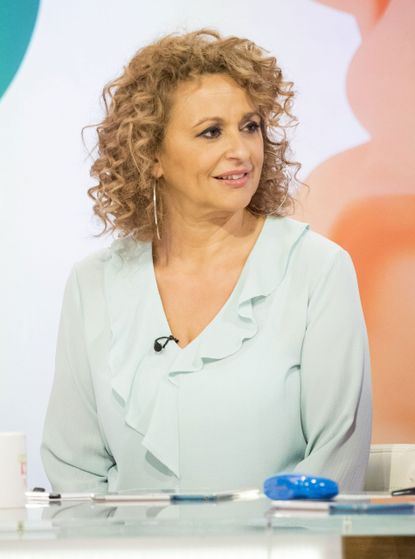 (Image credit: Rex Features (Shutterstock))
The subject of breastfeeding has been at the centre of heated debate recently, with views divided over whether it's an essential option for new mums - and the embarrassment some feel doing it in public.
Yesterday, theLoose Women panel decided to address the divisive issue. The discussion began over the question of whether there should be breastfeeding lessons in schools from the age of 11, following news reports suggesting this may be introduced.
Addressing their own experiences with breastfeeding their children, the Loose Women ladies had varying views on the topic.
Guest panellist Anne Diamond, admitted feeling a sense of failure over being unable to breastfeed her own children.She said, "I feel very divided about this. It depends how they do it. I tried to breastfeed all five of my children and I failed every single time. And that word failure still stays with me now.... I wanted to do it for my children and I couldn't do it, so I still feel like a failure about it."
Fans responded in their droves to the emotional debate on social media, with many saying they could relate to Anne's struggles.
[twitter]
[twitter]
[twitter]
Nadia Sawalha also weighed in on the discussion, suggesting that the stigma surrounding breastfeeding exists because it's not generally spoken about in society.
She said, "I think one of the biggest problems in our society is that we don't see it. We're one of very few cultures where we don't see it."
Discussing her own experiences, she sadly admitted, "I felt embarrassed, I felt ashamed, I wanted to hide away when I was breastfeeding at a time when I was also feeling really vunerable and guilty and like a terrible mum and all those other things.
"And I didn't feel supported by society. I had to go to a four-hour breastfeeding lesson because I'd never seen anyone do it, whereas in other cultures children are seeing it the whole time. Breast whopping out, putting it in, without knowing they're subliminally being taught how to breastfeed.
"And I had a terrible experience and I persevered and persevered and I'm really glad I did preserve because there is no doubt about it. There is nothing else on the planet that is brilliant as breastmilk. These incredible bodies we have, women, make this incredible thing called breastmilk."
Social media users echoed Nadia's sentiments, stating that it's a topic that's normalised far more in other countries.
[twitter]
Speaking about whether or not she thinks breastfeeding education in schools should happen, Nadia admitting she's game.
She said, "I am 100% up for this that children should be taught at school. But what I prefer is that everywhere we go in society, is that when a woman is breastfeeding, it isn't about something sexual, it isn't 'kinky', it's breastmilk. It's nourishing your child."
Mum-of-three Coleen Nolan also expressed her feelings on breastfeeding, and her experiences when her sons and daughter were young.
Chatting about how traumatic she found it with daughter Ciara, Coleen candidly admitted, "It was horrendous from start to finish. Absolutely horrendous. She was constantly on there, but still crying. It made me kind of not bond with her a bit in the beginning because I was tired anyway.
"But the main thing is that you have that sense that you are a rubbish mum, you're a failure. As much as I agree you should push breastfeeding, of course it's the best thing for the baby, but I don't think you should be made to feel...
"Because I kept getting these midwives going 'no it will be fine, keep going, keep going'. But A. I was in agony and B. she wasn't feeding properly."
In the candid confession, she continued, "And it was at about the 6th week of trying and Ray came down in the middle of the night and I was sitting there with Ciara on my breast absolutely sobbing my heart out because I was just, I used to dread her even stirring in her cot. For me it didn't work, I don't think I should be made to feel like less of a mum because it didn't work."
Despite the discussion, some fans on social media admitted that their believe breastfeeding shouldn't be discussed in schools, for varying reasons...
[twitter]
[twitter]
It's no doubt a divisive topic, but clearly, it's key to keep the discussion open and honest.
Amy Hunt is an experienced digital journalist specialising in homes, interiors and hobbies. She began her career working as the features assistant at woman&home magazine, before moving over to the digital side of the brand where she eventually became the Lifestyle Editor up until January 2022. Amy won the Digital Journalist of the Year award at the AOP Awards in 2019 for her work on womanandhome.com.