King Charles III Actor Admits Princess Diana Scene Will Be "Agonising" For William And Harry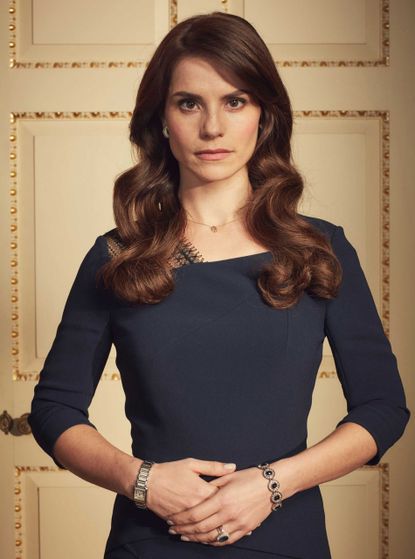 King Charles III is a new drama soon to be hitting our TV screens - and it seems it will be perhaps one of the most controversial programmes about the royal family to ever air.
Hitting BBC Two on 10th May, the one-part drama, which is based on an award-winning play by Mike Bartlett - the writer behind Doctor Foster - shows the young Royals as you have never seen them before; a family at odds over controversial privacy laws.
Following in the foosteps of feature film 'The Queen' and the popular (and beautiful) Netflix series 'The Crown', which dramatises the private and complicated relationships of the Royal family in the early days of Queen Elizabeth's reign, 'King Charles III' imagines what would happen when Prince Charles ascends the throne after the death of Queen Elizabeth II.
Tim Pigott-Smith (the actor playing Prince Charles), who recently passed away, admitted that the controversial show could be a tough watch for the royal family.
Discussing a scene where Diana's ghost appears to Prince Charles, Pigott-Smith said "One area of the play I found incredibly painful to do was the ghost of Princess Diana. Just because that whole incident was so terrible."
Despite this, the actor continued, "I don't think it is presumptuous of us to do it or wrong of us to do it."
The actor also described how watching the late princess could well be a horrible thing for the royal family to see. He said, "That area of the play is hyper-sensitive and would be terribly upsetting for any of them to watch. For Charles or William or Harry it would be agonising to watch. That upsets me. But I don't think we've done anything unreasonable or cruel."
And the controversy continues. The director of the forthcoming show, Rupert Goold, has claimed that certain actors even turned down roles in the programme because they were concerned it would impact upon their chances of making the annual honours list in the future.
In an interview with the Radio Times, Goold talks about the sensitivity of the material - which has been adapted for TV from an already controversial but award-winning stage play - and how that affected the final casting.
Although well-known actors such as Piggott-Smith and Charlotte Riley came on board to play the future King and the Duchess of Cambridge respectively, Rupert said, "You have to remember that, even with the stage version, we'd been through long conversations with lawyers and certain actors refusing to be involved because of how it might affect their future relationship with the honours system."
In the end, the actors who did step into the roles were well aware of the controversial nature of the show. Although he chose not to name them, the director made it clear that "certain actors", had refused to be involved in the contentious production because of their own personal fears that it could potentially jeopardise a future knight or damehood. Sounds quite extreme, doesn't it?
The programme offers a fresh view of the Royal Family, which might not sit that comfortably with mornarchists. For instance, Charlotte Riley's Duchess of Cambridge has been described by the actress herself as a bit of a 'tough cookie' and a 'ballsy' woman, who has an eye for business and is the one calling the shots behind Prince William.
However, Goold told the Radio Times, "I hope that people who think it's going to be anti-monarchist will watch the whole thing because I think it's nuanced."
And the most surprising thing about it, perhaps, is that the publicly polite, serene Duchess is portrayed as a vocal, tough woman who isn't afraid to back down from a tussle. This is not the playful Duchess who we see at charity events and public engagements - it's an entirely fresh take on her behind-closed-doors persona.
Prior to filming starting, Charlotte Riley, who is playing Catherine, explained one of the reasons she took on the role: "Kate Middleton is a really interesting woman, particularly within the context of this play, and it is a challenge I am really looking forward to."
As Riley is known for playing strong, sassy women in dark and gritty dramas - her role in the award-winning gangster series 'Peaky Blinders' is a case in point - we have high expectations for this series.
In reality, the death of the Queen will trigger a 12-day mourning period and have a massive impact on business, stocks and banking. Postage stamps and minting will change to feature the new monarch's profile and MPs will be expected to pledge allegiance to the new monarch. With so much happening so quickly, it could well be a turbulent time, making this drama even more fascinating viewing as, well, the events it depicts could feasibly happen.
King Charles III will be aired on BBC Two on Wednesday, May 10 at 9pm.
Writer and editor Alanna Freeman is an inquisitive storyteller, whose interests—like her beloved global travels—know few boundaries. As well as Woman & Home, she has worked for the likes of Soho House, Telegraph Luxury, Conde Nast Traveller, delicious., Elle, and Vogue, and GQ Australia.
Alanna has been known to turn her hand to copy projects involving souped-up streetcars and cutting-edge technology—she swears they are genuinely both fascinating, even to the uninitiated! A writer who likes to add a bit of color and texture to her work, she has an MA in Communication Design: Illustration from Kingston University.