Kathy Griffin reveals stage 1 lung cancer diagnosis
The star said she has cancer, despite being a non-smoker, and urged fans to get vaccinated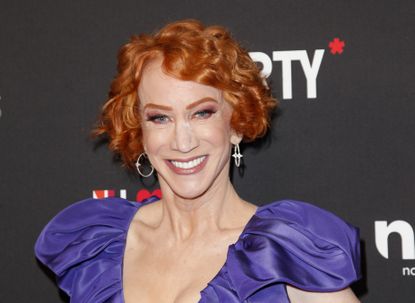 (Image credit: Getty)
Kathy Griffin has revealed that she has stage 1 lung cancer.
The announcement came via the actress's Instagram. "I've got to tell you guys something. I have cancer. I'm about to go in for surgery to have half of my left lung removed. Yes, I have lung cancer even though I've never smoked!," she wrote.
She then urged people to get the covid-19 vaccine. "Of course I am fully vaccinated for Covid," she wrote. "The consequences for being unvaccinated would have been even more serious."
Kathy told fans to stay up-to-date on their medical check-ups, noting that regular check-ups can save lives. If her cancer was found later, it could have spread and become more serious.
In March 2020, Griffin experienced covid-like symptoms and posted a photo from a COVID-19 isolation ward room at a hospital. She merged the photo with a tweet from Donald Trump, which claimed the United States "has done far more "testing" than any other nation, by far!" Griffin said "he's lying," and claimed she could not get tested because of CDC restrictions put in place by Mike Pence's Covid Task Force.
In 2017, Kathy shaved her head in solidarity with her sister, who was undergoing chemotherapy. Her mother Maggie was shocked by the gesture and called Kathy a "wonderful human being." Her older brother Gary Griffin also had cancer. He died in 2014 of stage-four esophageal cancer.
In solidarity with her sister, who is going through chemo, @kathygriffin shaved her head. Donate to @AmericanCancer: https://t.co/NazIbJ9FQ2 pic.twitter.com/UXr9YH1LYcJuly 31, 2017
See more
Kathy started her career as a stand-up comedian, and eventually starred in a reality TV series called Kathy Griffin: My Life on the D-List. She has released six comedy albums, all of which received Grammy Award nominations. Her first album in 2008, For Your Consideration, made her the first female comedian to debut at the top of the Billboard Top Comedy Albums chart. She was a guest co-host of The View, but was banned twice: once for making comments about Barbara Walters and once for getting in an argument with co-host Elisabeth Hasselbeck.
On Instagram, she said she would be back in the spotlight soon. "I should be up and running around as usual in a month or less," she wrote. "It's been a helluva 4 years, trying to get back to work, making you guys laugh and entertaining you, but I'm gonna be just fine."
Rebecca Holland is a travel and food writer based in Chicago. She has written for the Guardian, New York Times, Architectural Digest, Food & Wine, Wine Enthusiast and more. She is currently a graduate student at Northwestern's Medill School of Journalism. When not working, you can find her eating her way through Chicago's neighborhoods, or in non-pandemic times, traveling around the world.