Jupiter in Aries 2022 encourages you to chase your dreams—here's your zodiac forecast for this highly charged transit
Jupiter in Aries 2022 is a transit that screams 'reach for the stars!'—here's everything to know and what your star sign might expect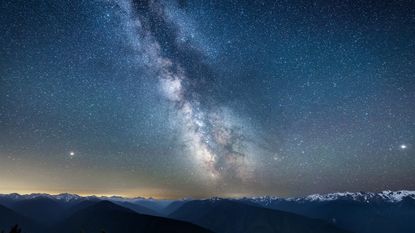 (Image credit: Diana Robinson Photography/Getty Images)
woman&home newsletter
Sign up to our free daily email for the latest royal and entertainment news, interesting opinion, expert advice on styling and beauty trends, and no-nonsense guides to the health and wellness questions you want answered.
Thank you for signing up to . You will receive a verification email shortly.
There was a problem. Please refresh the page and try again.
An energetic surge fills the sky as Jupiter, the planet of luck, abundance, and growth, enters passionate Aries on May 10, where it will stay until October 28. This is one of the astrological events in 2022 that you don't want to miss!
For the past 5 months, Jupiter has been moving through ethereal Pisces, encouraging us to dance with our subconscious and dive into the depths of our soul. Pisces' energy is deep-feeling and incredibly spiritual.
As Jupiter ventures into fire sign Aries, we experience a collective shift. This is trailblazer energy. While Jupiter in Pisces encourages our inner dreamer, Jupiter in Aries reminds us to take action. If we want to achieve our dreams, we must invest our energy into actualizing them. As the first sign of the zodiac, Aries lends its courage, leadership and optimism to our pursuits and goals. When we lean into courage and confidence, we will be rewarded. This is warrior energy that isn't afraid to fight for what it believes in. You are the hero in your story, so what's your next move?
Jupiter's last dance in Aries was in 2010-2011. Think back to that time frame and themes that came up for you. Wherever Jupiter moves through our charts is where we experience expansion, growth, and a little luck. What was blossoming for you during that time period? Similar themes may arise under this transit.
The planet will spend just over 5 months in Aries and will retrograde back into Pisces on October 28. Take note of what shifts and opportunities arise during this time, as Jupiter will re-enter Aries on December 20, where it will remain until May 16, 2023. The next few months will serve as a preview of what Jupiter in Aries has in store for us next year.
Jupiter is an outer planet, which means that it moves slower through the zodiac, completing a full cycle roughly every 12 years. We haven't experienced blessings in this part of our astrology birth chart for nearly 12 years. Read on for your Jupiter in Aries horoscope, and how your zodiac sign will experience a boost of luck and fortune over the next few months.
---
Aries
Jupiter is moving through your sign, Aries! This is a cosmic blessing that is here to remind you that you are deserving of all of the love and attention. Jupiter in this sector of your chart activates your relationship axis. If you're single, this could be an auspicious time to meet someone. This also brings blessings and fortune to personal projects and goals you've been hoping to move forward. This transit reminds you that when you step deeper into your own confidence, you are rewarded. You may draw a little more extra attention than normal. Don't be afraid to take up space–others are noticing you. You're a star!
Taurus
Your inner world is expanding, Taurus. As Jupiter moves through the sector of your chart that rules your subconscious and spiritual world, you may have this eerie feeling that you are being protected and guided. This is serious guardian angel energy. You may feel called to spend more time honing and developing spiritual practices like meditation, journaling or investing in your rest cycle. If you have an interest in the psychic world, this is an incredibly magical time to hone your skills and connection to your spiritual team. You will experience luck and fortune when you honor your needs, confront any limiting beliefs and take care of your mental, physical and spiritual well-being.
Gemini
Did someone say networking, Gemini? Connecting with others comes oh so naturally to you, but with Jupiter's arrival in Aries, you're finding yourself making life-changing connections. This is an aligned time to focus on your hopes and dreams. Talk about them and share them with others. You never know who will be one degree of separation away from bringing them to life. Jupiter's dance through Aries could also signal a little extra cash from your career. You've put in hard work and deserve to be rewarded. The more you share your visions and dreams with others, the closer you will be to bringing them about.
Cancer
Are you overdue for a promotion or raise, Cancer? Jupiter is hanging out at the very top of your chart, which governs reputation, legacy, fame, and recognition. It's quite literally your time to soak up the spotlight and take up space! Don't be afraid to celebrate yourself–even publicly! Your hard work deserves recognition and CEOs and VIPs are noticing your efforts. This is a period to reap the rewards of the seeds you've planted and so diligently tended to. Line up your PR team now–you're drawing attention left and right! And guess what, it's well-earned!
Leo
Release your inner daredevil, Leo! Jupiter's dance in Aries is all about experiencing what life has to offer. You're more inclined to take risks and, when you do, you will experience boundless blessings. Go down the path less traveled and you will find unexpected rewards. This period of time can also heighten our interests in spirituality, study and our perspective. If you're in the media world, this transit brings luck to publishing and broadcasting. A little extra attention looks good on you!
Virgo
You are tasked with owning your power, Virgo. When Juptier moves through the part of our chart that governs our fears, psyche and triggers, we experience growth and expansion when we invest in processing these past pains and invest in our emotional health. This is also the area of the chart that governs shared resources. You may find that others are ready to invest in you. If you're looking for financial support for a project, luck is around the corner. Jupiter's presence here also activates your psychic mind and world. Don't be surprised if your dreams become a little more prophetic.
Libra
Blessings and opportunities arrive in the form of partnerships, Libra! Could there be better news? Jupiter's dance in Aries reminds you of the pure joy you experience from one on one connections. This is an incredibly auspicious time for romantic connection. Many get engaged when Jupiter moves through this part of their chart. This is also a more favorable time for connecting with people who will bring blessings and luck in many forms–business contracts and connections or perhaps you meet a soulmate in the form of a new best friend.
Scorpio
Your schedule is about to fill up, Scorpio! Prioritizing your work/life balance is key and maintaining your boundaries is ever-so-important as Jupiter moves through Aries. You may finally feel called to shed some self-destructive habits and embrace a healthier, more holistic lifestyle. Your role at work may be expanding and a promotion may be in order. With that comes added responsibility. Honoring your needs for rest and personal care is key to experiencing rewards and blessings at this time. You may find yourself also feeling a little extra motivated to put in extra hours at work. Cosmically speaking, this is likely to pay off!
Sagittarius
Your luck is limitless when Jupiter moves through Aries! When you prioritize time for your hobbies or express your creativity, you will attract blessings your way. This is a powerful time to develop a practice honoring your inner child. Acknowledging what they went through and reminding them that they are always loved and protected. Inner child work can lead to expansive growth and healing at this time. This is also the traditional area of the chart that rules fertility. If you're looking to expand your family, the stars are aligning. Jupiter's presence here can also increase romance–if you're dating this is a cosmically approved time to swipe right!
Capricorn
Your residence and family unit are top of mind, Capricorn! Typically you're a work-oriented kind of person, but you can't help but notice and feel incredibly grateful for the blessings and expansion you're experiencing in your private life. Jupiter's entrance into Aries may also signal a period of needing more solitude, as well as an interest in uncovering deeper layers of your lineage and psychological foundations. This is an auspicious time for buying, selling, or renovating property. Investing in your home and sacred space will bring inner peace and joy. This can also be a healing time for mending broken bonds with family members.
Aquarius
It's time to invest in your mind, Aquarius! Sign up for courses that interest you–even if they don't feel like they have a direct connection or link to your current career path. Your mental world is expanding and you're finding your curiosity is reaching new heights. Investing in yourself intellectually or spending time honing skills that you enjoy will lead to new opportunities and experiences for expansion. This also signals a period of growth and positivity when it comes to siblings and extended family. Perhaps you're ready to turn a new leaf, or find yourself spending more time with loved ones.
Pisces
Your bank account is about to receive a major cosmic boost! Jupiter delivers blessings in the form of monetary rewards. If you've been grinding and putting in the hours for a promotion, it may just finally arrive. This signals a period of financial abundance and expansion. This is a potent period to transform your relationship with money and release a scarcity mindset. You may be spending more time investing your energy into your budget or investments. This is also a period of indulgence and increased self-confidence. When you treat yourself, you may start to feel better about yourself. You're worth it.
Stephanie Campos-Powell is a Mexican-American astrologer, modern mystic, writer, editor, and serious cat lover. She's got four obnoxious planets in Leo and thanks the stars every day for her grounding Virgo moon. Reading celebrity birth charts just puts the wind in her sails, and so does Zumba. In her spare time, you can find her helping others step into their power with the help of magic, spellwork, astrology and various healing modalities. And creating passive-aggressive astrology memes about her loved ones.