January Jones froze her eggs after having her son for this very smart reason
After giving birth to her son Xander, who is now 11 years old, January Jones decided to freeze her eggs to 'alleviate any pressure on myself'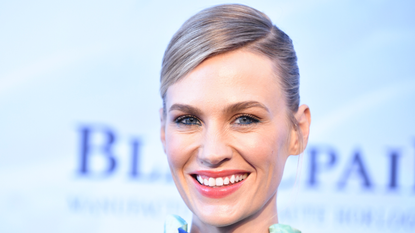 (Image credit: Rodin Eckenroth / Stringer)
On a new episode of the podcast Race to 35, a program co-hosted by Monica Padman and Liz Plank that focuses on fertility, 44-year-old actor January Jones got very candid about the process she went through to freeze her eggs.
The former Mad Men star specifically addressed the fact that she decided to go through with the procedure after having her son Xander, who is now 11 years old.
---
"I already had my son and I just wanted to alleviate any pressure on myself," the single mom explained on the podcast. "As women, we have these stories in our mind of our 'plan' for life and marriage and family and kids, whatever that looks like. And I had an idea, but nothing ever goes to plan. So I just thought, to get rid of that weight, I wanted to do it."
January went into detail about the intricacies of egg freezing, revealing that she had to inject herself with hormones for 8 to 11 days before the actual procedure. Whereas an average menstrual cycle produces a single egg, the injections are meant to stimulate one's ovaries to release multiple eggs at once and therefore maximize the chances of obtaining usable ones.
At the time, the actor's son was old enough to understand that his mother was going through something.
"On my third or fourth day, my son walked in when I was doing the shots and was like, 'What are you doing?,'" January recalled. "He was worried, and I didn't want him to think I was sick, so I sort of tried to explain it to a small kid. Afterwards, when I was in bed recouping, it wasn't that bad, but I was resting and he asked, 'How many eggs did [you] get?' And I told him and he goes, 'So I'm gonna have that many brothers and sisters?' He was so psyched. I was like, 'No, not necessarily. I don't know.' Then I was screwed."
Although the celebrity acknowledged that, given her status as a single mother, she "can't even image going back to having a baby [or a] toddler," she finds the potential of perhaps one day using her frozen eggs to "alleviate the pressure to date."
"What if I meet someone and he hasn't had any children and he wants to, and I'm like, 'Well I'm old as f***' and I can't have them?," January said to the hosts. "But, I could use the eggs or use a surrogate. I just like having the options. I like having backup plans. That's a little OCD of me."
One thing she didn't necessarily think of before actually going through with the process was the financial strain it would place on her, specifically referring to the time that her doctor warned her that there was only a "15% chance" that her egg would survive.
"I was like why am I paying for this if it's not even gonna work? But I still went through with it," she said, mentioning that the surgery went well and her eggs are still frozen.
When asked about the sort of advice she'd offer fellow women thinking of going ahead with the operation, January was quick to point out that securing an emotional support system was key to the whole process.
"Having emotional support is important, to go through it with you or just to be someone to vent to," she said. "I mean, that's the thing I really miss in my life, not having partner. I mean, I don't miss having to make joint decisions with someone, but I do wish that there's someone at the end of the day to bitch to about anything and everything."
Sign up to our free daily email for the latest royal and entertainment news, interesting opinion, expert advice on styling and beauty trends, and no-nonsense guides to the health and wellness questions you want answered.
Anna Rahmanan is a New York-based writer and editor who covers culture, entertainment, food, fashion and travel news. Anna's words have appeared on Time Out New York, the Huffington Post, Fortune, Forbes, Us Weekly, Bon Appetit and Brooklyn Magazine, among other outlets.