Is Netflix's The Good Nurse based on a true story as Eddie Redmayne and Jessica Chastain star in harrowing hospital movie
Inspired by an eponymous book that was based on real-life events, The Good Nurse on Netflix tells a terrifying tale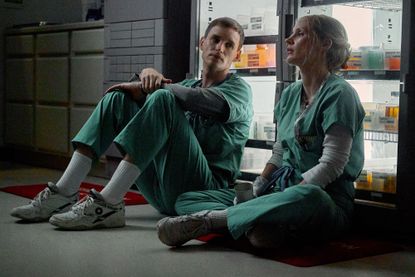 (Image credit: Netflix)
The trailer for The Good Nurse on Netflix, set to debut on the streaming platform on October 26, is absolutely chilling.
Starring Academy Award winning actors Jessica Chastain and Eddie Redmayne, the two-hour-long movie is directed by Tobias Lindholm and it is based on Charles Graeber's 2013 book The Good Nurse: A True Story of Medicine, Madness, and Murder.
What is The Good Nurse on Netflix about?
The plot of The Good Nurse on Netflix is pretty straightforward and, to be quite honest, entirely terrifying.
Jessica plays Amy Loughren, a single mother of two with a life-threatening heart condition that works the night shift as a nurse at an Intensive Care Unit (ICU) in New Jersey. Eddie is Charles Cullen, also a nurse who starts working alongside Amy and actually eases her stress at the hospital. The two develop an intense friendship until a string of odd patient deaths kicks off an investigation that leads to Charles Cullen as the prime suspect. Authorities ask Amy for help in uncovering the truth.
Is The Good Nurse on Netflix based on a true story?
The Good Nurse on Netflix is inspired by Charles Graeber's eponymous book, which is actually the chronicling of a true story.
The real-life Amy worked as a nurse in the ICU at Somerset Hospital in New Jersey until 2003. That year, two detectives reached out to her suggesting that, according to PEOPLE, "her coworker could be one of the most prolific serial killers in American history."
Turns out, Charles Cullen was actually responsible for the hideous crimes and the truth was uncovered through the help of Amy herself, who actually found the entire investigation traumatizing.
Once the case wrapped up, Amy turned to spirituality to help her cope with the agonizing mental damage she incurred.
Fast-forward almost two decades, and, according to her own website, Amy now works as a Reiki Master (Reiki is a Japanese energy healing technique), a hypnotherapist, a neuro-linguistic programming practitioner, a meditation instructor, a DreamSculptor practitioner, a reconnective healer, an integrative energy healer, a past life regressionist, a crystal language reader and a "medical intuitive."
"Watching the movie gave me permission to be proud of myself," Amy, who is now 57 years old, said to PEOPLE after seeing the production. "I showed up as a mom. I showed up as a nurse. I showed up as a friend. The only reason Charlie is not still murdering is because of my friendship with him."
Who is Charles Cullen and where is he now?
Born in New Jersey, the now 62-year-old Charles attempted suicide a number of times and suffered from depression following the death of both his parents.
According to Charles Graeber's book, he was part of the Navy for a while before becoming a nurse. He graduated Mountainside Hospital's nursing school in Montclair, New Jersey in 1986 and started working the burn unit at Saint Barnabas Medical Center in Livingston, New Jersey. That was the site of his first murder.
In 1987, he married a woman named Adrianne Baum and the couple had two daughters together before divorcing in 1993. According to the Warren County Family Court, in 2004, Adrianne filed a restraining order against her former husband citing domestic violence.
According to official documents, Charles Cullen killed his victims by injecting their IV bags with lethal doses of a variety of heart medications and insulin.
Two aspects of the story are most chilling: Charles Cullen never had a motive to kill various patients and, although fired or forced out of six different hospitals, he was not caught until years into his crimes, when Amy started secretly recording conversations with her then-coworker, which she then sent to the Somerset County Police Department investigators who were on the case.
Is Charles Cullen in jail now?
​​Charles Cullen is currently serving a life sentence at New Jersey State Prison. After being arrested following evidence provided by Amy, Charles Cullen actually confessed to the crime and was convicted of 29 murders (although experts believe he could be tied to as many as 400 murders given suspicious circumstances). As a result, in 2006, he was sentenced to 11 consecutive life sentences.
Sign up to our free daily email for the latest royal and entertainment news, interesting opinion, expert advice on styling and beauty trends, and no-nonsense guides to the health and wellness questions you want answered.
Anna Rahmanan is a New York-based writer and editor who covers culture, entertainment, food, fashion and travel news. Anna's words have appeared on Time Out New York, the Huffington Post, Fortune, Forbes, Us Weekly, Bon Appetit and Brooklyn Magazine, among other outlets.