Dustin Diamond says 'my throat hurts' in final audio message before his tragic death
The Saved by the Bell star passed away on Monday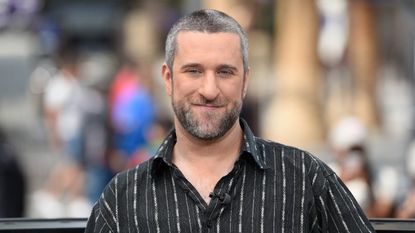 (Image credit: Getty)
Dustin Diamond sent his close friend an audio message in which he says 'my throat hurts' in the days before his tragic passing.
In the recording, Dustin struggles to speak as she says: "I'm waiting for my doctors to get back in here."
But he still managed to make a joke despite his condition, adding: "When I swallow my throat hurts... but like something dropped honey on the bed sheet, not even the floor, not my jeans, so it's five second rule... yeah [but even the] the 0.0005 second rule could kill me."
Dustin's friend Dan said he wanted to share the recording with fans so they could see how he tried to deal with his illness with a positive attitude until the very end.
"He sent me that audio on Thursday which was the last time I actually spoke to him, after that he found it hard to talk," Dan said.
"In that audio he is trying to make light of the situation he was in.
"His doctors had just told him that he had very low platelets in his blood and the slightest scratch could cause him to bleed to death.
"He was just trying to take it all in and I think making jokes made it easier for him to take in.
"He knew it was serious, but he's still trying to make people smile - I thought I'd share it because it shows people he was making jokes until the end."
Dustin lost his battle with lung cancer on Monday, with many celebrities paying tribute to the star.
Our thoughts are with his family and friends at this difficult time.
Robyn is a celebrity and entertainment journalist and editor with over eight years experience in the industry. As well as contributing regular to woman&home, she also often writes for Woman, Woman's Own, Woman's Weekly and The Sun.