Courteney Cox forced to sell 'haunted' house after this chilling encounter
Courteney Cox sold the 'haunted' house formerly owned by Carole King after a terrifying interaction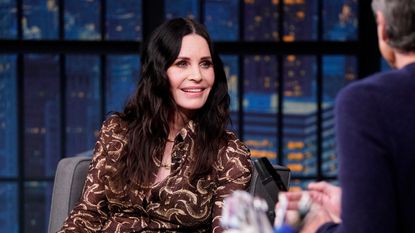 (Image credit: Lloyd Bishop/NBC/NBCU Photo Bank via Getty Images)
She might have famously shared her apartment with some good Friends, but actress Courteney Cox had to sell her former Los Angeles home after realizing she might've been sharing it with someone—or something—less friendly altogether.
Scream star Courteney might not have been able to leave work at the office, as she's revealed she's had some horror film worthy encounters in her real life.
---
In an interview on Jimmy Kimmel Live, Courteney revealed that a comment from a delivery man was the final straw in selling her Los Angeles home that was previously owned by burlesque dancer Gypsy Rose Lee and music legend Carole King.
While promoting her forthcoming Starz series, Shining Vale, which follows the story of a couple who move into a new house which was previously the host for terrible atrocities, Courteney told Jimmy Kimmel that she has some real life experience to draw inspiration from.
She explained that, ever since she moved into the Laurel Canyon mansion, she'd encountered a series of spooky events.
"I didn't believe it at first," Courteney told Jimmy, but then explained how things only seemed to get spookier—so much so that Carole King herself was called in to help with a séance. Only in Hollywood!
Courteney explained that Carole came over to help her do a seance to help get rid of any evil spirits in the home, but the Friends actress ended up being so starstruck by her that she wasn't really paying attention to the main event.
"So, Carole King came over to my house and she said there had been a divorce that was really ugly, and there was a ghost in the house," she explained. "And I was 'Yeah, whatever.' But other people who had stayed there with me—like, friends of mine—said they had an encounter with a woman who was sitting on the edge of the bed."
If you'd ever doubted the benefits of online shopping, it turns out a UPS delivery man was the reason Courteney finally decided to sell the haunted mansion.
Courteney told the story, explaining, "I was at the house one day, not being a believer. And the doorbell rang. It was a UPS guy or something, and I opened the door and he said, 'Do you know this house is haunted?' And I go, 'Yeah, why? Why do you think that?' He goes, 'Because there is someone standing behind you.'"
Where are roommates like Rachel and Phoebe when you need them?
Jack Slater is not the Last Action Hero, but that's what comes up first when you Google him. Preferring a much more sedentary life, Jack gets his thrills by covering news, entertainment, celebrity, film and culture for woman&home, and other digital publications.
Having written for various print and online publications—ranging from national syndicates to niche magazines—Jack has written about nearly everything there is to write about, covering LGBTQ+ news, celebrity features, TV and film scoops, reviewing the latest theatre shows lighting up London's West End and the most pressing of SEO based stories.