Coleen Nolan admits her sister's health battles prompted her to re-evaluate her marriage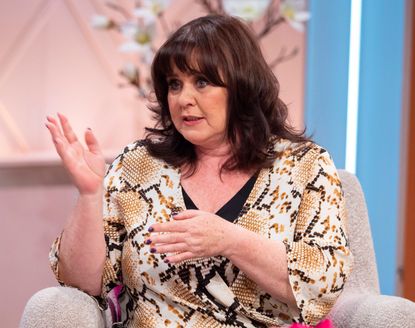 Coleen Nolan, 54, has spoken candidly about her sister's cancer battle and how it motivated her to re-consider her life.
Bernie Nolan died in 2013 after her breast cancer metastasised to her brain and other body parts. Coleen's other sisters Linda and Anne were also diagnosed with condition, and Linda's battle with the disease is ongoing.
In an interview with The Sun, Coleen admitted that the heartbreaking events gave her a 'wake-up call' to question whether she was really happy in her life.
Coleen told the The Sun, "Bernie dying was a massive wake-up call for me.
"Her death changed me and my though process about life too. When someone so close to you dies, you do think of your own mortality.
"It made me think, 'oh God am I happy?'. I knew I needed to change things. Bernie didn't have that choice."
She confessed that her sisters health worries were a catalyst for ending her marriage to ex-husband Ray Fensome too - saying that it would have been too easy to stay together, although they weren't totally happy.
Of Bernie, Coleen said,"She would have been really supportive of me going through with the divorce. She would have said 'good on you'."
Before continuing, saying, "At the age I'm at, it would have been easy to settle because there was nothing terrible with me and Ray. It wasn't like there were other people involved, we weren't screaming and shouting at each other, we were just ambling along.
"We were pretending to be happy and we weren't."
The former singer also said that she's accepted that she may face health problems in the future, given that many members of her family have gone through it. She said, "The odds are against me with three sisters being diagnosed with cancer.
"That's why I'm very vigilant. I try not to get too paranoid about it because I don't want the fear to take over my life, but I want to catch it as early as possible so it gives me a much bigger chance of surviving.
MORE:Jo Malone reveals the unexpected effect breast cancer had on her life (opens in new tab)
"Yes, I could get cancer, but I'm just going to try to enjoy life as much as possible and not get hung up on relationships or marriages not working. I'm still alive. Life really is too short."
Despite her fears, Coleen has been making the most of her newfound single life, claiming that her divorce has made her a stronger woman.
"I don't have to answer to anyone anymore," she said.
"I'm loving the independence. It's given me a whole new zest for life.
"I think Bernie would be really proud of me because she was the type who would think, 'if you're not happy, bloody do something about it'."
The interview comes as Coleen preps to star in a new one-off show The Thunder Girls at The Lowry in Manchester.
Isa Jaward is a journalist from London who has written for the likes of Time Out, The Guardian and Music Week.