Bruce Willis' wife opens up on his aphasia diagnosis and the 'paralyzing grief' she feels
Following Bruce Willis' aphasia diagnosis, wife Emma Heming reveals the hardships involved in day-to-day life and shares coping mechanisms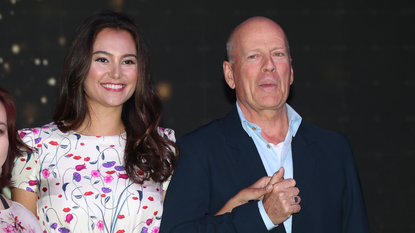 (Image credit: VCG / Contributor)
Back in March, Bruce Willis revealed he suffers from aphasia, a disorder that affects a person's ability to understand or express speech. The diagnosis contributed to his decision to step away from acting.
Since then, much of the attention has rightfully been focused on the 67-year-old actor, with celebs with aphasia coming forward following Bruce's announcement and offering their love. Unfortunately, although the condition mostly affects the subject, aphasia certainly calls for a lifestyle change when it comes to surrounding family and friends.
This week, the actor's wife, 44-year-old model Emma Heming Willis, opened up about the subject in a new Instagram post in which she noted how she's been dealing with the "paralyzing grief" associated with the diagnosis.
Emma posted a video of herself in honor of National Grief Awareness Day earlier this week, in which she's seen painting, playing tennis, working out and gardening, among other hobbies.
"This was the summer of self discovery—finding new hobbies, going out of my comfort zone and staying active," she wrote as a caption to the clip. "My grief can be paralyzing but I'm learning how to live along side it."
In the upload, Emma also sweetly called out her 31-year-old stepdaughter Scout Willis, whom Bruce shares with ex-wife Demi Moore.
"As my step-daughter @scoutlaruewillis told me, grief is the deepest and purest form of love," Emma wrote in the post. "I hope you find some comfort in that too 💞."
Emma hasn't been shy about the ways she's been trying to navigate self-care issues throughout the years. Back in May, in an interview with The Bump (opens in new tab), she admitted to struggling with the practice.
"I put my family's needs above my own, which I found does not make me any kind of hero," she said to the outlet. "That amount of care for everyone else within my household had taken a toll on my mental health and overall health, and it served no one in my family. Someone told me not long ago that when you over-care for someone, you end up under-caring for yourself. That stopped me in my tracks and really resonated with me. I don't mother myself perfectly but I know that I have some basic baseline needs that are a must, like first and foremost, exercise. It's a time I can disconnect and can do something that I know makes me feel good overall. I think it's important to find that one thing that makes you feel good and build from there.
Bruce's first wife Demi also recently went on the record about mindfulness, specifically speaking out about the 'blessing' of quaranting with her ex-husband.
"There's been a lot of challenges and a lot of tragedy with this pandemic, but I also think there's been a lot of gifts and blessings," the 59-year-old actor said on No Filter With Naomi. I personally feel like I was really grateful for things slowing down and the time that we had. It worked out that Bruce came and spent time with us and then his current wife and their small daughters joined a little bit later when the kids were finished with school. It was really a blessing I think that it's also brought forward an incredible opportunity for going inward and raising our own consciousness, I think as individuals, but also, I feel, globally."
If there is one thing that's certain is that the Willis family has become an example to follow in terms of candidness and honesty in relation to their recent medical revelation. Here is to hoping they will always be as strong and united as they currently appear.
Anna Rahmanan is a New York-based writer and editor who covers culture, entertainment, food, fashion and travel news. Anna's words have appeared on Time Out New York, the Huffington Post, Fortune, Forbes, Us Weekly, Bon Appetit and Brooklyn Magazine, among other outlets.