Bob Geldof opens up about 'bottomless grief' over losing his daughter
Peaches passed away six years ago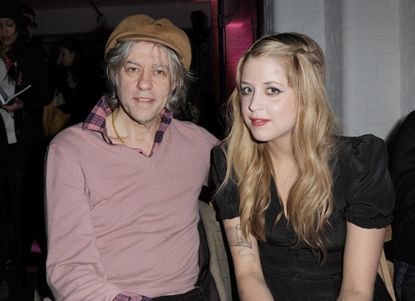 Bob Geldof has opened up about the heartbreaking death of his daughter, describing his grief as "bottomless".
Peaches Gelfdof died at the age of 25 of a heroin overdose, back in 2014.
The musician appeared on RTÉ One programme The Tommy Tiernan Show on Saturday, where he revealed that attending a recent funeral of his friend's son brought back memories of the "unbearable" pain of losing his own child.
He said, "Last week I went to the funeral of my mate's son, and he didn't want me to come for fear that I'd relive it but I had to be there for him cause it is unbearable."
The star went on to tell Tommy Tiernan that "time doesn't heal" the pain and described his mourning as "ever-present."
The 68-year-old added, "'You're driving along and you're at the traffic lights and for no reason whatsoever, the person in question inhabits you and I'll cry.
"And then I'll look around to make sure the people next door don't see me or are taking a photo and posting it or something. But that happens and that happens to everyone. And so you say, 'ok it's time to cry now'.
"Once you understand the nature of this because it is boundless and it is bottomless. The grief and the abyss is infinite."
Bob previously described his daughter as "the wildest, funniest, cleverest, wittiest and the most bonkers of all of us".
Peaches' death came 14 years after her mother, television presenter and writer Paula Yates, passed away from a heroin overdose.
In 2011, Peaches got engaged to S.C.U.M. lead singer Thomas Cohen. The pair married a year later and had two sons together.
Following her death, Thomas released a statement saying, "My beloved wife Peaches was adored by myself and her two sons.
"I shall bring them up with their mother in their hearts every day. We shall love her forever."
Lizzie Thomson is a regular contributor to woman&home, and also contributes to Metro.co.uk, Ideal Home, Culture Trip, and Evening Standard, covering all things lifestyle.