Anne Heche is still in a coma and has not regained consciousness following devastating car crash accident
Actor Anne Heche crashed her car in Los Angeles this past weekend and has not regained consciousness since shortly after the accident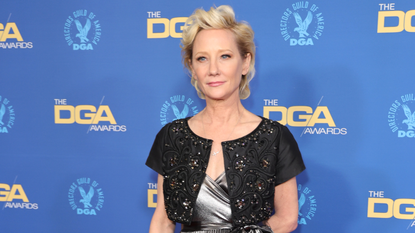 (Image credit: Momodu Mansaray / Staff)
All of Hollywood is praying for the healing of 53-year-old actor Anne Heche, who was involved in a near-deadly car accident in Los Angeles this past Friday and has been in a coma since shortly after the crash.
On Friday morning, Anne was seen driving a blue Mini Cooper before crashing into a home and causing it to catch on fire.
The residence has since then been deemed uninhabitable and, although occupant Lynne Mishele was left unscathed, her home is now destroyed and a fundraising page (opens in new tab) has been set up to help her resolve the horrible situation.
---
"Lynne lives with her beautiful pups Bree and Rueban, and tortoise Marley in the Mar Vista home that was destroyed this week by a car driving into the home at a high rate of speed, catching the house on fire," reads the fundraising page. "Lynne and her family very narrowly escaped physical harm, and for that we are very, very grateful. The home, however, was completely burned - with 59 firefighters taking 65 minutes to extinguish the flames - and immediately red-tagged by the LAFD, necessitating that Lynne leave the place she loves. Even more distressing is that Lynne lost her entire lifetime of possessions, mementos, all equipment for her business including her laptop and iPad, all of her clothing and basic necessities, and all household items."
Nextdoor neighbors saw the situation unfold in real time and told Fox News (opens in new tab) that they tried to rescue the driver of the car as soon as the accident occurred. "The windows [of the car] were broken, so I opened the back door of the car," one neighbor said to the outlet. "[Anne] answered and said she was not okay, so that was tough. I know they didn't get her out of the car until the fire was pretty much put out."
Although Anne's publicist said on Saturday that the actor, known for starring in films such as Donnie Brasco, Psycho, John Q, Prozac Nation and Cedar Rapids, was in "stable" conditions, a spokesperson revealed to PEOPLE (opens in new tab) on Monday that, "shortly after the accident, [Anne] became unconscious, slipping into a coma and is in critical condition."
Additional representatives noted that, "At this time Anne is in extreme critical condition. She has a significant pulmonary injury requiring mechanical ventilation and burns that require surgical intervention."
Although officials have yet to release a statement regarding the details of the accident, media reports have been surfacing about the condition of the actor right before, and during, the occurrence.
For example, Richard Glass, the owner of Glass Hair Design in Venice, California, about two miles from the site of the car crash, told The Los Angeles Times (opens in new tab) that Anne was at his salon Friday morning and did not seem to be intoxicated at the time of her visit.
The paper also reports that the Los Angeles Police Department is currently investigating the car crash and that, "authorities have obtained a search warrant for the actor's blood drawn at the hospital to see whether she was intoxicated."
Our thoughts and prayers are with Anne.
Anna Rahmanan is a New York-based writer and editor who covers culture, entertainment, food, fashion and travel news. Anna's words have appeared on Time Out New York, the Huffington Post, Fortune, Forbes, Us Weekly, Bon Appetit and Brooklyn Magazine, among other outlets.