Amy Schumer praises liposuction saying she feels better about herself
Amy spoke about her decision to undergo the fat-removal procedure after giving birth to her son Gene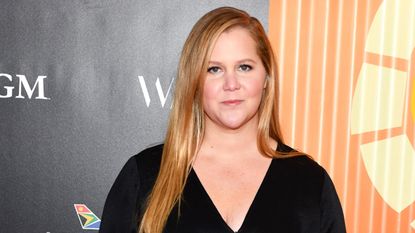 (Image credit: Getty)
It's incredibly refreshing when celebrities get candid about issues that non-famous people constantly deal with as well. Case in point: post-pregnancy body issues that lead many people to pursue liposuction.
Amy Schumer, who shared a picture of her son Gene's birth on national bikini day, has been open about her decision to get liposuction following her Caesarean section a mere two years ago.
On a recent appearance on Chelsea Handler's podcast, Dear Chelsea, the 40-year-old actor—who hosted the Academy Awards alongside Wanda Sykes and Regina Hall this past weekend—got candid about the fat-removal procedure and the thought process that went into her decision.
"I got liposuction [and] I never thought that I was going to do anything like that," she said. "When I would hear [the word] liposuction, I was like, 'that's so crazy to me.' I would say that I'm not ever going to do anything. Cut to turning 40 and having a C-section."
Although Amy revealed to her fans on Instagram in January of this year that she had undergone the procedure, she never went into too much detail about it. On the podcast, she explained that she made the decision after having to remove her uterus and appendix to treat her endometriosis.
"I healed well, and I was like, can I get lipo? And I got lipo and I'm feeling really good," she said, also mentioning the importance of being "real about it." "If anybody sees me in pictures or anything and they're like, she looks thinner, or whatever, it's because I had a surgery."
This isn't the first time that Amy publicly discusses aspects of her personal life. Just last year, she got candid about her husband's autism diagnosis with an emotional tribute on Instagram.
In May, the comedian celebrated her son "Geenie Panini's" birthday while opening up about husband Chris Fischer's autism and what it has meant to their family.
She shared two photos on the social media platform. The first one of the couple during her C-section and the second of Chris holding their newborn.
"Today is our son's birthday and I woke up emotional as hell thinking about my husband, Chris. In this first photo while I was having a 3 hour c section he held my hand and stared in my eyes so I never felt alone," she wrote in the caption. "I feel loved and supported always. He takes care of our family and is a husband and father beyond my wildest dreams. [...] Also he has autism spectrum disorder. Being tested and diagnosed has helped us communicate and support each other better."
Anna Rahmanan is a New York-based writer and editor who covers culture, entertainment, food, fashion and travel news. Anna's words have appeared on Time Out New York, the Huffington Post, Fortune, Forbes, Us Weekly, Bon Appetit and Brooklyn Magazine, among other outlets.