Devastating News For Strictly Come Dancing Star After Mother Dies Following Successful Strictly Launch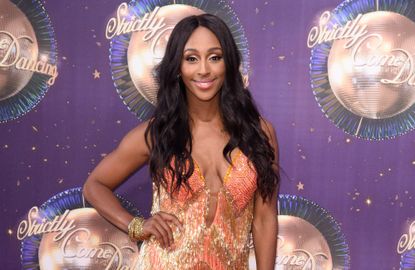 Sunday saw the successful launch of Strictly Come Dancing 2017, with all of the celebrity contestant donning their dancing shoes for the first time to shimmy down the red carpet with the professionals and the judges.
However, for one Strictly star, the joy of the occasion was short lived, as their mother tragically passed away the very next day.
Singer and former X-factor winner Alexandra Burke announced the devastating news of her mother's death in a statement this week.
Burke, who is 29 years old, said that her life had changed forever, and shared the heartbreaking news with, "the heaviest and saddest of hearts."
Alexandra's mother, Melissa Bell, was just 53 years old. The former lead singer of the Grammy Award winning R&B band Soul II Soul, Bell had reportedly been struggling with ill health since her daughter competed in the X-factor in 2008.
(Alexandra Burke mum Melissa Bell in 2009 with her daughter)
Taking to social media, Alexandra released a statement about her mother's passing along with the rest of her family. It reads:
"It is with the heaviest and saddest of hearts that the family inform you our beautiful, funny and loving mum, Melissa Bell has passed away,"
"Our beautiful mother gained her wings on Monday 28th August, a day that has changed out lives forever.
"We will never forget her unconditional love, support, charisma, strength and courage throughout her life."
"We are eternally proud and thankful to call her our mummy."
[twitter]
[/twitter]
Concluding the emotional, heartfelt statement, Alexandra wrote:
"We would be grateful if you could respect our privacy at this difficult time. Thank you. The Burke Family."
Despite the sudden loss of her mother earlier this week, Alexandra also revealed that she will still compete in Strictly Come Dancing this year, citing her mother's desire to see her in the show as her main reason for continuing with the competition.
[twitter]
[/twitter]
"Mummy has always been my biggest supporter and was over the moon when I told her I was doing Strictly" Alexandra wrote.
"It was always a ream of hers that I would one day be part of the shoe and I know that she would have wanted me to carry on xx"
Strictly Come Dancing starts again on Saturday 9th September. Alexandra Burke will appear with the other celebrity contestants in the studio for the first time, where they will find out which professionals they are paired with. Our thoughts are with Alexandra and her family as this difficult time.