We chat to Hannah Beckerman, author of 'If I Could Only Tell You'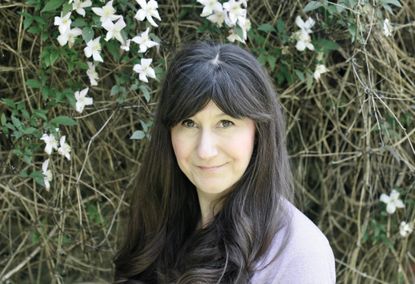 We caught up with the author and journalist, who lives with her husband and daughter in London, to chat about how becoming a mum influenced her writing, what frustrates her about being a woman and why her latest novel has everyone in floods of tears...
Hannah took the plunge into novel writing after 'falling out of love' with her job in the television industry. Her first book, The Dead Wife's Handbook, was published in 2014 and now, with a third novel in the works for 2020, she has found her calling. As well as being a published novelist, she also works as a freelance features writer and book critic, and she chairs panels and discussions at literary festivals and publishing events across the UK.
But if Hannah Beckerman hadn't become a novelist, she tells us she would have been a psychotherapist. Why? Because she finds people, motivations, family and relationships endlessly fascinating.
So it comes as no surprise that at the heart of her latest novel, If Only I Could Tell You, is the complexity of human emotions. The novelexplores the interpersonal relationships between a dysfunctional family, the Siskins, focusing on Audrey Siskin. Audrey is a dying mother trying to heal the decades-long rift between her two daughters. Both Audrey and the reader are kept in the dark over how the sisters became estranged, and the truth is gradually revealed in a series of flashbacks to a fateful summer in 1988.
We chat to Hannah about her latest book and career to date...
What inspired your latest book?
I was estranged from my father for most of my adult life, and in talking to other people about it, I realised how common family estrangement is. But it's something that's hardly ever discussed, and people often feel ashamed of it. So I wanted to write a novel about sisters who have been estranged for decades, and a mother desperate to find out the cause of the rift so that she can reconcile her family.
JOIN HANNAH BECKERMAN AT THE W&H ROOFTOP BOOK CLUB THIS APRIL (opens in new tab)
Many reviewers of your latest book have been moved to tears. What do you think it is about your stories that get under peoples' skin?
I write about families going through emotionally challenging times, and I suspect most of us can empathise with that. I love the fact that If Only I Could Tell You has made so many people cry – I think crying can be very cathartic!
Do you think being a parent has influenced your writing?
I think I'm more generous and forgiving of maternal flaws since becoming a parent. For me, it was only when I became a mum that I realised what a great job my mum had done, in difficult circumstances. And I hope I reflect that in my portrayal of mothers in my writing.
Why did you start writing books? What was the catalyst?
I'd worked in TV for years and had fallen out of love with it. I'd always wanted to write a novel and one day I thought "Stop fantasising about it, and just do it." So I did. Three months later, on the basis of three chapters, I got an agent and the rest is history.
How do you write your books?
I have a study at the top of the house, which is quite messy but "controlled" messy. I need almost complete silence to write (I use ear plugs a lot!) and the earlier I start, the better. When my daughter was younger I wrote from 3am every day before she got up. Now I have a relative lie-in and start at 7am.
JOIN HANNAH BECKERMAN AT THE W&H ROOFTOP BOOK CLUB THIS APRIL (opens in new tab)
How do you overcome writer's block?
In the same way as anyone else when they're not in the mood for work: sometimes you just have to grit your teeth and get on with it. On days when I'm not really "feeling it" I still make myself sit at my desk and write, even if I know what I'm writing will end up in the bin. For me it's about discipline and routine and not letting myself off the hook on a bad day.
Is there anything you find frustrating about being a woman in the 21st century?
So many things: we'd be here all day! The gender pay gap, the pitifully low conviction rates for sexual harassment and assault, the degradation of women in some sections of the press, the treatment of women in politics, airbrushing, the pressure to be thin, sexting, mansplaining. Oh, and the fact that women read more books than men, but men get more review coverage in newspapers. I could go on and on!
What books are you saving to read on holiday this year?
I don't know if I'll have the self-restraint to save it for holiday, but I can't wait to read Sweet Sorrow by David Nicholls. I have an advanced copy on my bookshelf and I just know it's going to be wonderful: he's one of the funniest, cleverest, most humane writers around.
Hannah Beckerman will be in conversation with w&h books editor and author Isabelle Broom later this month. The event takes place on Wednesday the 24th of April in London.
Tickets are £10 and include a welcome drink, nibbles and a tote bag. Please arrive from 6:30pm for a prompt 7pm start. The event will finish at 8:45pm. You can buy tickets for the eventHERE. (opens in new tab)
We hope to see you there!
Lauren is the former Deputy Digital Editor at woman&home and became a journalist mainly because she enjoys being nosy. With a background in features journalism, Lauren worked on the woman&home brand for four years before going freelance. Before woman&home Lauren worked across a variety of women's lifestyle titles, including GoodTo, Woman's Own, and Woman magazine.