Book recommendations: our pick of this month's best reads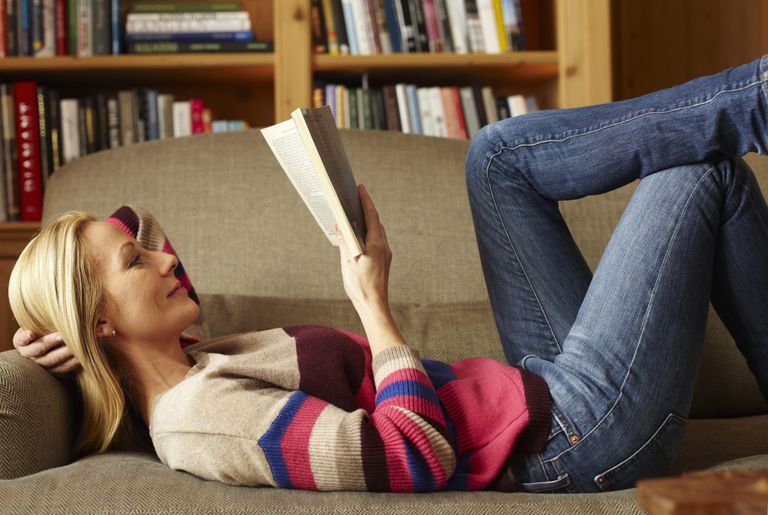 Looking to find your next page turner? Our expert book recommendations are here to help.
Each month, the team here at w&h picks the best new books to add to your reading list.
MORE: Me Before YouauthorJojo Moyes picks her 5 most romantic reads
And, whether you're looking for a thriller, romance or something to pull at the heartstrings, there's sure to be something that takes your fancy on this month's reading list...
New books for May: Wakenhyrst by Michelle Paver
Edmund Stearn is a well-respected in Wakenhyrst, but behind the closed doors of his manor house, he rules his family with a titanium fist. His daughter Maud is devastated when her mother dies, but rather than bring her and Edmund closer, it drives a wedge between them. Then one day, Edmund finds a sinister painting known as a 'doom' and all manner of things begin to happen...A spine-chilling masterpiece.
New books for May: The Girl in the Letter by Emily Gunnis
In 1956, Ivy falls pregnant and is sent in shame to the dark and foreboding St Margaret's home for unmarried mothers. Her baby arrives and is given away for adoption without her consent, while Ivy herself is doomed to remain. Sixty years later, journalist Samantha is hungry to make her mark, so when she finds a letter from a young mother begging for help, she's determined to unravel the girl's story. As moving as it is disturbing - a real triumph.
New books for May: The Flatshare by Beth O'Leary
ROMCOM GOLD Dumped and homeless, Tiffy can't believe her luck when a reasonably priced flat is offered to her. There's just one catch - she will have to share a bed with the other occupant. Leon works nights at a nursing home and spends weekends with his girlfriend, so in theory, their paths never need cross - but where would the fun be in that? Uproariously funny with characters you fall for from the first page.
New books for May: Unsheltered by Barbara Kingsolver
THOUGHT-PROVOKING NOVEL We say: Two stories, one house, more than a century apart. The present fortunes of Willa and Iano, who face a crunch time in their lives, are woven together with those of Thatcher Greenwood who, in the 1870s, faced his own difficulties. A warm, absorbing novel about survival in the face of change. Buy Unsheltered by Barbara Kingsolver
New books for May: No Further Questions by Gillian McAllister
COURTROOM DRAMA We say: Becky has been accused of murdering her sister's baby. Is she innocent like she protests? Chopping back and forth through the sisters lives together, McAllister nails their relationship with precision and provides a thrilling mystery with a strong emotional heart. Buy No Further Questions by Gillian McAllister
New books for May: I Invited Her In by Adele Parks
GRIPPING STORY We say: Old friends help each other out, right? So when Mel hears Abi's marriage is over she immediately invites her to stay. But her act of friendship is returned in a very different spirit, and what starts out as a sympathetic reunion soon twists into a tale of revenge and retribution that I read in a single, mesmerised sitting. I Invited Her In by Adele Parks
New books for May: Nine Perfect Strangers by Liane Moriarty
EMOTIONAL THRILLER We say: After the success of Big Little Lies we're all ears when it comes to Liane Moriarty's next novel. Nine Perfect Strangers follows the story of nine Australians from all works of live, who check into a health spa to try and escape their troubles and enjoy the promised 'life-changing experience'. Buy Nine Perfect Strangers by Liane Moriarty
New books for May: Pulp by Robin Talley
DOOMED ROMANCE We say: Set in '50s Washington DC, Pulp tells the tale of eighteen-year-old Janet Jones who has to keep her romantic feelings for her best friend Marnie a secret. Fast forward 62 years and high school student Abby Zimet feels a personal connection to an author she's studding for her senior project. Writing pseudonym 'Marian Love,' the author tells a tale of love and loss that resonates with Abby - and the student becomes determined to track her down. Buy Pulp by Robin Talley
New books for May: Milkman by Anna Burns
THE MAN BOOKER PRIZE WINNER We say: There's been a lot of hype about Anna Burns' dark yet comic novel, set during The Troubles in Ireland. Anna became the 17th woman to win in the Man Booker's 49-year history and the first-ever Northern Irish writer to scoop the accolade ever. With its stream-of-consciousness style, Milkman takes us into the mind of Middle Sister, n unnamed 18 year-old girl, who is being sexually harassed by a powerful man. "None of us has ever read anything like this before," said the Booker's chair of judges, Kwame Anthony Appiah. Buy Milkman by Anna Burns
Best books for November: Becoming by Michelle OBama
INSPIRING MEMIOR We say: If there's ever a book that's going to inspire you to chase your dreams, this is it. The book tells Michelle's extraordinary story, from growing up on the south side of Chicago, to juggling motherhood and her career, while making her way to the White House. Buy Becoming by Michelle Obama
New books for October - Joyful: The surprising power of ordinary things to create extraordinary happiness
HEALTH & WELLBEING We say: As summer comes to an end and the days get shorter, anxiety and depression - and conditions such as Seasonal Affective Disorder - can start to set in and get worse if not addressed. TED star Ingrid Fetell Lee asks, 'When was the last time you felt joy?' and writes how changing your surroundings can help us all to lead happier, healthier lives. Buy Joyful: The Surprising Power of Ordinary Things to Create Extraordinary Happiness by Ingrid Fetell Lee
New books for October: The Colour of Bee Larkham's Murder by Sarah J Harris
MURDER MYSTERY We say: 13-year-old Jasper suffers from face blindness and synaesthesia, which means he interprets the world through colours. Then he is confronted by a new colour – that of his neighbour Bee Larkham's murder. The author's insight into her subject is impressive and her gripping novel is sure to be a bestseller. Buy The Colour of Bee Larkham's Murder by Sarah J Harris
New books for October: Vox by Christina Dalcher
DYSTOPIAN THRILLER We say:In a near-future run by the extremist Pure movement, women and female children are fitted with a "counter" that gives a shock if they speak more than 100 words a day. No jobs, no books, no mercy. Can Jean, granted a reprieve, change things? Thought-provoking: We were left speechless. Buy Vox by Christina Dalcher
New books for October: Whistle in the Dark by Emma Healey
PICK OF THE MONTH We say: When her daughter Lana is found unharmed after having been missing for four days, Jen is mightily relieved but Lana refuses to say what happened to her. When they return home, their family starts falling apart. As Jen struggles to connect with Lana, this is less a "whodunwhat" and more a sensitive study of a mother-daughter relationship. Buy Whistle in the Dark by Emma Healey
New books for October: Our Kind of Cruelty by Araminta Hall
PSYCHOLOGICAL THRILLER We say: Mike is on trial for the murder of his ex-girlfriend Verity's new husband. On the advice of his lawyer, he writes down what really happened. But how will his lawyer twist what he knows to save him? I devoured this gripping, unsettling and brilliantly constructed thriller in one breathless gulp. Buy Our Kind of Cruelty by Araminta Hall