Woman&Home's Books Editor discover which bestselling Audible audiobooks should be added to your list
We all love a good story, but with more of us turning to audiobooks for their portable nature, there's never been a better time to explore the best that Audible has to offer.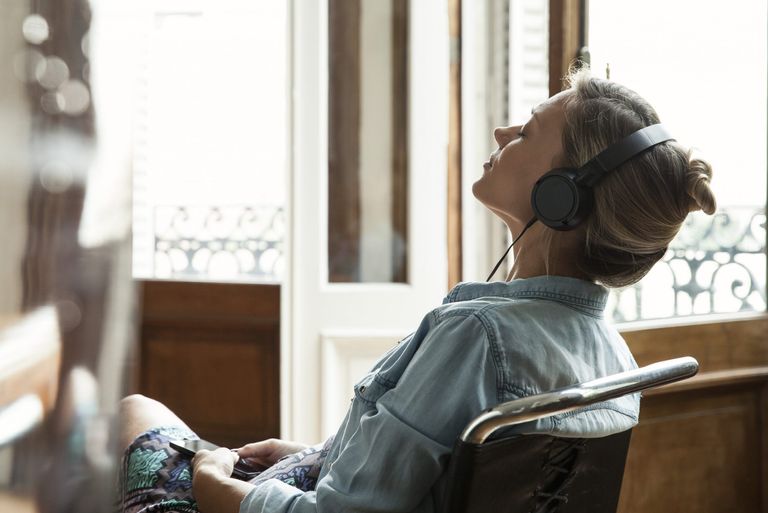 (Image credit: Getty)
With thousands of old classics, new releases and upcoming titles ready for pre-order, Amazon-owned Audible really does have something to suit every reading taste.
Here, our Woman&Home books editor Emma Shacklock shares her pick of the bestsellers topping the audiobook charts right now.
Becoming by Michelle Obama
Read by Michelle Obama
As the first African American to be First Lady of the United States of America, Michelle Obama has become one of the most iconic and respected women of our era. A powerful and committed advocate for female rights, Michelle Obama's memoir reveals exactly how she became the woman she is today, starting from her childhood in Chicago and chronicling how she balanced motherhood with her career. Narrated by Michelle herself, this audiobook is a deeply personal and honest account.
LISTEN NOW: Becoming by Michelle Obama, Amazon
Harry Potter Series by J K Rowling
Read by Stephen Fry
Starting with Harry Potter and the Philosopher's Stone, this internationally bestselling series follows teenage Harry Potter as he discovers on his eleventh birthday that he is, in fact, a wizard. Accepting a place at Hogwarts School of Witchcraft and Wizardry, Harry soon gets to grips with his powers and becomes part of the magical world.
But his destiny and connection to a legendary dark lord so evil that witches and wizards everywhere still fear to speak his name, will require more skill and knowledge than he first thought. With each book getting darker and delving deeper into the battle to save the wizarding world, this is a series well worth adding to your to-listen list – wonderfully brought to life by Stephen Fry.
LISTEN NOW: Harry Potter and the Philosopher's Stone by J K Rowling, Amazon
The Subtle Art of Not Giving A F*ck by Mark Manson
Read by Roger Wayne
With the dominance of social media, it has become all too easy to constantly compare yourself to those around you, but as the pressure rises, it's clear that there is only so much we can really care about. In this self-help guide, Mark Manson's entertaining stories, humour and no-nonsense approach come together to dismantle the myth that money buys you happiness.
MORE:Where to buy plants online that will boost your mood - and transform your living spaces
Instead, he explores which experiences can really help you to lead a far more grounded life and accept that things are never going to be quite as perfect as you want. And that's ok!
LISTEN NOW: The Subtle Art of Not Giving a F*ck by Mark Manson, Amazon
Mythos by Stephen Fry
Read by Stephen Fry
Fans of Greek myth need look no further than this wonderful audiobook as Stephen Fry retells the ancient classics, capturing their extraordinary stories of love, hate, reward and punishment for the modern age.
The stories included range from Athena's birth from the head of her father, the great king of the gods, Zeus, to the story of Pandora's box, shedding light on these legendary figures. Simply sit back and let the world of monsters, magic and a plethora of gods and goddesses come alive.
LISTEN NOW: Mythos by Stephen Fry, Amazon
Sapiens by Yuval Noah Harari
Read by Derek Perkins
This Sunday Times bestseller continues to gain momentum as it explores exactly how humanity as we know it came to be – and where we might be heading. In the 4.5 billion years the earth has existed, humans are believed to be the most advanced and destructive animals ever to walk its surface.
Here Derek Perkins narrates historian Yuval Noah Harari's account of our own history, stretching from the Stone Age to the Silicon Age, beginning as prey and reaching our current position as unmatched rulers of the world.
LISTEN NOW: Sapiens by Yuval Noah Harari, Amazon
The Sherlock Holmes Collection by Stephen Fry
Read by Stephen Fry
Thought of as perhaps the most eminent of British detectives, Sherlock Holmes has captured imaginations around the globe since his first appearance in A Study in Scarlet.
Now in audiobook form read by Stephen Fry, you can not only enjoy the complete works of Sherlock Holmes, but Fry's own insightful introductions to each one. With four novels and five collections of short stories, there's plenty to keep you riveted to the spot with these intriguing mysteries.
LISTEN NOW: The Sherlock Holmes Collection by Arthur Conan Doyle, Amazon
This Is Going To Hurt by Adam Kay
Read by Adam Kay
This million copy bestseller and the winner of three National Book Awards presents the life of a junior doctor: 97-hour weeks, life and death decisions and bodily fluids everywhere.
Narrated by the author Adam Kay himself, he doesn't hold back in casting a light on the hilarious, horrific and often heart-breaking moments he experienced everyday on the NHS frontline. As timely and insightful as ever it was, this is well worth a listen.
LISTEN NOW: This is Going to Hurt by Adam Kay, Amazon
Circe by Madeline Miller
Read by Perdita Weeks
From the Orange Prize-winning, internationally best-selling author of The Song of Achilles comes a tale steeped in Greek mythology and female power in the form of the witch Circe.
Born as the daughter of the sun god, Helios, Circe is shunned by her kin, turning instead to mortals for companionship and in the process discovering witchcraft. But after casting a dark spell, she finds herself banished to the island of Aiaia where she proceeds to hone her craft until the time comes to decide which world she really belongs. A mesmerising mythological tale.
LISTEN NOW: Circe by Madeline Miller, Amazon
Why We Sleep by Matthew Walker
Read by John Sackville
In the first book of it's kind by scientific expert Professor Matthew Walker, you can finally uncover the truth behind why exactly humans sleep – a behaviour that is so critical to our everyday lives but so often overlooked.
Unpacking twenty years of research, Walker aims to show exactly why sleep matters so much, looking at both the animal kingdom and our own. Covering everything from REM sleep, to how caffeine alters sleeping patterns and how sleep patterns evolve, this is an insightful listen sure to open your eyes to the importance of getting your rest.
LISTEN NOW: Why We Sleep by Matthew Walker, Amazon
The Mirror and the Light by Hilary Mantel
Read by Ben Miles
Narrated by the actor who played the infamous Thomas Cromwell himself in the Royal Shakespeare Company's adaptation of Wolf Hall, you can't help but be drawn into Hilary Mantel's final instalment of her Cromwell trilogy.
Following the expert schemer's final years and fall from grace and royal favour, Mantel unveils the secrets, plots and betrayals of the Tudor court like never before.
LISTEN NOW: The Mirror and the Light by Hilary Mantel, Amazon
Emma is a Senior Lifestyle Writer with five years experience working in digital publishing, ranging from book publishing to magazines. She currently looks after all things Lifestyle for Woman&Home, GoodToKnow and My Imperfect Life.
Before she joined Future Publishing, Emma graduated from the University of Warwick with a Bachelor of Arts degree in English and Comparative Literary Studies. After leaving education, she started out her publishing career in the world of books, working as a Publisher for an independent digital publisher specializing in back-list and debut commercial fiction novels. With a huge book list and a passion for bringing the best stories to the broadest audience possible, Emma filled her spare time with reading the latest best-sellers and catching up on hit adaptations.
In 2017 she joined TI Media as a fiction writing coordinator on Woman's Weekly and Woman's Weekly Fiction as part of the features team. From here, she used her love of books, working to bring short stories to our dedicated readers and began writing for the books pages of Woman, Woman's Own and Woman&Home, as well as online features ranging from genre round-ups to travel pieces for womanandhome.com.
After honing her skills, Emma branched out online in 2020 when Future gave her the opportunity to focus on digital-first. When she's not writing about the next big lifestyle trend, she enjoys cooking, long walks and watching as many crime dramas as she can!