The Aku Trekker Pro GTX Ws review: If you want big, serious walking boots, these could be the pair for you
Sturdy and reliable, the Aku Trekker Pro GTX Ws walking boots have been designed to last.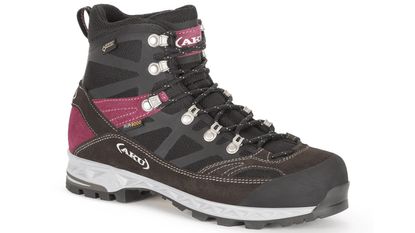 (Image credit: Aku)
If you're serious about hiking, then these won't let you down, however wet you get.
Reasons to buy
+

Firm grip

+

Exceptionally waterproof

+

Good sizing
Why you can trust Woman & Home Our expert reviewers spend hours testing and comparing products and services so you can choose the best for you. Find out more about how we test.
Looking for a new pair of walking boots? The Aku Trekker Pro GTX Ws – which are exceptionally good at keeping feet dry, even when fully submerged – could be the best women's walking shoes for you.
How to be sure? We've put a pair through its paces from the moment they were unboxed, so you can see if you think they are worth the investment.
Aku Trekker Pro GTX Ws specifications
Size range: UK 3-9
Weight: 525g
Sole: Rubber
Upper: Suede and polyurethane
Waterproof: Yes
Who will the Aku Trekker Pro GTX Ws suit?
The Aku Trekker Pro GTX Ws will best suit serious hikers who want to go out in all weathers.
What are the Aku Trekker Pro GTX Ws like to wear?
Wow, these really are serious walking boots! While slipping the Aku Trekker Pro GTX Ws on is easy, these are BIG – and you certainly know you are wearing them. Not only is the Vibram rubber sole so meaty that it instantly adds a few extra inches to your height, but the boot comes up very high on your calves – and, if I'm being brutally honest, this does feel slightly odd and quite restrictive. In fact, the sensation is almost like wearing a ski boot, with your calves held in a slightly rigid position.
However, the beauty of this boot is that it has quite versatile laces, with toggles going all the way up to the top of the boot, so you can really tighten or loosen them to how you prefer. My only criticism is that the laces are quite smooth and can come undone. This happened twice and there is nowhere to tuck the long leftover lace away, so they looked quite messy. What's more, seeing as these boots are so sleek (think what James Bond would wear hiking), the excess laces poking out ruined the look somewhat. Having said that, I'm being tough on them, as they are so well made in every other way. Plus, they feel smooth and comfortable to wear.
The Aku Trekker Pro GTX Ws design
Unlike many walking boots, the Aku Trekker Pro GTX Ws come in a choice of colourways. I tried and tested a pair of the black and burgundy ones. These are mainly black, sleek and stylish in design, with a flash of burgundy across the heel and side. They definitely have wow factor, as they are very modern-looking for a walking boot. They are also available in light grey with brown suede and light blue detailing.
Despite being sturdy, these don't look too chunky at all and can be worn with leggings or shorts, as well as more heavy-duty walking gear.
The versatility of the Aku Trekker Pro GTX Ws
This is where the Aku Trekker Pro GTX Ws lose a few vital points. They are ideal to wear hiking or on long-distance off-road treks, especially for going through wet conditions when you can't stop. They are exceptionally waterproof and will keep feet dry and secure.
However, unlike a lot of the other walking boots I've tried and tested, these are incredibly sturdy, so you're probably not going to want to wear them on short walks with the dog or heading to the local pub in wet weather. While they're not uncomfortable, the sole is so inflexible that you don't have complete contact with your environment while wearing them, and while this is great for reducing impact and pressure on joints, I was always aware that I was wearing these boots with every stride.
(opens in new tab)
Sizing and comfort of the Aku Trekker Pro GTX Ws
I tried and tested a pair of UK size five Aku Trekker Pro GTX Ws and I found them to be the perfect fit and very true to size. I have quite wide feet and they were more than wide enough.
The ankle section is very padded, but this did come up quite high on the back of my legs, which felt slightly odd at first and rather restrictive. However, the padding is excellent quality and you do not have to worry about breaking in these walking boots, as they were comfortable from the start and don't rub in any way.
The downside about these boots is that they don't feel very flexible. Your foot is in quite a set position, so you have to make sure you lace them properly. For me, this sometimes meant changing it on the go, as they were too tight and caused my toes to get pins and needles because I couldn't wiggle them enough. However, these were very breathable to wear and my feet were only warm but not sweaty after wearing them for prolonged periods.
How well do the Aku Trekker Pro GTX Ws grip?
On steep slopes, these are amazing. This is partly thanks to the toe caps, which allow you to really dig into terrain without harming your feet in any way. The grip was good when wet, thanks to the well-spaced, multi-directional lugs. These would be ideal in snowy conditions because of this.
How do the Aku Trekker Pro GTX Ws rate online?
Online, the Aku Trekker Pro GTX Ws have good reviews, with many people impressed with how stylish they look and how well they perform on tough terrain. Plus, several reviews mention just how waterproof these boots are.
The downsides from reviews include how they can be stiff at first, although this does ease over time, and some people report they are quite heavy to wear.
Are the Aku Trekker Pro GTX Ws worth buying?
This depends. Yes, they are definitely great quality. If you enjoy going on hikes through streams over several days and want to keep your feet dry, secure and comfortable, then these are for you. Just going on the odd countryside ramble? Then they are probably too much boot than you need and you'd be better off with a low-rise pick. Overall, they are well worth the price.
Faye M Smith is an award-winning journalist with over 15 years experience in the magazine industry. Her continued work in the area of natural health won her the coveted title of the Health Food Manufacturers' Association (HFMA) Journalist of the Year Award 2021. Currently Health Editor across several brands including woman&home, Woman and Woman's Own, Faye specialises in writing about mental health, the menopause, and sex and relationships.