Becoming a life coach – three life coaches on their journey to the job
Are you considering a career change and thinking of becoming a life coach?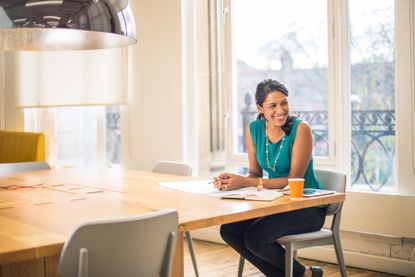 (Image credit: Getty Images)
woman&home newsletter
Sign up to our free daily email for the latest royal and entertainment news, interesting opinion, expert advice on styling and beauty trends, and no-nonsense guides to the health and wellness questions you want answered.
Thank you for signing up to . You will receive a verification email shortly.
There was a problem. Please refresh the page and try again.
Have you ever thought about becoming a life coach? A recent survey (opens in new tab) revealed that for 44% of workers their main motivation for considering a job change before the age of 40 was to have a more rewarding career.
Life coaching could be described this way, and comedian and actress Miranda Hart is among the high profile figures who have revealed that they've embarked on training to do just this.
We asked three current life coaches to share how they arrived at their current role, including the defining moments that caused them to reflect on their existing life and career path.
Alex Hodge, 40, is the founder of Yugen Coach (yugencoach.com (opens in new tab)). She lives in South London with her partner, 4-year-old daughter and Milkshake the cat.
'I'd spent the last 15 years in market research, working my way up from a one-month temping job as a PA to the MD of a research agency to head of department at two different agencies. Although I'd initially fallen into the role, I loved the variety and perks that came with, which included travel and meeting and interviewing people from all walks of life. When I went on maternity leave, for the first time, I had lots of space to think about where I was in life and what I wanted from my future. I get bored easily and on an emotional level I knew that I wanted a change. Plus having a baby and hopping off to a new country at a moment's notice or doing evening focus groups wasn't really practical, particularly as we didn't have family nearby for support.
'I started the ball rolling by making a list of my transferable skills and what career options these could match up with, and kept returning to this exercise. I'd had coaching at work and really benefited from it, so that's probably one of the reasons it came out as an option. So as an extension to this, I really wanted to help people out of situations they felt stuck in and to perform the best of their ability – something I wish I'd had at multiple points in my career.
'I completed the ILM (The Institute of Leadership & Management) Level 7 Certificate for Executive and Senior Level Coaches with the British School of Coaching, while undertaking freelance market research at the same time. I also worked with a coach myself, Emily Hodge, who really pushed me forward and helped me clarify things when setting up my coaching practice.
'People have so much potential and capabilities, it's all already there. I love that I can help clients access those things'
'I started working with clients in the spring of 2019, but I'd say I officially launched the business in February 2020 (great timing!).
'As time went on careers became a natural focus for me - it's such a major part of our lives - and so I now consider myself a career and business coach.
'However, my central approach focuses on the idea that you can't work on different parts of your life in isolation. What happens at work and how you perform affects what you eat affects how you sleep affects how you interact with others affects how much you exercise etc, so I will always work with clients looking at their whole life as context.
'People have so much potential and capabilities, it's all already there. I love that I can help clients access those things and how excited they get knowing that they've done the work and they're the reason for the progress/success/happiness. I've always been quite results oriented so seeing positive changes in my clients, however small, is a win for me every time.'
Elisabetta Franzoso (elisabettafranzoso.com), 57, is a life coach, counsellor, trainer and author. She lives in Barcelona, and is mum to a 28-year-old daughter.
'Before becoming a life coach I was an ex-pat wife and mum. I had been seeing a counsellor to get a better understanding of my past and present, and it was they who suggested I return to studying. And that's exactly what I did, becoming a trauma counsellor first - I love spreading awareness on family relationships issues involving parents and children and I'm an advocate for mental wellness to this day.
'Over time, however, I realised that my real passion lay in motivating and inspiring others and decided to train as a coach. I took several courses including an integrative coaching course with Debbie Ford at the Deepak Chopra Centre in California in 2000 and the Wellness Wheel Coaching Certificate by Dr John Travis in LA in 2007 (this was online only).
'I've been working as a life coach since 2002, developing my own methodology called Coaching in 4Dimensions and specialising in relationships, confidence and wellness. Pre COVID, I used to regularly travel between the UK, Italy and Singapore where I lived and worked for 21 years, and I think this global outlook and being exposed to lots of different cultures has really informed my coaching.
'My work has also been influenced by my American mentor, Ron Kaufman, an American best-selling author and trainer based in Singapore who I met in 2004, whilst living there. He recognised my ability to 'break the seed' inside people, and uncover their true potential, as well as my strengths in public speaking and motivational work. He was also quite blunt and I was able to take his non-nonsense feedback on board and integrate it into my coaching.
'I love helping clients of all ages to build awareness around important life issues of the kind you don't often learn in school'
'Life coaching isn't for everyone, like any job you have to have a passion for it. It is not about making money easily or being able to work flexibly. It's a tough job and you need to care deeply about your clients, as you'll be guiding them to look beneath the surface, overcome their own obstacles and tackle their inner demons.
'But saying all this, it is really rewarding. Each client is unique to me and I love helping clients of all ages to build awareness around important life issues of the kind you don't often learn in school.
'I've had so many memorable experiences with clients, many of whom have come back to me years after I worked with them to express their gratitude and remind me the value of what I'm doing. Recently, I was coaching a pro bono client from the UK who had lost his job and girlfriend during COVID. One day he sent me a beautiful bunch of flowers to thank me for having contributed to the positive shift his life had had. It was an experience that almost brought me to tears and made me vow to do this wonderful work for years to come.'
Debs Davies (debsdavies.com), 50, is a women's midlife coach. She is married with two boys, aged 10 and 12, lives in Cheshire.
'Looking back at my life, I can see that there were subtle nudges that a career helping people was the right path for me. At university I studied economics, but felt more drawn to psychology and considered changing my course midway through.
'My first role post-uni was a graduate job in NHS management, and during my 20s I continued to climb the career ladder progressing to senior level, gaining a huge amount of experience in lots of different roles before finding my niche and becoming a change management consultant.
'I naturally gravitated towards roles which helped people in some way, where the change had a positive impact. And I loved helping organisations – from local government to banking – turn around challenges they had, whether it be failing projects, new initiatives, or services that needed improvement.
'I really thrived on the fast pace and challenges for years, but deep down I knew that something was a little off in my choice of career. I continued to bury this feeling for many years, but fast forward to my 40s and I was married with two kids, and well and truly steeped in a midlife muddle. I was spinning my wheels, stuck and exhausted and just not loving what I was doing any more.
'I knew I didn't want the next 20 years to be the same as the last 20. Something had to change'
'I knew I didn't want the next 20 years to be the same as the last 20. Something had to change.
'I was inspired to become a life coach by being coached myself. I'd been coached in such a transformative way that I realised that this was exactly the impact I'd always wanted to be able to help other people create.
'I stepped out of my old career without a plan, but with a renewed sense of trust in myself that I'd work it out.
'About six years ago I started searching for answers to what I could do and, after a lot of research, I signed up for a hypnotherapy and NLP training course (accredited by The Institute of Leadership & Management). I completed the course alongside working full-time in a new change management role and had a really strong sense that this was what I wanted to do.
'Despite the above, still I wasn't ready to take the leap just yet, and continued in my role. Three years later I did some further training in NLP and hypnotherapy (accredited by American board of NLP and American Board of Hypnotherapy respectively) in the style and approach that had been so profound for me.
'I've now been a life coach for three years. I passionately believe that our midlife wellbeing matters. My mission is to help as many women as possible to thrive and not just survive it; navigating the transition and coming to terms with the challenges it brings; realising that stuck & spinning our wheels does not have to be our story; giving themselves permission to feel ok about wanting more and helping them to make positive changes in their lives.
'I love that I can help my own generation of women in however small a way, take on midlife and win.'
Miriam worked for woman&home for over five years and previously worked on the women's lifestyle magazines Woman and Woman's Own.