What 200 Calories Actually Looks Like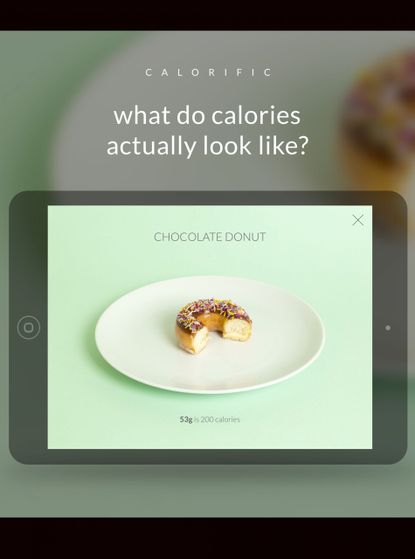 woman&home newsletter
Sign up to our free daily email for the latest royal and entertainment news, interesting opinion, expert advice on styling and beauty trends, and no-nonsense guides to the health and wellness questions you want answered.
Thank you for signing up to . You will receive a verification email shortly.
There was a problem. Please refresh the page and try again.
The most clever way to see what you're actually eating eating every day and get inspired to snack healthier.
What 200 Calories Really Looks Like
Trying to lose weight? Then you probably already know that the key to shedding pounds is burning more calories than you consume. But even if you eat healthily and exercise, many women still don't see the weight loss results they want.
The reason could be a problem of calorie control. Because the truth is that most dieters go wrong by vastly over-estimating portion sizes. We think that our dinner of grilled chicken with a side of sweet potato and green salad is an easy diet win, but even the healthiest ingredients in large quantities can inhibit weight loss.
But the good news is that a new app is here to take the stress out of weight loss by illustrating exactly what 200 calories of our favourite foods looks like. The Calorific app is easy to use and will make healthy snacking a little easier. We also love its use of beautiful pastel colours and large images – who says calorie counting had to be boring?
How does it work? The app shows 200 calories of portions of 144 different foods so you can eyeball portions easier. You'll be surprised at some of the portion sizes of your favourite foods. Plus when you see how many strawberries you can eat for 200 calories (50!) compared to popping your favourite sweets (just 16 peanut M&Ms), you'll be reaching for the fruit bowl in no time...
In fact, some of your favourite snacks are surprisingly calorific. For example, did you know that just a tablespoon of peanut butter clocks in 200 calories? Shocking!
So, are you ready to let your smart phone unlock the secret to a slimmer you? Find out what 200 calories really looks like...
Find more health and diet tips here.
You can download a free version of the Calorific (opens in new tab) app here.
490 ml of lager
One imperial pint of lager is about 568 ml so you can have about 85% of an imperial pint to hit 200 calories.
4 1/2 peaches
A small peach is about 44 calories so you can snack on 4 1/2 peaches before you hit 200 calories.
1 1/2 oranges
You can have about 1 1/2 medium-sized oranges for 200 calories. And you'll be getting 35% of your fibre for the day.
50 medium strawberries
A medium-sized strawberry (14 grams) is about 4 calories so you can have 50 medium-sized strawberries for 200 calories. To give you a comparison, you could only pop about 16 peanut M&Ms for 200 calories.
A heaping tablespoon of peanut butter
34 grams of peanut butter is 200 calories which is about 1 heaping tablespoon. Looks small, doesn't it?
3/4s of a blueberry muffin
You can have 42 grams of a blueberry muffin for 200 calories. That's just over 50% of a large Starbucks blueberry muffin or about 75% of a small blueberry muffin.
40 cherry tomotoes
Another great snack for the afternoon -- you'll never have to worry about overindulging on cherry tomatoes. Each cherry tomato is about 5 calories so you can eat 40 for a 200-calorie serving.
53 grams of a chocolate doughnut
There are 293 calories in a chocolate glazed Krispy Kreme donut with sprinkles (71 grams) so you could eat roughly 70% of a chocolate doughnut to stay within 200 calories.
50 grams of cheddar cheese
There's about 4 calories per gram of cheddar cheese so you can have 50 grams of cheese to stay at 200 calories. How should you measure it? Some nutritionists say 30 grams of cheese looks like your index finger and middle finger put together.
200 blueberries
Each blueberry is only 1 calorie so you can load up on 200 blueberries (350 grams) before reaching 200 calories.
3 3/4 kiwis
Kiwis have about 1 calorie per gram so you can have 200 grams of kiwis which breaks down to roughly 3 3/4 kiwis for 200 calories.
1 3/4 large eggs
You can eat about 129 grams or about 1 3/4 large eggs for 200 calories.
Want to try the Calorific app?
You can download a free version of the Calorific (opens in new tab) app here. Want more healthy eating tips?