I tried Starbucks' *new* cinnamon caramel cream cold brew, and it doesn't taste good unless you add this one thing!
Starbucks launched a cinnamon caramel cream cold brew for spring, here's what went down when we did a taste test...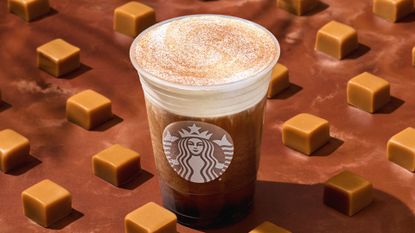 (Image credit: Starbucks)
Starbucks released their new drink, the cinnamon caramel cream nitro cold brew, on Tuesday, March 7 - and we tried it for ourselves to see what all of the hype was about.
Let me start off by saying that, typically, I'm a person who prefers Starbucks over any other national coffee chain (sorry, Dunkin') - so when I heard they were releasing a new spring drink, I sought out my nearest Starbucks to give it a try myself.
Their new drink, the cinnamon caramel cream nitro cold brew, offers a new take on the already famous Starbucks cold brew, infusing flavors of caramel and cinnamon into it. According to the Starbucks press site (opens in new tab), the nitro cold brew is topped with cinnamon sweet cream cold foam and a "dusting" of cinnamon dolce topping.
I am a cinnamon fanatic, and this concoction sounded incredibly appealing to me. Although I'm not typically someone who loves coffee drinks that air on the sweet side (my go-to is an oat milk cappuccino with cinnamon on top), the concept of this drink, although a mouthful to say out loud, seemed promising to my savory-preferring taste buds. Plus, I've loved some of Starbucks' other seasonal drinks, like their sugar cookie iced latte and the brown sugar shaken espresso despite my aversion to sugary coffee, so I figured this one would be worth a try, too.
In the interest of keeping in mind those who'd like a brief review - it's pretty good. I'd try it if you're in the market for switching up your coffee order and want to try something new.
However, for those of you who usually can't be bothered to spend more than $5 for your coffee and need convincing, I've laid out my honest thoughts below.
Cinnamon caramel cream nitro cold brew doesn't taste good unless you add this one thing
Unfortunately, I think my experience was tainted by the fact that the baristas at my local drive-thru didn't put ice in my drink. I don't feel strongly about Starbucks' iced coffee vs. their hot coffee - I tend to drink iced in the summer and hot in the winter - but I knew this drink wasn't supposed to taste lukewarm.
Regardless, I had to take the first sip, as by this point I had been waiting in the drive-thru for 10 minutes and felt myself craving afternoon caffeine more and more. I popped my metal straw into the cup and indulged - and as soon as the liquid hit my tongue, I made a stank face.
Imagine for a second, if you will, drinking orange juice or lemonade warm. It still tastes okay, but not nearly as good as it could be if it were cold. Essentially, that's the experience I was having.
The temperature of the drink sans the ice completely clouded my opinion of the taste. It was fine, but it wasn't quite as good as I believed it could be.
I didn't know if this "no ice" thing was intentional or not, so once I got home, I looked up other people on social media who had tried the drink, and realized it definitely was supposed to be over ice. When I returned home, I poured the drink out of its container and poured it into a tall glass over ice.
Problem solved. Suddenly, the drink was exactly what I wanted. Cold, perfectly and mildly cinnamon-y without comprising the integrity of the coffee, not too sweet.
I love the taste of coffee by itself, and this drink does a great job of still giving that strong coffee flavor without letting the black cold brew overtake the overall flavor. Once that cold foam and the cold brew have swirled together in the drink, I could almost compare it to the taste of homemade coffee ice cream - making it perfect for a warm day.
Overall, I'd rate this drink a 4/5 - and the only reason it gets one point off is because of my ice mishap. Point blank, ensure you get it over ice - otherwise, it's just going to taste like ice cream that you left out for too long.
Madeline Merinuk is woman&home's US lifestyle news writer. She covers celebrity, entertainment, fashion, and beauty news but is also obsessed with internet trends - you can find her reciting trending TikTok sounds out loud at any given time.
After winning multiple student journalism awards for her investigative work, she graduated from Hofstra University in 2021 with a B.A. in Journalism. After graduating, she worked at today.com, the digital site for the Today Show, where she wrote pop culture news and interviewed big-name personalities like Emily Ratajkowski, Haley Lu Richardson, Emma Corrin, and more.
Her personal interests, in no particular order, are: cheese, Joni Mitchell, reading, hot yoga, traveling, having multiple chapsticks in every handbag at all times, and dancing to ABBA songs as if she were in the Mamma Mia movies.