How To Get A Perkier Bust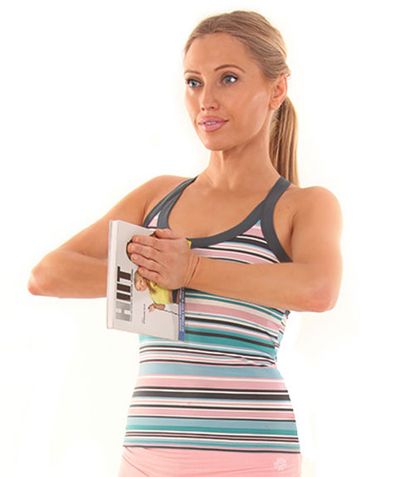 Exercise really is the fountain of youth, because if we do the right moves, we can slow down the ageing process and help keep the bust firm and lifted.
The Book Bust Lift
Step 1: Stand with your feet hip-width apart, with your knees slightly bent, holding onto a book between the palms of your hands. Your fingers should be pointing forwards and your arms fully extended, at chest eight, squeezing as tightly as you can. Step 2: Maintaining the squeeze, draw the book towards the centre of your chest, as you bend your elbows out to the side. The important part of this exercise is to maintain the squeeze then return to the start position.
Want to boost the benefits of your workout? Use a firming cream, like the Perfect Cleavage Firming Lotion, which contains Larch extract to reduce the appearance of fine lines, Vitamin C to help repair sun damage and soothing Comfrey root for long-lasting hydration.
Perfect Cleavage Firming Lotion (opens in new tab), thisworks, £38.
The Killer Cleavage Lift
Step 1: Lie face up on your mat with your knees bent and feet firmly on the floor, your arms out wide to your side, with a slight bend in your arms and your palms facing up. You can use hand weights if you want.
Step 2: Pull in your tummy muscles and, at the same, draw both your arms up so they meet in the middle, keeping them inline with your bust. Hold, then slowly lower back down to the start position.
Palmer's has long been the go-to brand for creams that not only reduce the appearance of blemishes, but smell delicious! Massage their Bust Firming cream into your skin twice daily; its unique blend of cocoa butter, shea butter and Vitamin E helps to firm the skin and improve the appearance of scars and stretch marks, all for under £5.
Palmer's Cocoa Butter Bust Firming Massage Cream (opens in new tab), Boots, £4.29.
The Bra Enhancer
Step 1: Kneeling on all fours and holding onto your hand weights, fully engage your core muscles by pulling your tummy muscles in tight.
Step 2: Ease one arm up, by bending through your elbow, aiming to get the weight by your shoulder. Hold for a second, then slowly lower. Alternate from side to side. It is important to keep your hips still as you do this, so be sure to keep the tummy pulled in.
It's no secret that the miraculous argan oil solves everything from dry locks to winter skin, and now, we've found even MORE reason to love this beauty saviour. The clinically tested argan extract in Dr Organic Moroccan Argail Oil Breast Firming Cream stimulates skin-cell metabolism to enhance skin elasticity, dramatically improving the firmness of the décolletage. Slick some on after a shower to lock in moisture and reap maximum benefits.
Dr Organic Moroccan Argan Oil Breast Firming Cream (opens in new tab), £15.99.