Prince Harry says he feels so 'overwhelmed' by world issues that he 'struggles to get out of bed' as Meghan opens up on mental health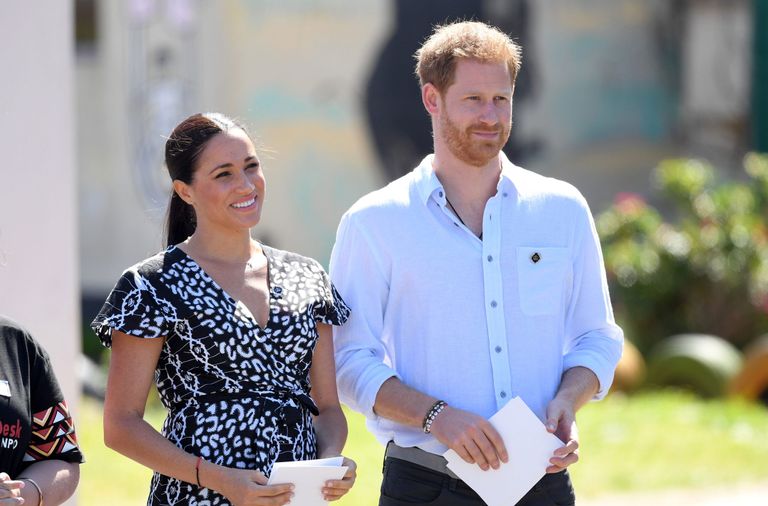 (Image credit: Getty)
Prince Harry has revealed that he sometimes feels so overwhelmed by all of the world's problems that he struggles to get out of bed.
Prince Harry has revealed that he can feel so 'overwhelmed' by the problems in the world that he struggles to get out of bed.
Meanwhile, the Duchess of Sussex has candidly opened up about the impact of mental health around the world, dubbing it a 'consciousness crisis'.
The Duke and Duchess of Sussex are currently embarking on a royal tour of South Africa.
During the first day of the trip in Cape Town, Harry chatted to 18-year-old Christian student, Peter Oki, who reported that Harry shared how he feels about the issues of the world.
He said, "Harry said he often woke up and felt overwhelmed by too many problems in the world, that sometimes it's hard to get out of bed in the mornings."
Continuing, Peter revealed that the 35-year-old Prince explained how he hopes to use his high profile royal status for good, adding, "But he wanted to use their platform to enable grass-roots change and to try and create a better society."
The Duke and Duchess also visited Monwabisi to join school children for a meditation session with project Waves For Change, which provides support for those dealing with mental health, as well as surfing lessons.
Following the experience, Duchess Meghan opened up in a rare media interview about the impact mental health is having on communities all around the world, dubbing the problem a 'consciousness crisis'.
"Just getting people to all talk about it and talk to each other... you see that no matter where you are in the world, if you're in a small community or a township or if you're in a big city, it's that everyone is dealing with a different version of the same thing," she said.
Duchess Meghan continued, "Globally I think there a bit of a consciousness crisis, and so the fact that we're able to be here together and see on the ground so much good work that's being done, just because people are willing to talk to each other about it and someone is willing to listen is huge and that can apply to being here."
"It can apply to being in London, LA, it doesn't matter where you are. We're all sort of trying to power through and find some optimism."