Candle in the Wind almost wasn't played at Princess Diana's funeral
Elton John's iconic and moving tribute to Princess Diana almost didn't happen…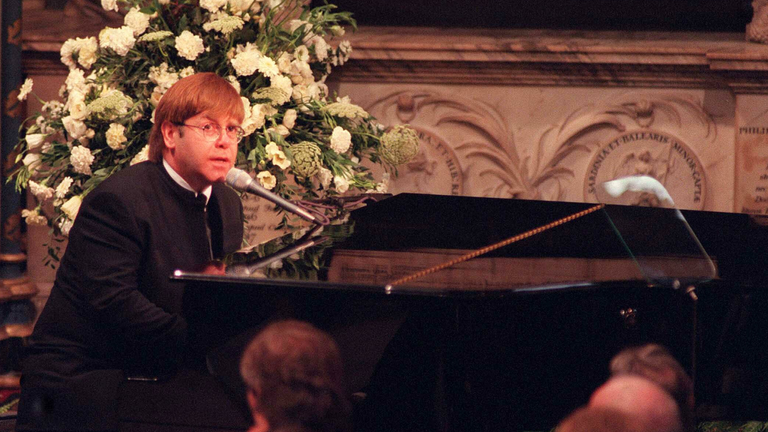 (Image credit: Anwar Hussein/WireImage/Getty)
Newly released records have revealed that Elton John's Candle in the Wind performance in honor of the late Princess Diana almost didn't happen. Instead, a different song of his, Your Song, was originally slated to take place. The Dean of Westminster was instrumental in getting the iconic hit played instead.
It's now one of the most celebrated and poignant tributes of all time, but Candle in the Wind almost wasn't performed at Diana's funeral
In the records released by the National Archives, Elton John's 1970s hit Your Song was written into the order of service instead
In other royal news, a TikTok showing the Queen's Guard knocking down a child has divided opinions online
---
On September 6, 1997, more than 3 million people tuned in to watch Princess Diana's funeral at Westminster Abbey. Diana's death shocked people the world all over and many travelled to London to pay their final respects to the Princess of Wales.
Among the many notable figures in attendance was Elton John, who would deliver one of the most moving and memorable performances in history, when he reworked the lyrics to the original 1973 version of Candle in the Wind in honor of Princess Diana.
Whereas the original was a tribute to screen legend Marilyn Monroe, the 1997 version changed the lyrics to serenade "England's rose." Released as a single with the global proceeds going towards Diana's charities, the single would go on to become the second highest selling of all time, behind Bing Crosby's White Christmas.
However, newly released records have revealed that the performance almost didn't happen, and that Elton John was originally slated to sing a different song.
The Guardian, citing records released by the National Archives, report that, before the Dean of Westminster's personal plea, Elton John's Your Song was written into the order of service.
Urging for a different song choice, the Dean of Westminster is reported to have written, "This is a crucial point in the service and we would urge boldness. It is where the unexpected happens and something of the modern world that the princess represented. I respectfully suggest that anything classical or choral (even a popular classic such as something by Lloyd Webber) is inappropriate."
The Dean of Westminster goes on to suggest that Candle in The Wind would "be imaginative and generous to the millions who are feeling personally bereaved" adding that "it is popular culture at its best."
Jack Slater is not the Last Action Hero, but that's what comes up first when you Google him. Preferring a much more sedentary life, Jack gets his thrills by covering news, entertainment, celebrity, film and culture for woman&home, and other digital publications.
Having written for various print and online publications—ranging from national syndicates to niche magazines—Jack has written about nearly everything there is to write about, covering LGBTQ+ news, celebrity features, TV and film scoops, reviewing the latest theatre shows lighting up London's West End and the most pressing of SEO based stories.
Jack's other favourite topics are exploring the new and the now. From strange hacks to wellness trends, Jack has an open mind, always willing to try something different. From Gua Sha to infrared saunas, drinking apple cider vinegar to biohacking, if there's something that could possibly help unearth his abs or smooth out his skin, he'll research, try and cover it.